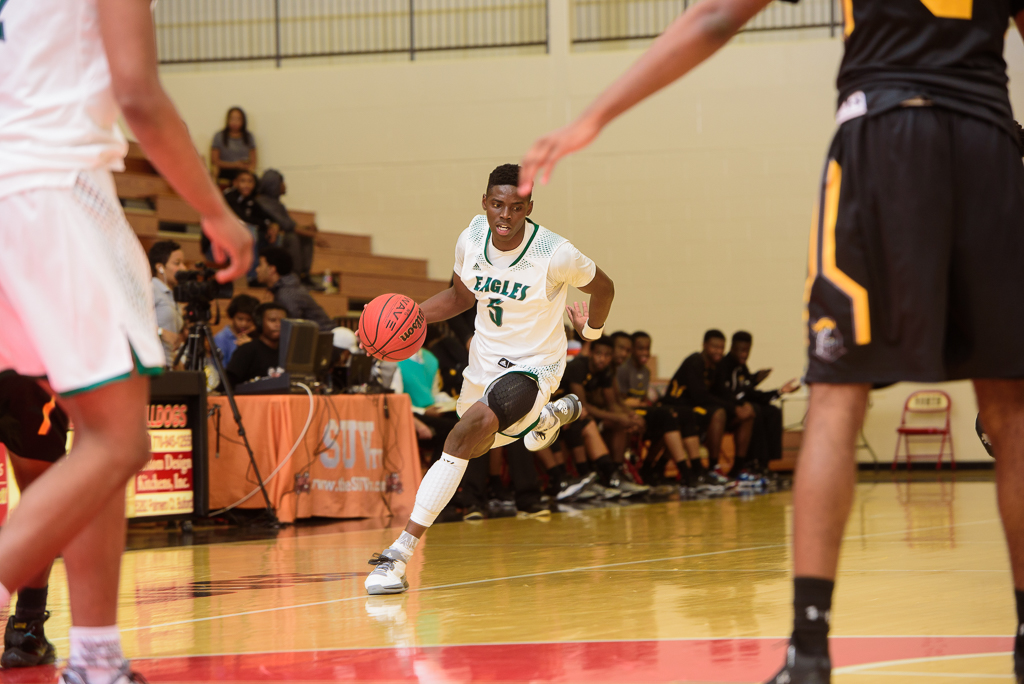 Photo By Ty Freeman
By Score Atlanta & Sandy's Spiel
Class AAAAAA
No. 1 Westlake 85, South Cobb 58: The Lions were led by 35 points via guard Danny Lewis to blow by South Cobb on the road for a Region 3 victory.
No. 4 Norcross 93, No. 6 Collins Hill 72: The Blue Devils' size and guard play was too much for shorthanded Collins Hill to overcome. Rayshaun Hammonds scored 25 points to do the frontcourt damage while Kyle Sturdivant, Jordan Goldwire and Dalvin White chipped in 19, 17 and 16 points respectively. The Eagles, who were without their starting point guard Max Clark and backup Dez Howard due to injury, received a game-high 31 points from TeShaun Hightower. AJ Cheeseman scored 11 points and Kai Lambert netted nine.
No. 7 Lambert 64, Chattahoochee 57: Connor Mannion continued his rampant pace, going for 29 points and 22 rebounds. Tanner Hall and Ross Morkem both chipped in 11 points apiece to remain undefeated.
No. 9 Dacula 69, South Gwinnett 68 OT: Dacula came back from down 11 points with four minutes to play to force overtime and prove why they deserve a top ten ranking. The Falcons gutted out a win behind Derek St. Hilaire's 25 points and Kevon Tucker's 18 points, who fouled out. Juwan white scored 12 and freshman point guard Mekhail Bethea added 10 big points in the win.
Class AAAAA
No. 1 Miller Grove 82, MLK 35: Colin Young sank six three-pointers en route to 26 points to lead all scorers. The Wolverines shared the ball extremely well with Alterique Gilbert scoring 15 points and handing out 10 assists, and Aaron Augustin finishing with 13 points, 14 assists and eight steals. Big man Raylon Richardson scored nine points and hauled in eight rebounds. Owen Clark led MLK with 11 points.
No. 2 Gainesville 80, No. 5 Cedar Shoals 77 2OT: The Red Elephants pulled yet another game out of the fire to remain undefeated and atop the ever competitive Region 8-AAAAA. Cedar Shoals led 34-25 at the half as Gainesville did not start D'Marcus Simonds for assumed disciplinary reasons. The Red Elephants trailed the entire game but continued to chip away, even after the host Jaguars would continue to extend the lead to double digits. In the end, Simonds got the visiting Elephants over the hump and collected their second region victory after trailing at the half. He scored a game-high 40 points – 27 in the second half and 15 in the fourth – and was aided by Tae Turner's 16. Stavion Stevenson paced the Jaguars with a big first half and finished with 19 points and 10 rebounds. Jerrick Mitchell chipped in 18 points and Greg Smith, Snipe Hall and Phlan Fleming all scored 12 apiece.
No. 3 McIntosh 74, Drew 56: Jordan Lyons scored a game-high 27 points as the Chiefs were able to cool off the high-scoring Drew offense. Chase Walter added 13 points and Braxton Shaw 12, while Dishon Lowery pulled down 15 rebounds and blocked five shots. Will Washington collected 10 assists on the night.
No. 4 Allatoona 56, Alexander 46: Ephraim Tshimanga powered the Bucs to a region victory with 22 points, five rebounds and five steals. Trey Doomes scored 12 points and collected five rebounds and five assists as well. Dylon Ramsey chipped in 10 points and four rebounds.
No. 6 Heritage 75, Winder-Barrow 24: Both Makyle Wilkerson and Byron Abrams netted 14 points to power the Patriots. Jordan Thomas added 11 while Isaiah Banks and Marquis Davis chipped in nine and eight points respectively.
No. 7 Riverwood 64, Cambridge 52: Kohl Roberts dominated the paint with 12 points and 19 rebounds to lift the Raiders to a 10-0 start. Elijah Jenkins continued to show off his improved stroke shooting 7-of-9 from deep and finishing with 27 points.
No. 9 LaGrange 55, Whitewater 51: Rico Smith went for 18 points and Bryan Fanning stepped up with 12 to help the Grangers move onto 5-0 to start the season.
No. 10 Southwest DeKalb 69, Druid Hills 54: TiQuan Lewis helped keep the Panthers undefeated and moved to 6-0 after scoring a team-high 14 points. Nathaniel Ambersley and Keith Gilmore notched 12 points apiece.
Class AAAA
No. 1 Lithonia 87, Chamblee 52: Tyheem Freeman scored 22 points and Jacara Cross finished with 19 points and 10 rebounds to blow by Chamblee in the battle of the Bulldogs. Rodney Chatman added 13 points, nine assists and five rebounds in the rout.
No. 3 Henry County 76, Riverdale 67: The Warhawks held on at home behind big games once again from Javon Greene and Damion Rosser. Greene finished with 26 points and five rebounds while Rosser flirted with a triple-double, going for 22 points, eight rebounds and nine assists.
No. 5 Grady 61, Stone Mountain 60: Another game, another narrow victory for Grady. The win is already their fourth 1-point win as the Knights advance to 7-0. Avi Toomer scored 21 points and grabbed six rebounds while Christian Bryant continued his strong play with 20 points and five assists.
No. 6 St. Pius 70, Cross Keys 18: The Golden Lions were able to get younger players some valuable minutes in the romp of Cross Keys. A pair of sophomores led St. Pius in scoring. Christian Mattei scored 16 points and Everett Lane, younger brother of the season's leading scorer Kerney Lane, added 10 points.
Class AAA
No. 3 Morgan County 52, No. 4 East Jackson 45: Morgan County held on against East Jackson and for at least one more meeting, proved they are still the team to beat in Region 8. Travis Anderson led East Jackson's trio of talented sophomore guards with 22 points in the loss.
No. 7 Calhoun 65, Ringgold 41: The Yellow Jackets passed their first test of the season with a blowout win. Fresh off the gridiron, Kaelan Riley scored 25 points and seven rebounds in the Calhoun season opener. Chapin Rierson finished with 14 points and nine rebounds in the win.
No. 9 East Hall 74, Dawson County 57: Tylor Brown's career-high 29 points paced the Vikings in a lopsided victory. Triston Cooper added 12 points and Jacquen Hopkins netted 13 to round out the scoring.
Central-Macon 70, No. 10 Southwest Macon 61: Starting guard Aaron Ridley missed the game with a stress fracture in his back, and the lack of his presence proved costly as the Patriots dropped a region game. In the defeat, Nick Hargrove Jr. finished with 27 points and seven rebounds to go with his four assists. Justin Slocum posted a double-double with 20 points, 11 rebounds and seven blocks.
Class AA
No. 1 Seminole County 94, Mitchell County 73: Jordan Harris scored 41 points again, and added eight assists, seven rebounds and six steals to add to his legacy in south Georgia. Anfernee King went for 27 points, eight assists, seven steals and five boards.
No. 5 GAC 55, No. 2 Pace Academy 49: The Spartans officially announced their presence as a threat to contend for the Region 6 title after sending Pace Academy to a 0-3 start. Garrett Covington powered the attack with 20 points and received great balanced play from his teammates. Brian Coffey Jr. returned from an injured knee to add nine points while Jacob Hoffman and Hunter McIntosh added 10 and 11 points respectively.
No. 6 Holy Innocents' 74, Hapeville Charter 50:  Cole Smith remained hot with 22 points. Jules Erving added 18 for the Golden Bears.
Class A
No. 2 St. Francis 67, Buford 65: Coach Eddie Martin gets closer and closer to earning a signature victory at Buford. The Knights held on against the Wolves behind 21 Kobi Simmons points. Anthony Showell and Chance Anderson scored 18 and 11 points respectively. Sahil Patel finished with 12 points for Buford. Will Springer sank four threes en route to a 14 point night. Alex Jones chipped in 13 points in the loss.
No. 3 North Cobb Christian 56, Trion 27: Demiere Brown scored 12 points and snatched 10 rebounds to lead North Cobb Christian. Will Crumly controlled the glass with 13 rebounds of his own.
No. 4 Whitefield Academy 75, No. 9 Walker 57: Brendon Myles posted another double-double with 19 points, 12 rebounds, four assists and three steals to lead the Wolfpack. Isaiah Hart finished with 18 points and five steals while Malik Jones added 10 points.
No. 6 Lakeview Academy 66, Union County 33: The Lions received 15 points and 10 rebounds from Carter Reeves to blow by Union County. Drew Cottrell and Josh Randolph both scored 12 points while Daniel Fadool and Jack Blackburn both notched six assists.
No. 7 St. Anne-Pacelli 71, Central-Talbotton 55:  Tre Sudberry and Armon Prophet continued their strong play for the Vikings. Sudberry scored a team-high 22 points with five assists, two blocks and four steals while Prohpet finished with 18 points, 12 assists and seven steals. Triston Wells also chipped in 12 points.
GIRLS
Class AAAAAA
No. 4 South Forsyth 68, Habersham Central 37: Maryland signee Sarah Myers led the way with a game-high 19 points. Emily Dreslinski and Caroline Diem scored 11 and 10 points respectively in the win.
No. 8 Tucker 73, Rockdale County 36: Morgan Collins scored 12 points while Jayla Morrow and Chiqueria Cook both added nine. Morrow also collected three assists and three steals. Cook pulled down nine rebounds.
Class AAAAA
No. 2 Sequoyah 77, Cass 44: The She-Chiefs routed host Cass behind Lauren Hartman's 21 points and seven rebounds. Both Kelley Hartman and Emily Seres scored 11 points while Megan Garcia and Peyton Satterfield pitched in nine apiece. Alyssa Cagle finished with eight points, five rebounds and seven assists.
Class AAAA
No. 3 Marist 42, Columbia 18: Ansley Goss powered a balanced War Eagle attack with 16 points and six assists. Dominique Oden dazzled on both ends with 14 points, eight assists and seven rebounds. Annabelle Farabaugh added 10 points.
Class AAA
No. 3 Dawson County 62, East Hall 55 2OT: No. 3 Dawson County survived in 2OT against an extremely good Lady Vikings team. Karlie Bearden scored 18 of her game-high  24 points in the second half including a three-pointer with just over 30 seconds left to send the game to overtime. Haley Burgess scored 10 points. East Hall was led by Carly Winters' 20 points, coming off six three-pointers. Kylah Mize netted 19 in the defeat