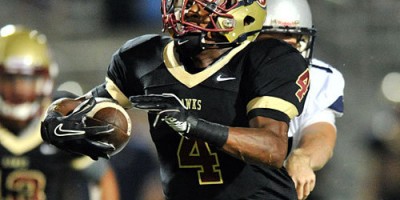 Class AAAAAA
Grayson 54, Valdosta 21
How the game was won: Cameryn Brent got Grayson(12-0) on the board with an 8-yard touchdown and the Rams piled on 17 points in the final three minutes of the opening quarter to build a 24-0 lead. Will Van Pamelen kicked a 30-yard field goal with 2:58 left in the first quarter and 10 seconds later Mykelle McDaniel tipped Seth Shuman's pass and Owen Pappoe secured the interception and returned it to the end zone. Chase Brice found Austin Nash for a 34-yard score that made it 24-0. Brice found Evan Sturgill for a 9-yard touchdown in the second quarter and Van Pamelen added his second field goal. Grayson outgained Valdosta 317-to-118 in the first half and led 34-7. Brent ran in his second touchdown from 25 yards in the third quarter and Ernest Tiller ran in back-to-back Grayson touchdowns from 60 and 64 yards to balloon the lead to 54-7 with 4:04 left in the third. Valdosta's Shuman threw two of his three touchdowns in the final quarter.
Top Performers: Cameryn Brent and Ernest Tiller each ran in two Grayson touchdowns. …Grayson quarterback Chase Brice threw touchdown passes to Austin Nash and Evan Sturgill. … Will Van Pamelen kicked two Grayson field goals. … Valdosta quarterback Seth Shuman threw three touchdowns.
South Forsyth 42, Tucker 35
How the game was won: Leading 42-35 heading into the fourth quarter, South got an interception by Curtis Roach and turned over Tucker on downs in the final period to hold on for the home victory. With the game tied at 21-21 at halftime, South Forsyth scored on runs of 50, 70 and 87 yards in the third quarter.
Top performers: South Forsyth quarterback Davis Shanley had 14 carries for 169 yards and touchdown runs of 68, 13 and 70 yards. He was 6-of-14 passing for 85 yards and a 26-yard touchdown pass to Ronnie Chambliss. … South's Sam Outlaw rushed 10 times for 114 yards and an 87-yard touchdown, and Stanley Epeagba rushed nine times for 85 yards and a 50-yard score. … Defensive end Cameron Kline and linebacker Andrew Stephens both recovered fumbles for the War Eagles. … South Forsyth won a coin toss to host Class AAAAAA No. 1 Colquitt County next Friday.
Collins Hill 31, Newton 24
How the game was won: After tying the score up17-17 with a touchdown and a two-point conversion in the third quarter, Jeremy Lewis scored on a 40-yard and a 35-yard touchdown to put the Eagles up 31-17. After Newton's Romario Johnson threw a 15-yard touchdown pass to Artice Hobbs to pull the score within seven, Collins Hill stopped Newton at the goal on their ensuing drive. With minutes left in the game, Collins Hill picked up two first downs to seal the victory.
Top performers: The Eagles got on the board in the first quarter when Monty Horn hit Des Howard on a 17-yard touchdown pass. Collins Hill's two-point conversion attempt came as a result of a blocked extra point following Howard's touchdown…Newton's Johnson also threw a second quarter touchdown touchdown to DeAndre Huff that went for four yards. …Newton kicker Nick Munoz connected on two field goals in the first half.
---
Class AAAAA
Allatoona 30, Starr's Mill 14
How the game was won: Leading 21-14 in the fourth quarter, Allatoona received a 23-yard field goal by Skyler Davis and put the nail in the coffin when Tate Tatum returned an interception 38 yards for a touchdown.
Top performers: Starr's Mill Dion Munerlyn provided the first score of the game with a 3-yard rushing touchdown to break a scoreless tie. …Quarterback Joey DuLuca found Satchel Goodrich for a 6-yard touchdown pass to pull the team within seven. …Jalen Parrish scored on a 5-yard run in the third quarter for Allatoona.
Kell 14, Coffee 7
How the game was won: Bryson Armstrong scored the go-ahead touchdown with a 4-yard run out of the Wildcat formation on the second play of the fourth quarter, capping off a long Kell drive. Shamaar Bennett recovered two fumbles for Kell, returning one 99 yards for a touchdown.
Top performers: Both of Bennett's fumble recoveries came in the second quarter. The 99-yard touchdown return came after Coffee had gone up 7-0 on its first drive of the game, with the Kell defense knocking the ball loose as Coffee stretched for the end zone. His second fumble recovery stopped a Coffee drive deep in Kell territory.
Stockbridge 40, Gainesville 34 (OT)
How the game was won: Gainesville trailed 28-6 before a miraculous comeback sent the teams into overtime tied 34-34. The Red Elephants fumbled their overtime possession and Stockbridge clinched the game with a 1-yard Malachi Brown touchdown. Jalen Holston ran in three touchdowns to help Stockbridge build its 28-6 halftime lead. Gainesville answered with 20 straight points to cut it to 28-26 but Holston ran in his fourth score to push Stockbridge back up 34-26 (failed conversion). Messiah Dorsey, who ran for two of Gainesivlle's three second half touchdowns, found Martavious Davis for the tying score that forced overtime.
Top performers: Jalen Holston led Stockbridge with four rushing touchdowns. …Malachi Brown ran in the game-winning touchdown in overtime.
Glynn Academy 20, Dalton 13
How the game was won: JP Tighe gave Dalton a 7-6 lead with a touchdown pass to Kyrie McGowan, but Glynn Academy used its big-play ability to silence the top-seeded Catamounts. Garrison Hurd took a lateral in for a 24-yard touchdown that gave Glynn Academy a 13-7 lead. Isai Hernandez chipped at the lead with a 28-yard field goal but Deejay Dallas countered with a 16-yard touchdown run to put Glynn up 20-10. Hernadez made it a one-possession game with a 47-yard field goal but a scoreless fourth quarter allowed the Terrors to advance. Dalton blocked a Glynn field goal with 8:34 left but could not orchestrate the game-tying drive.
Top Performers: Glynn Academy's Garrison Hurd scored on a 24-yard lateral and Deejay Dallas ran in a 16-yard touchdown. … Isai Hernandez kicked two Dalton field goals, including a 47-yarder.
Houston County 42, Mays 40
How the game was won: Houston County led 40-33 with 6:45 left in the game as Mays was struggling at their own 10 yard line. The Bears took advantage of a botched snap and forced the Mays quarterback into a safety to push the lead to 42-33. Mays answered late score but the safety put the game out of reach.
Top Performers: Jake Fromm (Alabama commit) connected with Amari Colbert (16, 75 yards) and Eli Watson (46 yards). … Jordan Strevig punched in two field goals (34, 41 yards). … Chris Brinson notched two rushing touchdowns (5, 7 yards). … Mays' BJ Phillips connected with Randrecous Davis (31 and 51-yards) and DeAndre Brown (5 yards). … Myles Reid recovered a blocked punt in the end zone for a touchdown.
Northgate 41, Lanier 21
How the game was won: The second seed out of Region 4-AAAAA knocked off the top team in Region 8-AAAAA on the road. Northgate jumped out to a 28-7 halftime lead thanks to capitalizing on fumbles by Lanier in the opening two possessions of the game. Running back Ton Evans scored on a big 80-yard run in the second quarter that told the story of the game.
Top performers: Evans finished with three times in the game, including a pair of three-yard runs in the second half. …Quarterback Kyle McLaren hit Jay Anderson for touchdowns twice in the first quarter on plays of 27 and 28 yards. That put Northgate up 14-0 quickly. …Kyle Carter then added a three-yard touchdown run off of a Lanier fumble to go up 21-0 in the first.
Drew 54, South Paulding 23
How the game was won: South Paulding opened up a 17-0 lead midway through the third quarter, and that was when the Drew offense woke up. They scored 28 unanswered points to take a 28-17 lead into halftime thanks to their workhorses quarterback Joseph Newman and running back Quarderman Sloan.
Top performers: Newman finished the game with three first half touchdown passes and four total scores for the game. He got his team on the board with a huge 67-yard touchdown throw to Jordan Bolden, and he followed that with a five-yard touchdown throw to Kahari Richards in the second quarter. He then connected with Mason Williams on a 38-yard touchdown pass, and he also scored on a 15-yard run in the fourth quarter. …Sloan notched another two touchdowns in what has turned out to be a stellar season for the half-back. He scored on a 25-yard run right before the half and a 12-yard scamper in the fourth. …CJ Davenport left no doubt in the fourth quarter with two rushing touchdowns on runs of 20 and three yards.
Ware County 35, Rome 24
How the game was won: Rome had a 24-14 lead going into the fourth quarter but Ware County scored 21 unanswered to punch a ticket to the Elite 8.
Top Performers: All of Ware County's touchdowns came from the rushing game, with Dedrick Mills leading the way. … Mills had 16 attempts for 125 yards and two touchdowns… Jequez Bolds, Raja Bradley, and JeMar Lincoln each had touchdown rushes out of the Gators backfield.
---
Class AAAA
Buford 42, Worth County 0
How the game was won: Buford led 21-0 at halftime thanks to two first-quarter touchdowns from Martin Mangram. The Wolves rushed for 396 yards as a team and held Worth County to 128 yards rushing, with just 13 in the second half.
Top performers: Mangram scored touchdowns of 1 yard and 5 yards in the first quarter for the host Wolves. … Mic Roof was 5-of-8 passing for 52 yards with a 14-yard touchdown to Brandon Marsh in the second quarter. … Christian Turner led Buford with 78 yards rushing on five carries and a 51-yard touchdown on the first play from scrimmage of the second half. … Xavier Gantt had six carries for 77 yards and a 23-yard touchdown in the third. … Anthony Grant capped scoring with a 7-yard rushing touchdown in the fourth quarter, finishing with seven carries for 63 yards. … Bernardo Burgos hit all six extra points.
Jonesboro 14, Carrollton 10
How the game was won: Carrollton came up 1-yard short of stealing the road victory but fumble on fourth and goal put the ball back in the Cardinals' possession with just :41 left. Zerrick Cooper gave Jonesboro its first lead with a 22-yard touchdown pass to Jordan griffin on the first possession of the game. Carrollton evened it up on the final play of the first quarter when Jonesboro fumbled the punt on a 4th and 10. Cooper completed four straight passes to Montralius Mosley before the duo capped off the drive with a 13-yard touchdown. Carrollton's Thomas Culwell added a 25-yard field goal to cut it to 14-10 with 8:09 left.
Top Performers: Jarvis Terrell led Carrollton with 18 carries for 119 yards. … Zerrick Cooper completed 14-of-25 passes for 205 yards and two touchdowns to lead Jonesboro.
Bainbridge 14, Sandy Creek 7 (OT)
How the game was won: These two teams were scoreless until Bainbridge found the first touchdown of the game halfway through the 3rd quarter. Sandy Creek would tie it up again just before the fourth quarter. On 4 and 10 in OT, Bainbridge went for it and scored the game-winning touchdown on a Brett McLaughlin touchdown pass to Russell Wheeler.
Top Performers: Brett McLaughlin took a quarterback sneak into the end zone for Bainbridge's regulation touchdown… In overtime, Russell Wheeler caught the game winning touchdown.
Marist 45, Mary Persons 21
How the game was won: Marist held a slim lead at halftime (10-7) and pushed the lead to 24-14 after three quarters when Michael Addicks turned it on. Addicks reeled off three fourth quarter touchdowns to pull away from a tough Mary Persons squad, the final coming on a 6-yard rush with :51 left in the game.
Top Performers: Addicks scored on three goaline dives as well as the 6-yard rush. … Spencer Taylor notched a 33-yard touchdown run. … Jack Dinges added a 10-yard rushing score. … Abner Perez kicked 37-yard field goal in the win. … Mary Persons found scoring from Quen Wilson on rushing touchdowns of one and 61 yards. … Roger Akins caught a pass from Jake Johnston and ran in from 42-yards for a score.
Cartersville 28, Liberty County 7
How the game was won: Tiamon Pennymon stole the show, scoring all four touchdowns and picking off a pass on defense.
Top Performers: Tiamon Pennymon scored on runs of 1, 3, 9 and 4 yards to lead Cartersville. …Tyler Reed intercepted a pass and returned it 92 yards to set up Pennymon's final score.
---
Class AAA
Westminster 49, Callaway 28
How the game was won: The Cavs battled back from a 24-7 deficit to make it 35-28 in the fourth, but Westminster scored the final 14 points of the game after Callaway was plagued with fumbles which led to Wildcat points.
Top Performers: Running back Zay Malcome scored on runs of 7, 3 and 31 yards in the first half to help Westminster take a 21-7 lead. …Blake Gillikin kicked two field goals including a 52-yarder. …Callaway received three touchdown runs from Cedric Maynard. …Braylon Sanders scored on a 50-yard run.
Blessed Trinity 38, Jefferson 12
How the game was won: Blessed Trinity only managed one touchdown late in the first quarter to take a 10-3 lead into the half. After Blessed Trinity took a 17-12 lead into the fourth quarter, Garrett Dupuis found the end zone three times and put the game out of reach.
Top Performers: It was the Garrett Dupuis show tonight for Blessed Trinity. Dupuis accounted for four of the five touchdowns… Elijah Hamilton was the only other Titan to find the end zone.
Calhoun 20, Peach County 14 OT
How the game was won: The Yellow Jackets forced a fumble at the 1-yardline in overtime and Baylon Spector recovered it to give Calhoun a crack to win it on their possession. Kaelan Riley ran in a 15-yard score to win the game and advance Calhoun onto the quarterfinal stage. In the win Calhoun outgained the Trojans 427 to 220 and recorded 25 first downs to Peach's six.
Top Performers: Kaelan Riley went 16-of-25 for 166 yards and a 25-yard touchdown pass to Olico Dennis. Riley also ran 28 times for 165 yards and the game-winning touchdown. ..Dennis carried 22 times for 78 yards. …Baylon Spector caught five passes for 44 yards and Landon Rice hauled in four for 42 yards. …Peach scored its two touchdowns on Antonio Gilbert passes to Kendrick Johnson and Tyrique McGhee. Gilbert finished with 203 yards, two touchdowns and 15-of-23 passing.
Adairsville 34, Jackson 16
How the game was won: Jackson cut the game to 21-16 entering the fourth, but that would be as close as it would get as the Tigers the final 13 points of the game in the final frame.
Top Performers: Roger Redd tossed two touchdowns, one to Jayson Cantrell and one to Torrey Hale. …Hale also scored on a 35-yard run. …Marquel Lane and Sidnee Johnson both added 5-yard touchdown plunges. …Shaderious Crowder threw two touchdowns in the loss.
Westside-Macon 43, Sonoraville 10
How the game was won: Sonoraville found the game tied (3-3) after one quarter as Westside-Macon looked for momentum, they would find it. Westside capitalized in the second and third quarters posting 33 straight points. Edward Veal scored the final touchdown on a 27-yard fumble recovery.
Top performers: Savion Knowlton Westside-Macon with three touchdown runs (2, 3 and 37 yards). … Knowlton also connected with Steve Dolphus (25-yards) and Gerimie Mitchell (26-yards) for touchdowns. … Veal added a fumble recovery for a touchdwon. … Sonoraville found scoring from Cody Long on a 14-yard rushing touchdown. … Kevin Villatoro added a 29-yard field goal.
---
Class AA
Pace Academy 27, Screven County 7
How the game was won: Sophomore quarterback Gunnor Faulk threw two touchdowns to Trey Blount in the first half, one each in the first and second quarters, to put No. 4-seed Pace up 17-7 at halftime on the road at No. 2-seed Screven County.
Top performers: Sam Sloman hit two field goals for the Knights, of 22 yards in the first quarter and 41 yards in the fourth quarter. … The final touchdown of the game came in the fourth quarter when Mick Assaf returned an interception 50 yards for a touchdown. It was Assaf's sixth interception of the season.
Benedictine 41, Lovett 40
How the game was won: John Kennedy ran in a 40-yard score with 3:32 remaining to give the Cadets the lead. Lovett lined up for a 46-yard field goal attempt with 49.6 left to play, but the kick was no good and the Lions had no timeouts left, allowing the Cadets to run out the clock.
Top Performers: John Kennedy scored two rushing touchdowns. …Tyleek Collins and Chris Harris both added rushing scores. …Nick Iannone hit Kennedy for a 44-yard touchdown to kick off the scoring. …Tillman Geriner returned an interception 25 yards for a touchdown. …Brady Tindall threw three touchdowns and rushed for two scores in the loss for Lovett. …Cole McGowan booted field goals of 35 and 34 yards.
Jefferson County 23, Wesleyan 21
How the game was won: Behind Evan Hodges' three field goals and game-winner from 37 yards with 2:56 remaining, the Warriors held on against the Wolves.
Top Performers: TJ Bell ran in a 6-yard score to begin the scoring for the Warriors. …He also flicked a touchdown to Michael Davis. …Evan Hodges sank three kicks highlighted by a 27-yarder and the game-winning 37-yarder.
---
Class A-Public
Irwin County 30, Wilkinson County 13
How the game was won: The Wilkinson Warriors were held to 30 yards of offense in the second half as the Indians raced past the Warriors. Irwin County led in total yardage 391-184.
Top Performers: DJ Pollard ran for 231 yards on 21 carries and scored three touchdowns. …Reid Fletcher connected with Kyle Jones on a 45-yard touchdown pass. …Wilkinson scored on an Akeem Jackson run and a Savion Knight 28-yard catch from the arm of Tylan Grable.
Clinch County 30, Dooly County 8
How the game was won: The Panthers plowed away at the ground and scored four rushing touchdowns to power past the Bobcats. Clinch only led 8-0 at the half before a 16-point third quarter extended the lead to 24-8.
Top Performers: Trezman Marshall ran for a 22-yard score, the only points of the first half. …Shannon Young scored twice on the ground in the third quarter. …Zebulon Johnson delivered the knockout punch in the fourth with a 57-yard touchdown run. …Dre Lawson scored Dooly County's lone points on a 10-yard pass play.
---
Class A-Private
Christian Heritage 22 , Athens Academy 14
How the game was won: No. 6 Athens Academy was outscored by No. 11 Christian Heritage 15-0 in the final quarter after taking a 14-7 lead. Christian Heritage lead 7-0 at the half before Drew Richardson and Will Corey ran in touchdowns to build Athens Academy's 14-7 lead. Nasir Love-Porter ran the Christian Heritage touchdown that cut it to 14-13 and the PAT was blocked. Christian Heritage orchestrated two more scoring drives, including the game-winning drive that resulted in a 34-yard field goal by Heath Hardaway with 4:46 to play that made it 16-14.
Top Performers: Ahmaad Turner ran in Christian Heritage's first half touchdown. … Drew Richardson and Will Corey each ran in Athens Academy touchdowns. … Nasir Love-Porter opened the fourth quarter with a Christian Heritage touchdown. … Heath Hardaway kicked a 34-yard game winning field goal with 4:46 to play.
Stratford Academy 14, Calvary Day 7
How the game was won: Stratford Academy's O'Showen Williams scored the go-ahead touchdown with seven minutes left. Williams then iced the game with an interception in the end zone with 3:30 left.
Top Performers: Quintez Cephus ran in a 40-yard touchdown and also intercepted a pass in the final quarter. … Nolan Smith scored on a 1-yard run for Calvary Day.
Savannah Christian 24, Landmark Christian 14
How the game was won: Jordan Grant hit Ben Haeussler on a 12-yard touchdown pass late in the fourth quarter to put the game out of reach and give Savannah Christian the victory.
Top performers: Loftin Tidwell scored both touchdowns for Landmark Christian. His 2-yard touchdown run in the first quarter was the first score of the game. The second was a 6-yard touchdown run to bring the team within three points in the fourth. …Demetris Robertson scored on a big 57-yard touchdown run for Savannah Christian to break a 7-7 third quarter score. …Bryce O'Brien added a key 28-yard field following Robertson run to stretch the lead to 10.
Eagle's Landing Christian 45, Mt. Pisgah 7
How the game was won: Eagle's Landing Christian jumped out to a 35-0 lead at halftime after three touchdown runs from Trevor Gear. Khaleb Hood had a 60-yard interception return for a touchdown in the first quarter, and D.J. Hammond found Sean Queen for a touchdown pass right before halftime to put the game away.
Top performers: Host ELCA got 201 yards rushing and touchdown runs of 62, 36 and 4 yards. His first score came on the second play of the game from scrimmage. … Hammond finished 3-of-4 passing with a 55-yard touchdown to Queen. … In addition to his score on defense, Hood had an 18-yard rushing touchdown. … Josh Mays added 10 rushes for 82 yards. … Alex Usry was perfect on six extra-point attempts and capped scoring with a 34-yard field goal in the fourth quarter.
Pinecrest Academy 20, Athens Christian 7
How the game was won: No. 2 Pinecrest Academy survived a scare from No. 15 Athens Christian at home in the opening round of the Class A-Private state playoffs. High-powered Pinecrest was held scoreless until the third quarter. With the scored tied at seven heading into the fourth, Mitchell Ojeda intercepted a pass that set up a Ryan McCarthy touchdown to give Pinecrest its first lead. They would never relinquish it from there. They will play host to No. 10 Mt. Zion, Carroll next Friday who beat No. 7 Lincoln County 10-7 on the road.
Top performers: Corey Downs caught a touchdown pass with 1:19 left in the game to stretch the Pinecrest lead to 21-7.
Aquinas 42, Brookstone 7
How the game was won: No. 3 Aquinas took care of No. 14 Brookstone in a Class A-Private bout thanks to a marvelous performance by the Fightin' Irish quarterback Liam Welch. With a 28-7 halftime lead, Aquinas cruised in the second half to an impressive opening round win. They will play No. 11 Christian Heritage at home next Friday night.
Top performers: Welch accounted for four total touchdowns in the game. He connected on two passing touchdowns. The first came in the first quarter to Joseph Neal, while the second was a nine-yard pass and catch to Justin Gibbs in the second. He followed that score up with a successful two-point conversion to Neal. In the third quarter, he broke a 36-yard run that resulted in a touchdown. He also scored from seven yards out for the team's final score. …Joseph Douglas and Chris Gates each scored on the ground for Aquinas. Douglas scored the game's first touchdown on a 6-yard run, while Gates' was from 19 yards out.