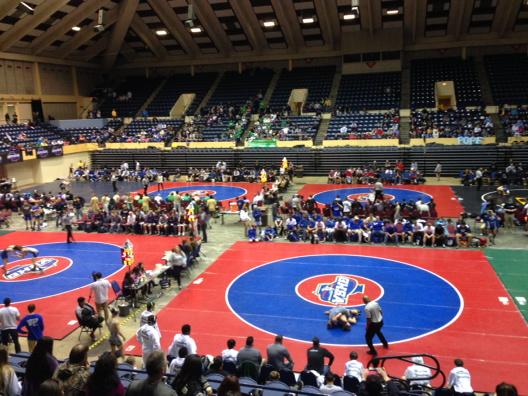 The 2016 State Dual Wrestling Championships return to the Macon Centreplex for three days of action as 80 schools get set to battle for Georgia's six state crowns. All six defending champs return and four of the reigning champions will look to continue title runs dating as far back as Jefferson's unprecedented 14 straight titles, which began all the way back in the inaugural year of the dual championships in 2002.
Despite a field of proven programs, the headliner of championship weekend resides in Class AAAAAA with Archer. With its 59-21 victory over Brookwood in the Area 8-AAAAAA duals championship last weekend, Archer extended its dual winning streak to 92 matches, which dates back to January 2012.
Now, the Tigers' run to a fourth straight duals championship begins with Alcovy in the first round and will likely await the winner of Kennesaw Mountain and seven-time dual state champion Collins Hill in the second round. Brookwood, which earned runner-up in the Area 8 duals to Archer, awaits a first round match with North Forsyth.

Collins Hill's potential second-round match with Archer is a result of the emergence of Moun- tain View as Area 7′s recent champion. The Bears shocked Collins Hill last year by snapping the Eagles' streak of 13 straight Area 7 titles and backed it up with a 35-25  finals victory last Saturday for back-to-back crowns. Mountain View faces Walton in the first round and would not have to face Archer until the finals.
In Class AAAAA, Camden County returned to the podium for the second time in program history (first since 2012) with a convincing 40-19 victory over Woodland-Cartersville in last year's  finals. Camden County cruised to an 18th straight Area title over the weekend and opens up with a first round match with Luella. Two-time state dual runner-up Woodland has a favorable matchup with Effingham County in the  first round and talent-laden Allatoona would not be a possible opponent until the semifinals.
DEPTH AND DOMINANCE…
Gilmer won Class AAAA's race for the state title and used a 52-13 victory over Northwest Whitefield to claim a sixth straight dual state title (eighth since 2005) a year ago. With North Hall, Carrollton, Buford, Marist and West Laurens, however, Class AAAA's 16-team bracket is load- ed with contenders. Gilmer earned a first round matchup with Upson Lee after clinching Area 7. Buford, which made its Class AAAA debut last season after winning the Class AAA Dual state title the previous year, will face Heritage-Catoosa in the opening round.
After winning the last 13 dual state titles in Class A (2002-08) and Class AA (2009-14), Jefferson used a 51-22 win over Sonoraville to take home its  first-ever Class AAA state title last year. It was an incredible match between Spencer and Lumpkin County for third place in Class AAA, however, that upstaged nearly every head-to-head matchup in last year's state duals. Spencer edged Lumpkin County 35-34 in their quarterfinal matchup, but could not complete the sweep against Lumpkin County. When the two teams met in the third-place game, Lumpkin County returned the favor with a one-point victory of its own (33-32). Without Sonoraville in this year's field, there is an opportunity for another team to potentially get a shot to shock the Dragons in the finals.
The 16-team brackets in the top four classifications shrink to eight teams in the state's two smallest classes. In Class AA, Social Circle used a 34-31 victory over Bremen to capture the program's  first-ever state championship last year and all eyes will be on this year's Redskins' team as they open the Class AA championship bracket with East Laurens. Social Circle and last year's runner-up Bremen would not meet until the nals if they can both avoid the loser's bracket.
In Class A, two-time state champion Commerce successfully defended its  first and only wrestling state title with a 54-24 win over Mt. Zion-Carroll last year. Commerce outscored Treut- len (59-15) and Trion (66-4) by a combined 106 points before the finals. Turner County fell 41-36 to runner-up Mt. Zion before topping Trion 34-27 for a third-place finish. Turner County now faces Commerce in the first round and Trion and Eagle's Landing Christian await the winner. Trion, which last won a traditional state title in 1994, is the only other team in Class A's bracket with a championship on its resume.