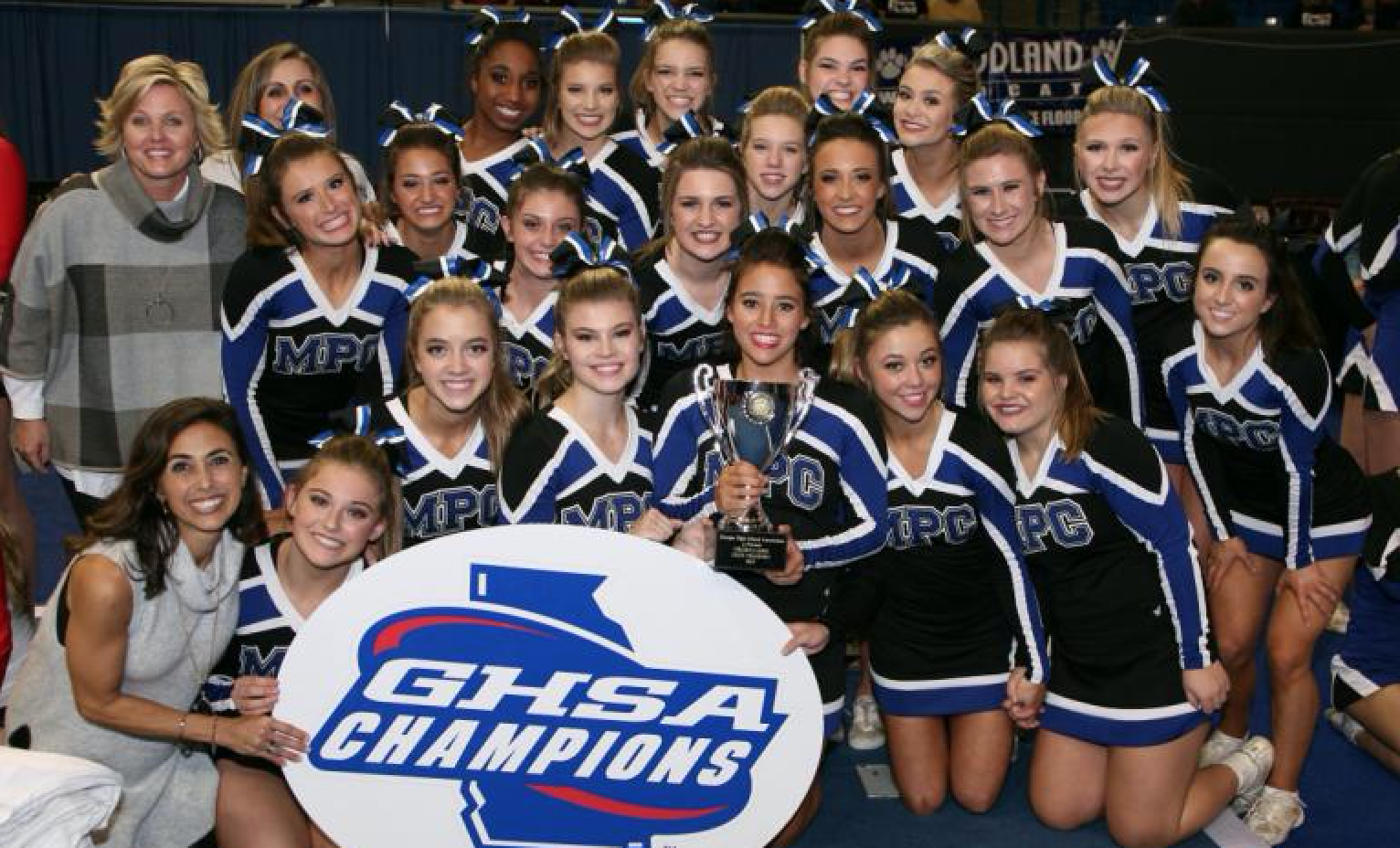 The 2018-19 GHSA Cheerleading State Championships return to the Columbus Civic Center for two days of electrifying routines and competition. The first day of action will see eight squads from each classification (AA-AAAAAAA) secure a place in Saturday's finals. Day 1 will also crown the champs of Class A-Public, Class A-Private and the high-flying COED Competition.
In Class A-Private, six-time defending state champion Mt. Paran enters as the top seed in the field of eight and is joined by Brookstone, Hebron Christian, Savannah Christian, Calvary Day, George Walton Academy, North Cobb Christian and First Presbyterian Day. Two-time defending Class A-Public state champion Gordon Lee is also slotted at No. 1, and headlines a field that includes Trion, Commerce, Irwin County, Schley County, Lake Oconee Academy, Washington Wilkes and ACE Charter.
The Milton Eagles won the COED state championship last year—giving the program its first-ever cheerleading state title. This year, the Eagles are coming to Columbus as the No. 8 team in the field of 16. Mill Creek, McIntosh, Peachtree Ridge and Winder-Barrow round out the top 5, and Forsyth Central, which Milton edged by a point for last year's crown, comes in at No. 7 behind No. 6 Apalachee.
EYE ON THE PRIZE
In Class AAAAAAA, Archer, Brookwood, Collins Hill, Lambert, Lassiter, Hillgrove, Newnan and Lowndes are booked for the finals on Saturday after placing first in their respective regions. Friday will see 17 other squads compete for a chance to join them on Saturday and this group includes defending state champion South Forsyth, which placed fourth in a loaded Region 5-AAAAAAA.
Three-time defending state champion Northgate placed second behind Alexander in Region 5-AAAAAA and leads the 24 teams in the classification that will have to earn the right to join finalists Lanier, Johns Creek, Harrison, Alexander, Stephenson, Lakeside-Evans, Richmond Hill and Houston County.
Reigning champion Carrollton is one of the seven finalists, and 28 total teams, that will be vying for this year's Class AAAAA title. Chapel Hill clinched its first state title last year, and takes a Region 5-AAAA top finish to this year's finals. Joining the Panthers on Saturday, will be a surprising newcomer. Led by head coach Lindsey Needham, the Denmark Danes punched their ticket to the finals last weekend with a top finish in Region 7-AAAA. The result marks the brand new school's first-ever region championship in any sport. Needham previously led West Forsyth to three-straight top three finishes in Georgia's highest classification before accepting the position last December.
In Class AAA, Pierce County will go for its fourth-straight and sixth all-time crown this weekend. The Bears clinched Region 2-AAA and one of six finals berths, but 21 more squads will be competing on Friday for a shot to join them.
Defending Class AA state champion Armuchee was topped by Region 7-AA rival Coosa at sectionals, and will be one of the 21 squads fighting for a spot to join the Eagles, Monticello, KIPP Atlanta, Bremen, Screven County, Dodge County and Bacon County in the finals.
Friday 2A-7A Sectionals Schedule: CLICK HERE
Friday A & COED Finals Schedule: CLICK HERE
Saturday 2A-7A Finals Schedule: CLICK HERE