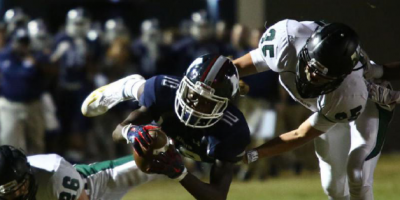 The first half of the 2019-20 academic school year included a memorable collection of championship-clinching performances that marked the ending to the fall sports season. In total, 48 team state championships were handed out across fall's five sports disciplines, and of those winners, nearly 30 percent were first-time champions. Now that winter sports are in full swing and spring's schedule is waiting on the 2020 horizon, it's worth taking a look back at fall's big winners, as well as determining who was the biggest winner of all.
On the gridiron, the Marietta Blue Devils capped a championship season by defeating Lowndes 17-9 in the Class AAAAAAA finals. The victory earned the team an invitation to the GEICO State Champions Bowl Series the following weekend in Vegas, where they were matched up with Eastside Catholic (WA), which won its own state title two weekends prior to the Dec. 20 kickoff. Marietta seized the opportunity to add another statement victory to its historic season and crushed the Crusaders 53-14. Tennessee-bound quarterback Harrison Bailey added six more touchdown passes to conclude his outstanding senior season and Ricky White's six catches in the bonus game allowed him to join Gatorade National Player of the Year Arik Gilbert as Marietta's duo of playmakers that each finished the 2019 season with triple-digit receptions.
The Harrison Hoyas achieved gridiron perfection in 2019 and closed out the school's first-ever football state championship with a 20-7 victory over Cobb County rival Allatoona in the Class AAAAAA finals. The Class AAAAA championship was decided in overtime where Buford edged Warner Robins 17-14 under its first-year head coach Bryant Appling. Blessed Trinity hoisted its third-straight Class AAAA championship with a well-executed 17-14 win over LSU-bound lefty quarterback Max Johnson and the Oconee County Warriors. After Oconee County made it a 17-14 game with 49 seconds left in the third quarter, Blessed Trinity limited the Warriors to just three offensive snaps. A brilliant 17-play drive ate up the final nine minutes and Oconee County was left powerless as the Titans lined up in the victory formation and kneeled out the game's final two plays.
Cedar Grove defended its Class AAA championship with a 21-14 win over Crisp County under first-year head coach Miguel Patrick, and Dublin responded to a loss to Washington County in its regular season finale by outclassing the AA playoff field and winning the program's fifth all-time state title. ELCA avenged its only regular season loss and celebrated its fifth-straight Class A-Private state title with a 21-7 win over Holy Innocents'. The Class A-Public championship game was the scene of an emotional triumph for the Irwin County Indians and their head coach Buddy Nobles, who was diagnosed with stomach cancer before the start of the season. The Indians faced Marion County looking for their first state title since 1975 and were making their fifth finals appearance in the last six seasons hoping to finally end the title drought. Irwin County prevailed in convincing fashion—capping its perfect and inspiring season with a 56-14 victory.
The softball season ended with three first-time champions and a record-tying 10th all-time state title for four-time reigning Class A-Public champion Gordon Lee. In Class AAAAAAA, Mountain View used a trio of 1-run victories in the state tournament to set up its 3-1 championship-clinching win over Gwinnett rival Grayson to capture its first state title.
Pope outscored the competition by a combined 22-2 in the Class AAAAAA state tournament and won its first state title since 2014. Locust Grove won its third-straight Class AAAAA championship, Heritage-Catoosa clinched back-to-back Class AAAA titles and Class AAA champion Ringgold produced its first title since 2005. Class AA's Banks County and Class A-Private's Mt. de Sales each became first-time state champs.
The Walton volleyball team didn't drop a single set during its 2019 playoff run and took down rival Lassiter in the finals to notch the program's record-extending 14th all-time state title and fifth-straight. In Class AAAAAA, Allatoona scored a thrilling five-set victory over Sequoyah to win its first-ever title. The Bucs took a 2-1 lead after dropping the opening set 25-21 and ultimately needed a 15-12 win in the fifth set to clinch it after after Sequoyah's 25-17 win in the fourth. McIntosh swept rival Whitewater to win its third-straight Class AAAAA state title and Blessed Trinity held off St. Pius 3-1 in Class AAAA to win its fourth volleyball state title since 2014 and seventh all-time. Pace Academy defeated rival Westminster in the Class AAA championship for the third straight season. Coosa and Elite Scholars Academy met in the Class AA/A-Public finals for a second-straight season and a 3-2 victory gave Coosa its third-straight championship. In Class AA/A-Private, Hebron Christian swept Walker to win its first state title since 2014.
Eight boys and eight girls teams won titles at the Cross Country State Championships in addition to the 16 individual championships that were handed out to the fastest runner in each of the championship meets. Archer's Myles Collins had the fastest boys time out of all the classifications (15:46.77) and Woodland-Cartersville's McKenna Trapheagen clocked the fastest girls time (18:27.67). The fastest team times were the Walton boys (1:23:51.46) and the St. Pius girls (1:38:07.24). Walton's team effort in the boys Class AAAAAAA championship meet resulted in the program's first state title since 1986. Harrison (AAAAAA), Decatur (AAAAA), Oglethorpe County (AA) and Commerce (A-Public) each became first-time champions on the boys side. Additionally, St. Pius and Westminster both three-peated and Wesleyan went back-to-back. The wins gave St. Pius and Wesleyan their 11th all-time titles and it gave Westminster the program's 27th.
The Hillgrove (AAAAAAA), Holy Innocents' (A-Private) and ACE Charter (A-Public) girls all became first-time cross country state champs. St. Pius (AAAA) and Bleckley County (AAAA) captured their fourth-consecutive titles, McIntosh (AAAAA) won its second in three seasons and Cambridge (AAAAAA) won its third-straight. Westminster's victory in Class AAA was the Lady Wildcats' seventh-straight championship and the program's 32nd all-time state title.
The Columbus Civic Center staged the Cheerleading Championships for two days of competitive, high-flying action.  In the top classification, Lambert defended its title while also adding its fourth championship in the past five seasons. Four-time defending champion Northgate was toppled by first-time state champion Creekview in Class AAAAAA and McIntosh clinched its fifth all-time state title in Class AAAAA.
History was made in Class AAAA as Denmark's cheerleading squad brought the second-year school its first-ever state championship. Pierce County added its sixth-straight Class AAA championship and its seventh in the last eight seasons. Vidalia won its third all-time title in Class AA and Gordon Lee won its fourth-straight in Class A-Public. Mt. Paran claimed its eighth-straight Class A-Private title—resulting in the program owning every championship since the classification was created in 2012. The CO-ED Championship went to Mill Creek for a second-straight year.
With each state championship that is won, that school is rewarded a full 100 points in the GADA Director's Cup Standings. Results in the winter and spring sports will ultimately determine who ends up on top at the end of the school year, but the fall gifted several schools a sizeable advantage moving forward. For instance, Harrison won state titles in both boys fall sports (football, cross country) and was rewarded the maximum 200 points from the boys side of the standings. Strong finishes in fall's four girls sports added another 242 points and the Hoyas are currently leading last year's Class AAAAAAA Director's Cup winner Cambridge by a full 142 points (442-to-300) heading into the winter and spring seasons. If it is also taken into consideration that both of Harrison's boys championships this past fall were historic firsts for each program—then it's hard to dismiss the Hoyas being the biggest winner of all.
Harrison, however, was not the only school to win a pair of state championships in the fall. Five more did; including Blessed Trinity (football, volleyball), Gordon Lee (cheerleading, softball), Westminster (boys & girls cross country), St. Pius (boys & girls cross country) and Walton (volleyball, boys cross country). Only one school, however, won a trio of championships during the fall. That school was McIntosh, with the Lady Chiefs bringing home state crowns in cheerleading, girls cross country and volleyball.