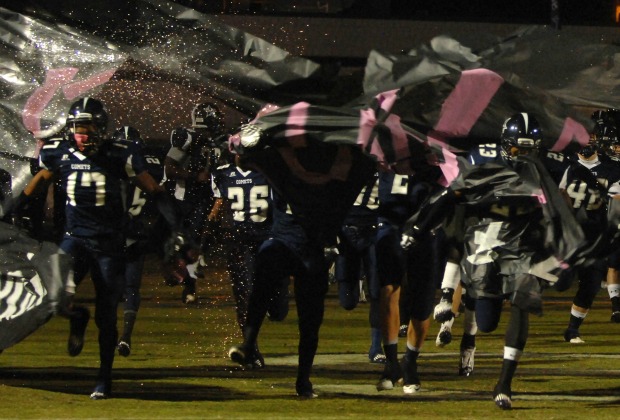 Sonny Kennedy
PlayOn! Sports and WSBtv.com will stream live 40 first-round playoff games this weekend, an unprecedented number of postseason games over Friday and Saturday. The games will be streamed LIVE on WSBtv.com at www.wsbtv.com/footballscores powered by PlayOn! Sports with live highlights and scoring updates.
The games are a combination of PlayOn! Sports produced content and school-produced games through the PlayOn School Broadcast Program and all will be streamed live on the PlayOn! Sports national video portal, www.playonsports.com as well as at www.wsbtv.com/footballscores. Fans can access all the games, scores and highlights LIVE on Friday, November 16 for the following games:
Tri-Cities vs. Lovejoy
Marietta vs. Lowndes
Wheeler vs. Grayson
Johns Creek vs. North Gwinett*
Rockdale Co. vs. Hughes*
Valdosta vs. North Cobb
Brookwood vs. Lassiter*
Mill Creek vs. Alpharetta
Chattahoochee vs. Norcross
Colquitt Co. vs. McEachern*
Parkview vs. Walton
Collins Hill vs. West Forsyth
Effingham Co. vs. Northside Warner-Robins
Creekside vs. Thomas Co. Central*
North Paulding vs. Flowery Branch
Tucker vs. Creekview*
Lakeside-Evans vs. Ware County*
Bainbridge vs. Union Grove
Clarke Central vs. East Paulding*
Richmond Hill vs. Warner Robins
Jones County vs. Glynn Academy*
Sequoya vs. M.L. King
Heritage-Conyers vs. Allatoona*
Jonesboro vs. Westover
Dalton vs. Carver-Atlanta
Riverdale vs. Cairo
Gilmer vs. Marist*
Stephens Co. vs. Carrollton*
Cedar Grove vs. Buford*
Jefferson Co. vs. Peach Co.*
Woodward Academy vs. North Hall*
Dawson County vs. St. Pius X*
Northeast Macon vs. Fitzgerald
Model vs. Greater Atlanta Christian
Westminster vs. Pepperell*
Bacon Co. vs. Screven Co.*
Macon Co. vs. Brooks Co.
Wesleyan vs. Calhoun*
Coosa vs. Lovett*
* Indicates school-led production as part of the School Broadcast Program.
The PlayOn School Broadcast Program allows participating schools in Georgia to produce and broadcast TV-like events for live and on demand viewing via the GHSA Network. Each school has an individual school branded page as part of the PlayOn! Sports national video portal that allows students to produce and distribute high quality events throughout the year, including regular season sports, graduation, concerts, news programs, and other school activities. Each broadcast boasts TV-like features, including graphic overlays, scoring, sponsor graphics, and video commercial breaks.
The GHSA Network is a partnership between PlayOn! Sports and the Georgia High School Association (GHSA) featuring rights and brand management, video production of state championship events, multi-platform distribution, and coordinated sponsorship sales of high school sports in Georgia.
PlayOn! Sports is the largest rights holder, producer, and aggregator of high school sports events distributed across television, the Internet, and IP-video enabled mobile devices. By combining State Athletic Associations' postseason content with the regular season events of member schools, PlayOn provides marketers with a unique multi-media platform solution to reach teens, young adults and families. PlayOn is headquartered in Atlanta, Ga., with offices in the Southeast, Midwest and California. For more information, contact PlayOn! Sports at info@playonsports.com or visit www.playonsports.com.