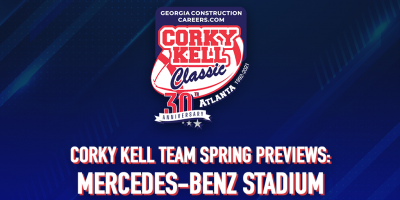 By: Brett Greenberg, Josh Talevksi and Ben Sokolik
The fourth and final day of the 30th annual Corky Kell Classic will be at Mercedes-Benz Stadium with five games taking place.
The schedule is included below the previews.
McEachern vs. Kell
McEachern
The McEachern Indians enter the 2021 season coming off their first losing season since 2008. Coach Franklin Stephens enters his third year at the helm and says this Spring was all about a total attitude shift and reestablishing the winning culture. The Indians installed a new offense and defense in just nine days of Spring practice and Stephens said he is pleased with where they are at as far as positioning and fundamentals. Quarterback Bryce Archie returns for his senior season after throwing for 1220 yards and nine touchdowns. It will be a running back by committee according to Stephens with Archie, junior Peja Womack and sophomore Shamar Hall all splitting carries. The receivers will be led by junior Daishaun Thomas, sophomore R.J. Echols and senior Kaleb Webb, who will also return for the Indians. The defense is led by linemen Drake Hatcher, a four-year starter and senior linebacker Rene Barber III, who made phenomenal gains in the weight room according to Stephens. Seniors Michael White III and Joshua Grant anchor a secondary that was questionable at times last season.
The 2021 Indians have put last season in the rearview mirror and have had an, "unbelievably productive Spring with all of the players buying in completely," according to Stephens.
Kell
The Kell Longhorns finished the 2021 season 6-4 with just one loss in their region before being kicked from the playoffs in the first round. Longhorns Head Coach Brett Sloan has graduated a large, talented senior class but returns plenty of production from last season. On the offensive side, running back David Mbadinga (offers from Kansas St. and Michigan St.) returns after a stellar sophomore season as well as senior receiver, Savion Riley. The Longhorn defense will be a strength this season with first team all-region senior DB Deandre Creary (six INTs last season) anchoring the secondary. Junior corner Ayden Jackson will also start after earning all-region honorable mention honors. Senior Quinn Buckley highlights the linebacker core earning first team all-region last season.
Kell holds an 8-3 record in the Corky Kell Classic since 2010. The Longhorns have an opportunity to avenge one of their losses from last season against Pope on September 3.
Parkview vs. Mill Creek
Parkview
The Parkview Panthers finished the 2021 season 8-4 and lost in the third round of the Class 7A playoffs. Coach Eric Godfree says last season was an incredible feat given all the protocols in place and made it clear that this season already feels more normal than last year. The 2021 senior class was the biggest group in the program's history and the 2022 class is the smallest senior class Godfree has had. 6-foot-3, 185-pound junior quarterback Colin Houck returns as the leader of the offense after a sophomore campaign where he threw for over 1700 yards and had eight touchdowns. Junior Mike Matthews heads the receiving and secondary groups after, "beefing up and working on fundamentals during the Spring," according to Godfree. The defense is led by senior DL Johnnie Brown who had, "the best spring of anyone on the team."
The 2021 Panthers features several sophomores and Godfree says this Summer is hugely important for his players who want to make it further in the playoffs.
Mill Creek
Coach Josh Lovelady has coached the Mill Creek Hawks for two seasons and says this year's team has the best receiving core he has had. Seniors Tye Green and Brendan Jenkins return for their senior seasons and look to produce more consistent numbers with junior quarterback Hayden Clark announced as the starter after cycling with three other QBs last season. The Hawks had eight season ending injuries last season forcing several younger guys to be thrown into competition whether they were ready or not, but Lovelady says it was a blessing in disguise. Mill Creek football is predicated on the defensive side of the ball and will have a big task this season after losing plenty of production in the front seven. Senior defensive lineman Gavin Guerra and outside linebackers: Zach Jollay and Jamal Anderson highlight the returnees. Four-star safety Caleb Downs anchors the secondary for the Hawks along with Bryson Taylor and Bryson Williams. The offensive line returns five players with significant playing time: Canton Wilhoit (Sr.), Rylen Little (Sr.), Mekhi Mcduffie (Sr.), Cooper Bothwell (Jr.) and Aiden Banfield (So.) who is a 6-foot-4, 275-pound sophomore. According to Lovelady, the coaching staff has not identified a sole starter for the running back position and could opt to go by committee. Senior Donovan Journey looks like he will be handed the reins in the first week.
The 2021 Hawks feature a team with plenty of returning production on both sides of the ball with one position group that will need to be answered: the running back.
Lowndes vs. Walton
Lowndes
Lowndes completed their fifth consecutive 10+ win season, going 10-2 and losing in the 7A Playoffs semifinals to Collins Hill in coach Jamey Dubose's first season. Dubose has had an immense amount of success in his coaching career, making the playoffs every season from 2008 to 2019 at various high schools in Alabama, with eight double-digit win seasons and three state championships in that time. Having a senior-heavy team in 2020, Lowndes will try to recover from its losses in the upcoming season.
Lowndes is losing many key guys from last season. The Vikings are losing their two top running backs Justin Lee and Israel Mitchell and their first and third best wide receivers Dominique Marshall and Jaheim James. Lowndes takes an even bigger hit on defense, losing multiple guys on the line, linebackers, and defensive backs. 8 of the 10 players with the most tackles on the team are leaving, the seniors also recorded 18.5 of the Vikings' 20 sacks last season. With Louisville commit safety TJ Quinn, Miami commit OLB/DE Thomas Davis, Vanderbilt commit defensive end Jacques Hunter, linebacker Jalon Baker, and more graduating, there are some big shoes to fill going into 2021.
The offense will consist of some familiar faces and some guys that have not shown their true ability yet. 4-star Miami commit quarterback Jacurri Brown will look to shine once again in his senior season. Brown is the 12th ranked QB in the 2022 class and 3rd in Georgia behind Gunner Stockton of Rabun County and Sam Horn of Collins Hill. The dual-threat quarterback has proved himself as a passer and a runner, throwing for 1,537 yards, 14 touchdowns and 7 interceptions while rushing for 1,101 yards and 16 touchdowns. Brown's top target this season will be rising senior wide receiver Chase Belcher, a guy who averaged the most yards per reception on the team last year. Tydreke Thomas should come in as the number one running back for Lowndes with Lee and Mitchell graduating. Thomas did not get a huge workload last season but will certainly get a lot of touches this time around. Defensively, rising senior defensive backs Josh Pickett and Tylar Belcher will have to step up. Both guys made big impacts last season, with Josh Pickett leading the team in tackles and Tylar Belcher leading the team in interceptions.
Although Lowndes will be without a lot of senior talent from the 2020 season, I expect this team to reach double digit wins again, led by Jacurri Brown. Coach Dubose will absolutely find the right guys to fill in for the seniors, even though the defense is not looking as stacked as last season.
Walton
After losing in the Sweet Sixteen four consecutive years, Walton will try to advance further for the first time since 2011. Daniel Brunner took over as head coach in 2017 and has a 33-15 record in that span, including a perfect 10-0 regular season in his first year at Walton. Last season, the Raiders went 6-6 overall and 3-2 in the region, falling to Colquitt County in the playoffs, a team that was undefeated in the regular season.
Walton is losing a few key players on both sides of the ball, more on the defensive side, but have an excellent core coming back. Leading receiver Stone McKnight, running back Kenny Djaha, first-team all-state kicker/punter Conor Cummins, second leading tackler linebacker Eric Zeiher, and their three top defensive lineman Jonathan Chesser, Titus McBride, and Eric Won will not be returning. Although some guys are graduating for the Raiders, they will have one of the best quarterback-running back-wide receiver trios in the region. 3-star quarterback Zak Rozsman, who is committed to Appalachian State, got playing time as a freshman and is now going into his senior year. At running back, rising junior Braylen Stokes was the leading rusher for this team last year despite having a good senior running back in Kenny Djaha. In addition to Stokes, Sutton Smith transferred from Mceachern to Walton for his senior year. He is a 3-star Memphis commit who went from unranked to the 11th All Purpose Back in the 2022 class. At wide receiver, 3-star Rawson MacNeill will be the top guy on the outside. Coach Brunner said that this is probably the best group of running backs that he has had since he has been at Walton along with the biggest offensive line he's seen since he's been there. He believes in being a balanced attack, not necessarily 50/50 run to pass, but he "thinks our rushing attack should be second to none in the state and our offensive guys know that."
Defensively, Walton will have an excellent defensive back unit, which could make up for their losses on the defensive line. 3-star rising cornerback senior Marcus Allen, 3-star rising senior safety AJ Brown, and rising senior safety Cade Thompson make up an elite returning secondary for the Raiders. Jalen Bethley is the top defensive lineman returning, but the secondary will attract all the focus. Making the Sweet Sixteen four times in a row, Coach Brunner says they have set a standard of what is at minimum what they are going to accomplish. Brunner told his team the Sweet Sixteen is not good enough and they are going to do it better this year, so expect this team to break the streak.
North Gwinnett vs. Hoover (AL.)
The Corky Kell Classic welcomes its first out-of-state program as Alabama powerhouse Hoover will face off against North Gwinnett on Saturday, August 21 at 5:45 p.m. at Mercedes-Benz Stadium. Both programs have experienced a great deal of success over the past 5 seasons, as both Hoover and North Gwinnett claimed 7A state championships at the end of the 2017 season.
Hoover (AL.)
Hoover is led by head coach Josh Nibblet, who has led the Buccaneers football team since 2008. Over that span, Niblett is 159-25 and has won six region titles and six state titles. Last season, the Buccaneers finished 11-2 before falling to Thompson 52-14 in the semifinals.
Spring practice was very productive for Hoover as the number one goal this spring was for the Buccaneers to be as physical as possible and enhance its ability to run, block and tackle. Another major point of emphasis was creating more toughness. Nibblet said that toughness will be key to getting further in playoffs, in addition to making sure that players are healthy, have the right physical mentality and bring something different to the table in game situations.
Nibblet said his players were excited to be out on the field again where there was a lot of competition among the athletes, especially at newly open positions. Hoover also hopes that competition will create greater depth at each position.
The Buccaneers are returning four offensive starters and six on defense. 2022 three-star defensive tackle Markus Clark headlines the Hoover defense this season. Clark is a team leader, respected by teammates, one of the hardest working players and a "baller" according to Nibblet.
Other team leaders include senior quarterback Bennett Meredith, wide receiver Cotton Peters, cornerback Dale Miller, and running back Ahamari Williams. Many of those players will be key to Hoover's success this season as well as linebackers Josh Carter and Kaleb Jackson and defensive linemen Andrew Parrish and Corey Warren.
Not much is expected to change regarding Hoover's offensive and defensive play calling. Hoover regularly runs a balanced offense but adjusts constantly on defense to create discomfort for the opposing offense.
The environment at Hoover is that of respect. Nibblet has long emphasized a standard of "everybody for everybody."  Additionally, Hoover's slogan this season is "accomplish the mission." If Hoover can accomplish its goals of winning the opening game, region title and final game of the season, it has an excellent chance to win its seventh state title under Nibblet.
North Gwinnett
North Gwinnett enters its fifth season under head coach Bill Stewart. Since 2017, Stewart is 44-10 with three region titles to his name and a state championship which he won in his first year as the head coach. Last season, the Bulldogs finished 8-4 and were eliminated in the Round of 16 by West Forsyth.
Stewart's squad was limited by injuries in spring practice but felt like it was productive, nonetheless. Stewart's main goal this spring was to make practices work and tempo-oriented and try to figure out the type of team the Bulldogs will be this season.
Stewart said his players were thrilled to return to the field, many of whom were younger players coming in to learn the Bulldogs' system. Despite the new talent, Stewart expects this year's team to remain similar to last year's group.
The Bulldogs will return eight offensive starters but only a handful of players on defense. With five-star linebacker Barrett Carter and four-star cornerback Jordan Hancock moving on to play at Clemson and Ohio State, respectively, North Gwinnett's defense may take a step back this season. However, Stewart has 2023 four-star linebacker Grant Godfrey available to fill the void left by Carter and expects 2023 four-star defensive lineman Kayden McDonald to cause a lot of problems up front.
Key leaders for North Gwinnett include senior center Jaaymen Rochell, wide receiver Cade Funderburk, running back Brinston Williams and the aforementioned Godfrey and McDonald.
A few standouts in spring practice were junior quarterback Ethan Washington, wide receivers Jordan Buchanan and Taylor Smallwood, running back Marcus McFarlane and defensive end Tyler Walton, who will be in his first year as a starter and is someone Stewart is very excited about.
Offensively, the Bulldogs have been very balanced throughout Stewart's tenure at North Gwinnett. However, with a mobile quarterback in Washington and Williams and McFarlane leading a dual running back system, North Gwinnett may lead a more run-first offense this season.
The Bulldogs' main goal this season will be to become a more disciplined football team. Stewart believes that if his team can limit its penalties and turnovers, it will lead to a much more successful football season in 2021.
Brookwood vs. Collins Hill
Both 7A programs will showcase some of the state's top talent, which include Collins Hill's Travis Hunter and Sam Horn and Brookwood's Marquis Groves-Killebrew, Samuel Mbake and Dylan Lonergan.
Brookwood
Brookwood is led by Philip Jones, who has been the head coach at Brookwood since 2015. Over the past seven seasons, Jones is 43-26 and has won one region title which came in 2017. Last season, the Broncos went 8-3 and lost to Colquitt County 49-3 in the Round of 32.
Spring practice was solid for Brookwood as Jones said he felt like his team was picking up where they left off last year. Jones' main goal this spring was to emphasize toughness to his team. As a result, Jones incorporated more drills surrounding physical and mental toughness, stressed more physicality, held longer practices, and increased the team's conditioning.
Brookwood is returning 18 offensive and defensive starters this season. The Broncos feature three 247Sports top-30 players, including 2022 four-star cornerback and University of Georgia commit Marquis Groves-Killebrew, 2022 four-star wide receiver Samuel Mbake and 2023 four-star quarterback Dylan Lonergan. According to Jones, they are a "joy to be around," and he expects them to be big leaders on the field.
Brookwood has a few additional team leaders in running back Alexander Diggs, linebacker Princeton Brown and Michael Haynes, a linebacker who also plays safety. Spring practice standouts included Lonergan, cornerback Cory Elliott, linebacker Jordan Davenport, guard Miles Parker and wide receiver Miles Massengill.
Jones is proud of the culture of competition his team has shown in games and practices and said he saw it show up in drills and the weight room this spring as well. Brookwood football is centered around the athletes pouring their hearts into everything they do and doing things for the right motivations, and Jones feels that his team's "unity and common purpose is at all-time high."
With Lonergan entering his third season as the starting quarterback, Brookwood should stick to a more pass-heavy approach on offense. After running a 4-3 defense last season, Brookwood chose to hire Chad Nighbert as its new defensive coordinator. It remains to be seen what kind of defensive approach Brookwood will use next season.
After ending the regular season last year in a three-way tie for second place in the region, Brookwood wound up as the fourth seed based off tiebreakers. Although that set the Broncos up for a premature end to their season, Jones believes that if his team can get tougher and capitalize on opportunities better, it will lead to a longer run in the state playoffs this year.
Collins Hill
The Collins Hill football team has been coached by Lenny Gregory since 2017. Since becoming head coach, Gregory is 27-21 and finished last season 12-2, winning his first region title while taking his team to the state championship game, which they ultimately lost to Grayson.
Gregory was pleased with spring practice, stating the most important part was that his team finished healthy. His spring goals were for the team practice right, work out right and play right which would ensure that "every aspect of the program would be improving." Gregory also noted that spring practice was an excellent test for his younger athletes.
Collins Hill is returning eight starters on offense and seven starters on defense, with a star player on both sides of the ball. Cornerback Travis Hunter is the top-ranked player in the state of Georgia in the Class of 2022, and the five-star player is committed to playing at Florida State in the coming years. 2022 four-star quarterback Sam Horn is the ninth-ranked player in the state and will be playing collegiately at the University of Missouri. Gregory remarked that the two are great players to be around and will be two of the better players to ever come out of the state.
Hunter and Horn have been team leaders since they arrived in the ninth grade, and their impact has rubbed off on a few other players, such as Jaylen George and Cedric Richardson, both two-way starters on the offensive and defensive line, as well as defensive end Asani Redwood and linebacker Rich Dorsey.
Gregory was impressed with the improvement he saw in many of his guys, claiming that every player had gotten better since the end of last season. Many of Collins Hill's players participated in a spring sport as well which Gregory felt made the team hungrier to get back on the field and begin practicing football again.
With Horn set to begin his senior season, Collins Hill will likely let the pro-style quarterback lead a much more pass-oriented spread offense, which was used last season for the Eagles. Gregory's approach this spring has been focused on fine tuning the offensive and defensive game plan from last season.
Last year's slogan for the Eagles was "take the win," but this year the Eagles' focus is to "finish the mission." Gregory believes his team can accomplish that goal by keeping things simple, focusing more on itself than its opponents and doing everything the right way, so that winning a state championship will be "a byproduct of doing things right."
Saturday Schedule
9:00 a.m. McEachern vs. Kell
11:45 a.m. Parkview vs. Mill Creek
2:45 p.m. Lowndes vs. Walton
5:45 p.m. North Gwinnett vs. Hoover (AL.)
8:45 p.m. Brookwood vs. Collins Hill