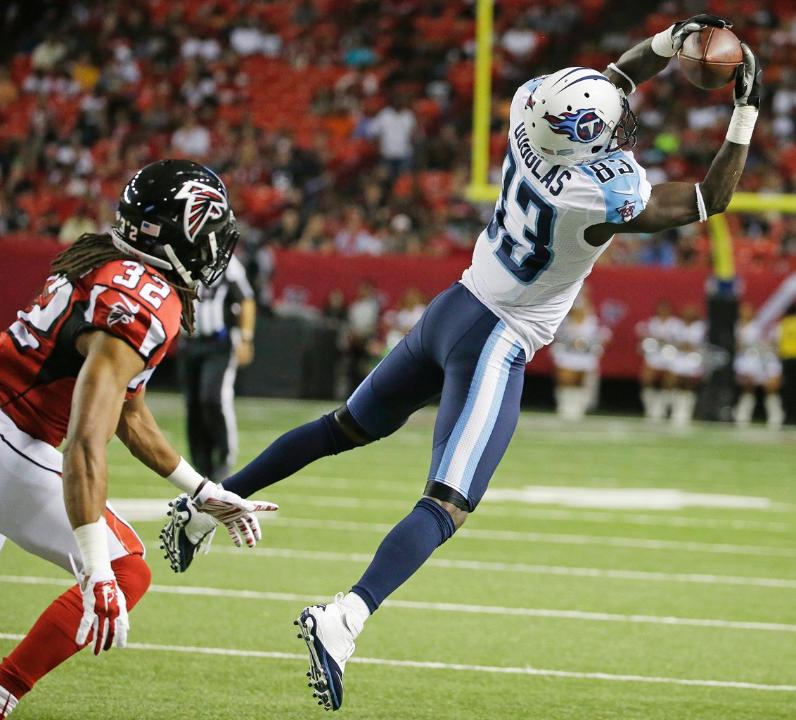 TitansOnline.Com
ATLANTA, Ga.– For the first seven years of his career, wide receiver Harry Douglas only knew one place to play his home games. That was right here in his hometown and in the Georgia Dome.
Friday night marked not only his first game back in Atlanta, but also the first time he wore a jersey other than the red and black of the Falcons. He's still wearing that same number 83, it's just now the blue and white of the Tennessee Titans.
Things went well for the former Falcon, with three footballs being thrown his direction and three catches made for 46 yards.
Even though he's in Atlanta, Douglas also didn't have the chance to drive here and park in the player's lot. Instead, he had to take the team bus to get here and walk past the locker room he used to get dressed in.
"This was a little different than what I was used to," Douglas said. "But like I've said, it's a part of the business and part of the game. It felt great to get back in here and see the fans. Everybody showed so much love. From the fans, my teammates, faculty, and I talked with Mr. Blank for a while. It was a good homecoming for me.
Douglas did indeed make his rounds before the game by saying hello to the people he mentioned on the field during warm-ups. He also had 20 friends and family members in the crowd to watch him return home.
Before you think that Douglas is sad that he's no longer with the Falcons, think again. The veteran pass catcher says that Tennessee is a great fit for him.
"When I went on my visit to Tennessee it felt like a home away from home," Douglas said. "It felt like it did when I took my visit to Louisville. I knew (wide receivers) coach (Van) Jefferson already. (Tight ends) coach (Mike) Mularkey was here and was my OC that drafted me to Atlanta. It just felt like it was the right place for me."
Douglas went on to say that he really enjoyed seeing his former wide receivers in Julio Jones, Roddy White, Eric Weems and Devin Hester. Plus, the Falcons still have his position coach Terry Robiskie on staff in the same spot.
His former quarterback Matt Ryan really enjoyed seeing him too.
"Yeah good to see Harry," Ryan said. "Obviously he's a good friend and we came in together here. He played well tonight, had a bunch of catches and was out there doing his thing. (It is) always good to see him and wish him the best this year."
While he doesn't get to play with one of the better quarterbacks in the league anymore, Douglas still likes the one he's playing alongside now. That would be Heisman Trophy winner and Titans first pick Marcus Mariota.
Mariota did have his early struggles in the game, with an interception in his first series and fumble returned for a touchdown by linebacker Paul Worrilow the next. That said, he made the most of his third series with a 10 play and 80 yard touchdown drive.
Douglas says the athleticism impresses you. But the moxie is a huge calling card for the rookie and he showed that in the huddle before the drive.
"He just said 'hey let's go, let's get one right here,'" Douglas said. "Marcus is relaxed. (He is) cool, calm, and collected. To be so young and be that relaxed? That's greatness man. That's greatness (laughter)."
Both teams will make improvements after their first preseason game of 2015. This also won't be the last time they see each other. They'll meet up in Nashville for a week seven matchup.
When that game comes around, it will probably be safe to say that the guest rooms at the Douglas house in Tennessee will be occupied.