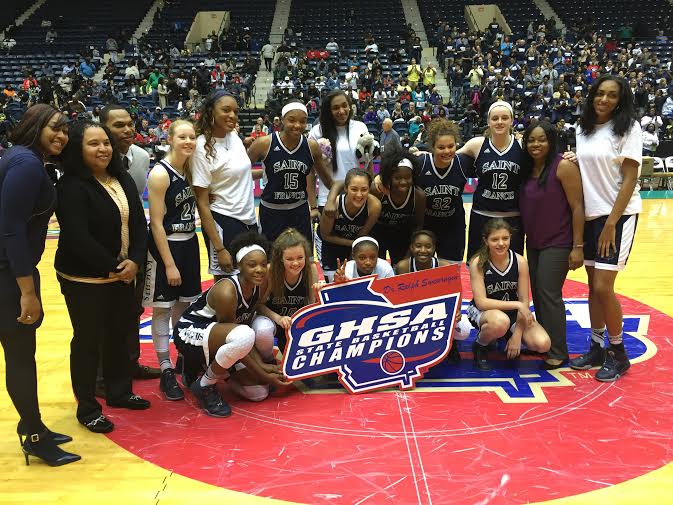 MACON- Appearing in the Class A-Private state championship for the third time in four years, the St. Francis girls (31-1) outpaced Greenforest Christian (27-1) 63-37 and left the Macon Centreplex with the program's second straight state crown and third since 2013. Whether it was nationally-ranked five-star junior Maya Dodson showcasing her limitless athleticism or Taja Cummings and Nichel Tampa attacking the paint, the Lady Knights' combination of size and tempo could not be stopped.
"We practice transition every day in practice. That's our strength," clarified St. Francis head coach Aisha Kennedy. "So we just really focus on that and it's gotten us here and we weren't going to change that."
St. Francis asserted its control of the game in the final three minutes of the first quarter where the Knights held Greenforest scoreless and took a 14-6 lead into the second period. Dodson gave St. Francis its first double-digit lead (21-11) with one of her game-high eight offensive rebounds and two of her game-high 22 points with 3:48 left in the second quarter. Foul shots by Dodson, an old-fashioned three-point play by Cummings and a Cummings assist to Dodson increased the lead to 28-11 less than a minute later before the Knights went into the locker room leading 30-15.
St. Francis took a 25-point lead with 2:49 left in the third quarter, but Greenforest took advantage of the seven fouls committed by the Knights in the period and closed out the frame with a 7-0 run that cut it to 44-26 entering the fourth.
"I told the girls 'We don't have to foul them', explained Kennedy. "If we get beat, just get in position and contest the shot."
St. Francis led 58-37 with 1:16 left before Olivia Swanston ended the game with five straight free throws that resulted in the final score and the Knights' biggest lead of game (63-37).
St. Francis sophomore Jala Jordan balanced foul trouble for much of the game but finished with a 14-point, 12-rebound double-double. Cummings finished with 14 points and Tampa netted seven points.
Greenforest Christian was led by Chioma Nnamani's team-high 17 points and nine rebounds.