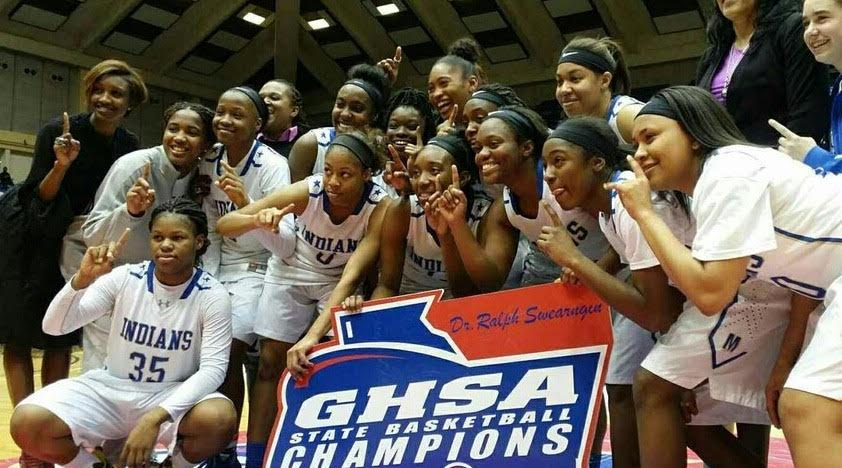 The McEachern Indians outscored Tucker 42-27 in the second half and clinched their third-straight girls Class AAAAAA state title and fourth state title since 2012 with a 71-51 victory Saturday night at the Macon Centreplex. McEachern set the pace early, but failed to close out the first two quarters and Tucker hung around with a buoyant 29-24 halftime deficit. McEachern had opened the game on a 15-5 run but Tucker cut it to 15-9 at the end of the first quarter. The Indians increased the lead back to double-digits in the second quarter (25-15) before the Tigers initiated their 9-4 run to close the half with a five-point deficit. In the second half, however, McEachern's transition offense, unselfish play and experience overwhelmed Tucker as the Indians ran away with the Class AAAAAA title.
McEachern outscored Tucker in fastbreak points 10-0 and posted 20 points in the paint to the Tigers' eight after the half. Both teams saw balanced scoring from their stars, but McEachern's ability to get to the foul line proved to be an insurmountable advantage. The Indians connected on 24-of-40 total attempts compared to Tucker's 13-of-18 shooting but 29 of McEachern's trips to the charity stripe came in the second half (16-29).
Chanel Wilson led McEachern with 17 points and Que Morrison netted 14 points to go with 11 rebounds and four assists. Jada Lewis finished with 12 points, three assists and two steals. Jasmine Clemons corralled a game-high 13 rebounds to go with her five points and teammate Lyndsey Whilby finished with six points.
Tucker was led by Jayla Morrow and Najla Shamsid-Deen, who each finished with 15 ponts. Shamsid-Deen fouled out in the final minutes and went to the bench with 10 rebounds.  Bria Bass finished with nine points and six rebounds and Kierra Johnson-Graham added 12 rebounds, three points and a team-high three steals.