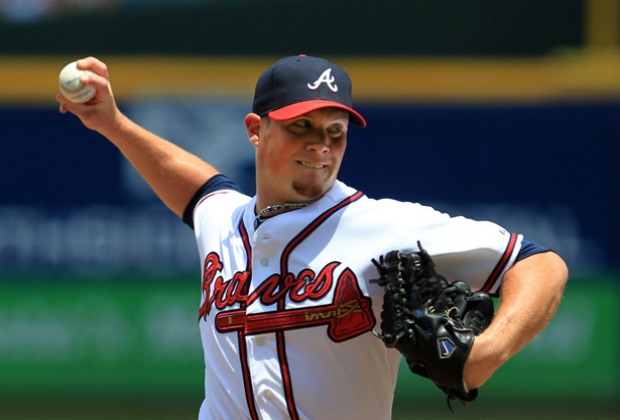 Photo by Jason Getz
Arguably no team in all of Major League Baseball has been streakier than the Atlanta Braves this season. Well, two exceptions are the Oakland A's and Los Angeles Angels, who just win all the time. In terms of wild fluctuations in performance, however, Atlanta is taking the cake. We're just now at the All-Star break and already the team has had winning streaks of four, five, four and nine games in addition to a trio of three-win stretches. The Braves also have endured losing streaks of seven, four and four games plus a pair of three- loss slides.
BEASTS OF THE EAST …
Both teams took circuitous routes to get there and their records are such that neither one is a lock for even a wild-card spot in the playoffs, but the Braves and Washington Nationals are both in first place. They are tied atop the National League East, locked in a battle that was anticipated long before the season started while leaving all other contenders—or pretenders, more like it—in the dust. There's Washington at 51-42 (.548), Atlanta at 52-43 (.547) and then there's everyone else The Mets are seven games out of first place, the Marlins are 7.5 games back and the hap-less Phillies are 11 games under .500 to leave themselves 10 games behind the Braves and Nationals.
"We're doing well," Freddie Freeman said during a post-game interview following his team's first-half finale, a 10-7 slugfest over the Cubs at Wrigley Field last Sunday. "(It) seems like every single day there's a (critic who says), 'Braves are going to do this, Braves are going to do that, Braves are falling and collapsing.' And here we are, at least tied for first going into the second half. We're playing good baseball."
So, too, is Washington. The Nationals have won two games in a row and 10 of their last 14. Like the Braves, they have been doing their job in spite of significant injury problems. Left fielder Bryce Harper missed 57 games due to a torn thumb ligament before returning on June 30. Third baseman Ryan Zimmerman was on the disabled list for 44 games before com-ing back on June 3. That has kept Washington in the bottom half of most batting categories in Major League Baseball, but the team always expected to win with pitching and that is exactly what it is doing. Behind Stephen Strasburg, Doug Fister, Tanner Roark, Jordan Zimmermann and Gio Gonzalez, the Nationals are first in all of baseball with a 3.08 ERA.
Speaking of expected developments New York, Miami and Philadelphia have fallen by the wayside after brief flirtations with contention in the early stages of the season. The Mets probably took themselves out of serious discussion by losing 20 of 30 games between June 3 and July 5. The Marlins have stumbled to a pair of four-game losing streaks in less than three weeks (one is current). The Phillies' hopes all but ended when they went 3-13 from June 21 through July 6.
THE GOOD, THE BAD AND THE UGGLA …
The Braves have been nothing if not inconsistent at the plate, but pitching is what has separated both they and the Nationals from the rest of the division. Atlanta's 65 quality starts are the most in the majors and the team is sixth out of 30 in the league in ERA with a 3.36 mark. Amidst injuries to Kris Medlen, Brandon Beachy and Gavin Floyd, the Braves have thrown together a patchwork rotation that has outperformed expectations. Julio Teheran and Aaron Harang have each won nine games to go along with impressive ERAs (2.71 for Teheran, 3.53 for Harang).
Alex Wood has six wins and a 3.36 ERA while Ervin Santana made 11 quality starts and won seven games prior to the break. Floyd sported a 2.65 ERA in 54.1 innings before going down with a broken elbow. Craig Kimbrel, who joined Teheran in the All-Star Game, leads the MLB in saves with 29, boasts a 1.91 ERA and has mowed down 62 batters in 37.2 innings. The offense, however, has been a much different story. Atlanta is 28th in runs scored and 25th in extra-base hits.
Freeman, an all-star at first base, has been a bright spot with a .295 average, 13 home runs and 64 runs scored. But even those numbers are nothing more than standard for Freeman. Although B.J. Upton has shown recent signs of life in the leadoff spot, he is batting .215. Jason Heyward has managed to stay healthy, but still has just seven homers. And then there's Dan Uggla. The beleaguered second baseman has actually gotten worse after what was already a disaster of a 2013 campaign in which he hit .179. In 48 games played and 130 at-bats this season, Uggla is batting .162 with two homers, 10 RBIs and 40 strikeouts.
Fortunately, the Braves decided to call up Tommy La Stella earlier than planned and the 25-year-old, now the undisputed starter at second base, has a .292 average and 17 RBIs in 154 at-bats. As for Uggla, his days in Atlanta appear to be more numbered than ever after being suspended for one game last weekend, reportedly due to tardiness.
WHAT'S NEXT? …
Firmly in postseason contention as the calendar heads toward August, the Braves will once again be buyers—or at least searchers—in advance of the July 31 trade deadline. Don't get too excited, though, about the prospect of big-name newcomer. Both a lack of needs and a lack of funds (the team has $27.1 million tied up this season to Uggla and B.J. Upton alone) means a value play or two will be the name of the game. Atlanta is in the market primarily for a left-handed reliever, possibly Boston's Andrew Miller.
The Braves also reportedly have interest in the Cubs' James Russell and Wesley Wright. Regardless of any potential trades, what takes place on the field in the near future will be more eventful than what happens in the front office. A heated division race is about to resume and the Braves may have a chance to stake themselves to a lead with 11 consecutive games at home, all against opponents with los-ing records. "Everybody has a chance to catch a breather," Gonzalez said in his post-game in-terview last Sunday. "Hopefully, nobody goes white-water rafting and everybody comes back in one piece. But we had a pretty good first half; better than pretty good. Now we have to enjoy this break and keep firing."