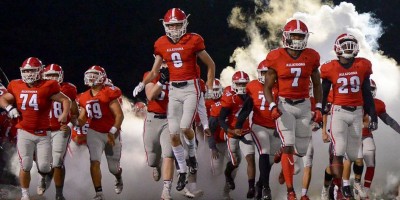 The first televised game to be featured in The Drive to the GHSA State Title will a battle between Cobb County programs as the Allatoona Buccaneers host the Kennesaw Mountain Mustangs. This matchup will be the Region 6-AAAAAA opener for both programs and replaces the originally scheduled showdown between ELCA and Rabun County that was cancelled Wednesday afternoon as the host Wildcats had an athletic trainer test positive for COVID. Allatoona willingly stepped in later that day to fill in the 8 p.m. prime time slot and PeachtreeTV will be live from Acworth, Ga. to showcase it.
This will be the fourth all-time meeting between the programs and Allatoona has a 3-0 edge in the all-time series. Last year's matchup resulted in a 21-6 Buccaneers victory and Friday is expected to be an extremely competitive matchup. Allatoona went undefeated in the regular season and advanced to the state quarterfinals for the third time in the past four seasons. Kennesaw Mountain rebounded from the loss and battled its way into the state playoffs for the first time in school history. Now, Kennesaw Mountain is coming into the matchup following a strong 2-0 start to the season, while Allatoona looks to find the win column after an 0-2 start to the season.
Kennesaw Mountain is led by alum and head coach Caleb Carmean and has one of the most experienced and talented lineups to ever come through the program. The Mustangs opened the season with a 28-12 win over East Paulding and then followed it up with a 41-12 win over Discovery last Friday. Junior quarterback Cayman Prangley and sophomore quarterback Tyson Harmon have combined for 258 yards passing and two touchdowns so far and the run game has accounted for 147.5 yards per game and six scores. Senior Jah Welch has taken the bulk of the carries and has accounted for 149 yards and three touchdowns. Duke-commit Savion Riley has been the primary target in the passing game and has a team-high eight receptions for 158 yards and a touchdown.
Defensively, Kennesaw Mountain has limited each of its first two opponents to just 12 points and they have racked up 12 tackles for loss and six sacks so far. The Mustangs have also recovered four fumbles, tallied two blocked punts and Evan Duke has notched an interception and touchdown return, a fumble recovery and seven total tackles. Sophomore Hayden McDougal has a fumble recovery for a touchdown and is second on the team with 15 total tackles behind senior Denis Nechyparenka's 16.
Allatoona has suffered narrow losses in each of its first two games this season. The Buccaneers dropped a 25-17 loss to Harrison in their opener and then fell short to Hughes 6-0 this past week. The Bucs will look to reverse the trend and avoid their first 0-3 start since 2016. Allatoona's first year as a program was in 2008 and they have experienced tremendous success in their first 13 seasons. The Bucs have reached 11 consecutive playoffs and have won 117-41-1 under head coach Gary Varner, who has been there since the program's inaugural season. The Bucs famously became the first Cobb County public school to win a state title since Marietta's 1967 title during the 2015 season and returned to the state finals in 2019 before falling to Harrison in the finals. Allatoona's roster features 6-foot-6 tight end Bennett Christian, who is a four-star senior committed to Ohio State. Senior Michael Barron has been Allatoona's top target through the first two weeks and he has a team-high five catches for 65 yards.