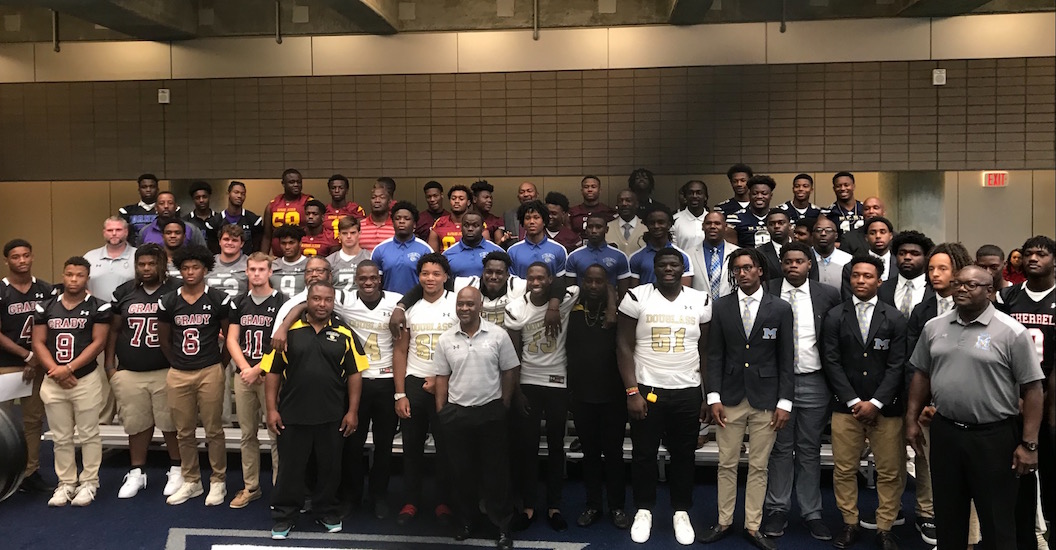 Atlanta Public Schools celebrated the arrival of the 2019 high school football season at the Chick-fil-A College Football Hall of Fame on Tuesday. Head coaches, athletic directors and select players from each of the district's 11 varsity programs took the stage to talk about their preparation, and excitement, for the quickly approaching 2019 season.
Following an introduction by Jasper Jewell and APS Assistant Athletic Director Kandice Mitchell, the five programs residing in Region 6-AA took the stage. First, B.E.S.T. Academy head coach Joshua Moore spoke about his team's goals for 2019, which includes making a return to the playoffs after coming up short this past year.
"We just have to keep our heads down and continue to grind," said Moore. "We have to self-reflect and focus on making sure that we are doing what we need to do to get better."
Moore and the Eagles made history during the 2017 season with a 34-27 win over Temple in the first round of the state playoffs that gave the program its first ever postseason victory.
"Last year we were really young with our guys and so we have a lot of experience coming back in 2019," explained Moore. "It was rough last year, so we're looking to get back to the playoffs like we did in 2017 where we won our first-ever playoff game. We're going to have a tough schedule and our region competition is always tough. Anybody has a chance in our region on any given Friday. So we're looking forward to having a big year and a big season."
The Douglass Astros earned the No. 2 seed out of the region last year and posted double-digit victories for the first time since 2004. Replacing the offensive production of Juan Powell, an East Carolina signee and the Astros' all-time leading rusher, will be an early test for head coach Rodney Cofield and his team.
"The expectations have to be even higher than they were last year and we have to continue to build chemistry and push forward," said Cofield. "It's not every year that you have an athlete like Juan Powell and it's going to take three guys to replace him. Like I said before, it's going to be about the expectations we set for ourselves. We have to work hard and continue to work and continue to believe and keep moving forward."
Booker T. Washington made its first playoff appearance since 2012 last season under head coach Derrick Avery, but it was the outstanding academic success, especially with senior receiver Vachon Raye and senior defensive back Mahlon West that coach Avery pointed to. This duo is set to be the Valedictorian and Salutatorian of Booker T. Washington's senior class.
South Atlanta carries a two-year playoff streak into the upcoming season and will be led by four-year head coach Brad Stephens. Under the guidance of Stephens and his staff, the Hornets' athletic program has seen a transformation in recent years with football becoming increasingly successful.
Therrell's thrilling 51-48 win over Vidalia this past March in the Class AA basketball state championship game has energized the Panthers across the athletic spectrum according to football head coach Greg Sullivan.
"This offseason has probably been the most chemistry that we've had since I have been at Therrell," said Sullivan. "The players truly love playing with each other and they are invested in each other and in the success of the team."
Non-region games against Calhoun and Class AAAAA's Maynard Jackson will be great opportunities for Therrell to prepare for the Region 6-AA competition.
GREAT ATLANTA BASH
Region 6-AAAAA rivals Carver-Atlanta and Maynard Jackson are going to meet at Georgia State Stadium in the newly-formed Great Atlanta Bash triple header at 12:40 p.m. on Saturday, Sept. 21. The two programs are 6-6 in their 12 previous meetings, but Maynard Jackson has won each of the last five. The two head coaches spoke about their anticipated showdown as well as the season ahead.
"We have to take it one game at a time," said Carver head coach Darren Myles. "We have three games before we play Maynard Jackson. So like I tell the kids, the best team on game day will win on September 21."
"It's a privilege to stand up here as we kickoff this 2019 season," said Maynard Jackson head coach Eric Williams. "We lost a lot of productivity from our team this past year. As a matter of fact, we have about eight kids that have taken their talents to the next level and will be playing college football this upcoming season. So the kids standing behind me know where the expectations are. They know and understand and have bought into the culture and the standard as student athletes. Right now, my primary goal is to make sure we can maintain being a perennial playoff team. We've made the playoffs four of the last five seasons."
The Panthers and Jaguars are joined in Region 6-AAAAA with Grady, a program that has used the weight room and a busy offseason to build up their confidence heading into head coach Kevin Clark second year at the helm.
The Knights finished with a 1-9 record last year, but there are a lot of returning pieces to get the program on the ascent. Starting running back Cannan Brant was offered by Akron this past May and boasts a 3.5 GPA and 1260 SAT. Clark also brought with him senior wide receiver Zack Maggard, and versatile senior receiver, quarterback, safety and tailback Alvin James—both of which are 3.7 students. Nose guard Rashiid Jeffries and Class of 2021 standout Nathaniel Wiggins will also be players to watch this year.
North Atlanta represents APS as a member of Region 7-AAAAAA, competing against Alpharetta, Cambridge, Centennial, Chattahoochee, Dunwoody, Johns Creek, Northview and Pope in a loaded conference. The Warriors haven't reached the playoffs since 1996, but head coach Sean O'Sullivan has already brought a wave of excitement since taking over the program in 2018 and guiding the Warriors to a 5-5 finish. Additionally, starting quarterback Wiley Hartley will be back under center after leading all Atlanta Public Schools in passing last season.
A CHAMPIONSHIP QUEST
Region 5-AAAAAA's Mays has been preparing for an epic 2019 schedule that will put head coach Niketa Battle and his Raiders under a recurring spotlight. First, Mays will square off with Kell in its season opener at Mercedes-Benz Stadium on Saturday, Aug. 24 in the 28th Annual Metro by T-Mobile Corky Kell Classic. The following Saturday, the Raiders face Ramsey (AL) in Cam Newton's CN1 Georgia vs. Alabama Football Classic. A matchup against Hughes on Sept. 13, then sets up Mays' showdown with New Manchester in the Great Atlanta Bash on Sept. 21.
"We have 12 kids right now with D1 offers, so we are going in the right direction," said Battle. "This is probably the second biggest senior class we've had as well. I think right now, our goal is just to make it back to the state championship game. In 2014 we came up short and that put a sour taste in our mouth."
Great Atlanta Bash 2019 Schedule
Saturday, Sept. 21 at GSU Stadium
10 a.m.: South Atlanta vs. Washington
12:40 p.m.: Maynard Jackson vs. Carver
3:20 p.m.: Mays vs. New Manchester