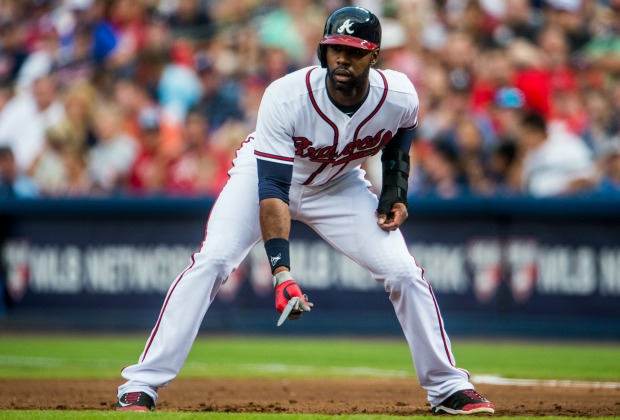 Pouya Dianat/Atlanta Braves
The Atlanta Braves know a thing or two about streaks. Their record run of 14 straight division titles began in 1991 and did not come to an end until 2006. A streak of a much different sort is still ongoing. The Braves have successfully navigated their way through 12 consecutive offseasons without a single arbitration hearing. Not since John Rocker's case prior to the 2001 campaign has Atlanta found itself in that relatively undesirable situation.
A 13th consecutive period of smooth negotiations will almost certainly come to an official end when arbitration hearings take place Feb. 1-21 in St. Petersburg, Fla. Three arbitration-eligible players—Freddie Freeman, Jason Heyward and Craig Kimbrel—did not come to terms prior to last Friday's deadline and there will be no more negotiations in advance of the hearings. That means all three would have to randomly agree to offers they have already rejected in order for the streak to continue. Simply put: that isn't happening.
FANTASTIC FOUR …
Alas, there is some good news—of which there has not been much since the start of last season's divisional playoff series against the Los Angeles Dodgers. In fact, avoiding arbitration with Chris Johnson, Kris Medlen, Mike Minor and Jordan Schafer is arguably the highlight of the offseason to date. It may not be a highlight that does much for fans, but it is also one that should not be understated. After all, arbitration is always a sticky situation. There is no in-between at hearings; a panel chooses either the salary proposed by the team or—at the other end of the spectrum—the salary proposed by the individual.
Fortunately, the Braves found a common number with four of their best players from the 2013 campaign. Johnson, thought to be nothing more than a throw-in as part of last offseason's trade for Justin Upton, led the team in batting and finished second in that department in the entire National League at .321. The third baseman agreed to a $4.75 million deal for the upcoming year. Schafer ($1.09 million) saw more playing time than expected due to the prolonged slump of fellow center fielder B.J. Upton and he stole 22 bases in 94 games. Medlen ($5.08 million) was not quite a guaranteed win every time he took the mound in 2013 like he was in 2012, but the 28-year old still won 15 games and compiled a stellar 3.12 ERA in the process. Minor ($3.85 million) is coming off the best season of his career, which featured personal-best marks of 13 wins, 204.2 innings pitched and a 3.11 ERA. Medlen and Minor replicating or even improving on their 2013 success is borderline essential for the Braves, because they have not and likely will not come up with the top-of-the-line starter they desired at the beginning of this offseason.
"I didn't have much growing up," Medlen told the Atlanta Journal Constitution. "Had to fight for every opportunity I've ever gotten. I'm happy it's done so we can focus on winning the (National League) East again."
THREE'S A CROWD …
The current story is a different one, however, for three players equally critical as the aforementioned four in Atlanta's efforts to bag another division title and this time advance in the playoffs. Negotiations between the team and Heyward came close to bearing fruit, ultimately ending with the two parties $0.3 million apart (Heyward asked for $5.5 million while the Braves proposed $5.2 million). A more expansive gap never closed between Freeman and the Braves. The first baseman wanted $5.75 million, but they offered only $4.5 million. Then there's Kimbrel, who was not even in the same ballpark as Atlanta—heck, he might as well be all the way in Cobb County three years too soon! Atlanta's all-star, flame-throwing closer sought $9 million, $2.35 million more than the team's target of $6.55 million. The record contract for a reliever in his first year of arbitration is $5.25 million.
"Our preference would have been to have all seven signed," general manager Frank Wren told the Braves' website. "I think we made a strong effort to do that. We just couldn't quite get there on the last three. At the end of the day, we went well above the recommended salary arbitration numbers for all of our players. We tried real hard. We just couldn't get it done."
The deals will get done one way or the other by late February, but perhaps not before some uncomfortable scenes and maybe even bad blood. It is plainly obvious how finger-pointing can arise during arbitrations, as team representatives are often in the same room as the player while they try to point out certain shortcomings of the player and convince the panel why he is not worthy of the higher salary. Needless to say, for both immediate and long-term purposes Freeman, Heyward and Kimbrel are three guys with whom the Braves do not want to harbor any ill will whatsoever. Freeman, 24, hit .319 with 23 home runs and 109 RBIs last year. Heyward, 24, struggled with injuries in 2013 but hit 27 homers and drove in 82 runs during a full 2012 campaign. Kimbrel, 25, became the youngest pitcher to record 50 saves in season.
Wren insists that the team is going to stick strictly to statistics during their arguments while avoiding any personal attacks. Although that is easier said than done, Wren does not sound too concerned with next month's pending festivities.
"Some clubs are adamant they're not going to go to arbitration," Wren explained to the AJC. "And some clubs feel as we do, that it's just part of the process. You hope to get an agreement, but short of getting an agreement, it's part of the process for both sides."
A process to which the Braves are unaccustomed is on the immediate horizon. It won't be fun and it may not be pretty, but even more important is what happens after the hearing process. If the players who lose their hearings use it to fuel their fire for 2014 and if those who win their hearings show determination to prove their worth, then in retrospect this whole arbitration business won't be such a bad deal.