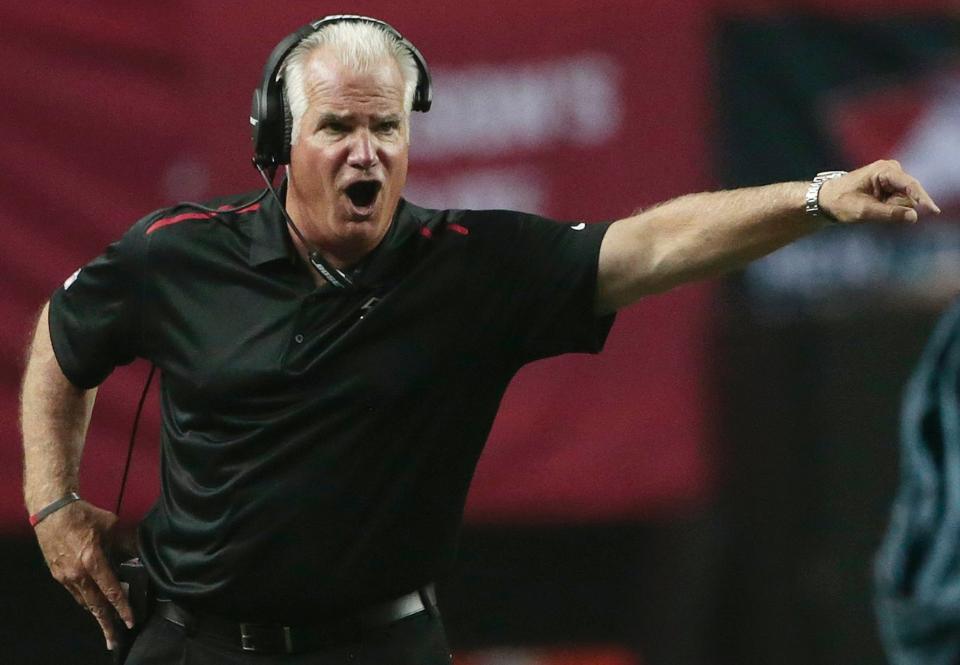 AtlantaFalcons.com
Atlanta is the heart of SEC football. If I were to walk around the city, it would not take me long to find a fan of Georgia, or Alabama, or Auburn in this melting pot of football lovers. The NFL has been the same way in Atlanta, but the Falcons have continued to increase their fan base the past several seasons.
When I look around the NFL's different fan bases, it is very predictable to me. Show me a Giants fan or Packers fan and I pretty much know how our conversation would go. Saints fans, Eagles fans and Steelers fans are all passionate in their own crazy ways. I have always had trouble looking at Falcons fans with an outside eye until now.
Atlanta will always have its mix of fans in the population, but this city is on its way to be- coming 'Rise Up Nation.' When I would go to Falcons games (let's just say 10 years ago) it was different. There was not the same home field feeling inside, and outside of the Dome the buzz around the team did not circulate around the city nearly as much as it does now. After the Falcons' overtime win against the Saints to open this season, I saw gas stations throughout the suburbs with Rise Up and anti- Saints messages on their signage. The follow- ing weeks I saw 'Beat the Bengals' and 'Beat the Bucs' on restaurants, gas stations and stores throughout the city as I'd drive around. When I would be out and about, I would hear people talking about the Falcons. The fans I'd hear talking all knew their football and were talking about players that rarely even see the field. I could tell they knew the team really well. This city and this state knows its football. College football is always going to thrive in Atlanta, but with the Falcons' growth and success on the field, a well-educated and supportive fan base is brewing for the Falcons.
BUSINESS TRIP …
The Falcons have jumped into the top nine of the NFL's power rankings, which would hy- pothetically be good enough for a playoff spot. Atlanta owns two great wins over division op- ponents, but the real tests will come on the road. It's been since 2012 that Atlanta last won a true road game and with only two of the next eight weeks played in the Dome, this Sunday's trip to Minnesota is huge.
Head coach Mike Smith is 9-3 all-time against the NFC North, and after visiting the Vikings this weekend, the Falcons will host the Bears before playing the Lions in London and the Packers at Lambeau. Atlanta is first in the NFL in points per game and total offense, de- spite a 24-10 loss to the Bengals in Week 2. The Falcons are 38-12 at home under Smith, but just 24-25 on the road and a win would do wonders heading into this road stretch.
MATT THE MAGIFICENT …
Its only three weeks into the season, but Matt Ryan has already shown he has gotten even better in his seventh NFL season. Ryan is using his athleticism more and has extended plays with his feet with seven carries for 45 yards. As for his passing numbers, Ryan has already accumulated 965 yards and seven touchdown passes and has completed 76-of- 111 passes (68.5 percent) while posting a 105.1 quarterback rating.
Ryan is on pace for 5,146 yards passing this season. Only Drew Brees, Peyton Manning, Matthew Stafford, Tom Brady and Dan Marino have eclipsed the 5,000-yard mark. Ryan leads the NFL in quarterback rating and is second in total yards behind Philadelphia quar- terback Nick Foles, despite tying Manning for ninth in the NFL in pass attempts per game.
Smith said Ryan's performance against the Saints was the best game he had played in a Fal- cons uniform. Well, this could be the two-time Pro Bowler's best season. Ryan's 155.9 quarterback rating last week was the highest single- game mark in the NFL this season and set a new franchise record, topping Wade Wilson's 154.5 rating against Tampa in 1992. All eyes will be Ryan and the offense this Sunday, to see how they perform in their first trip to Minnesota's turf since his rookie season in 2008.