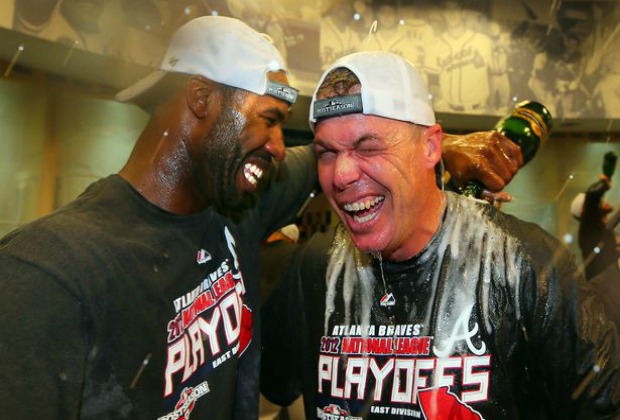 Curtis Compton/AJC
The Atlanta Braves punched their ticket to the postseason last night and will now wait to see if they stay in one of the two National League wild card spots or if they can catch the Washington Nationals, four games up on Atlanta as Wednesday. The Braves missed out on the postseason last year, blowing a huge lead the Wild Card race to the eventual World Series champions, the St. Louis Cardinals.
Atlanta clinched the postseason berth Tuesday night thanks to Freddie Freeman's ninth-inning walk-off home run in a 4-3 win. Though he didn't factor into the decision, the Braves won for the 22nd straight time in a game started by Kris Medlen, which tied the MLB record shared by Whitey Ford and Carl Hubbell. Manager Fredi Gonzalez reworked the rotation after Monday's day off, starting Medlen in Tuesday's clincher, and now he will be available to pitch the Wild Card playoff if the Braves cannot catch the Nationals for the NL East title. Craig Kimbrel pitched the ninth inning, allowing one hit and striking out one to pick up the victory thanks to Freeman's heroics.
After the game, Gonzalez and the Braves celebrated getting back to the postseason.
"You don't know whether to laugh or cry of look for somebody to hug or slap on the back," said Gonzalez to the AJC. "It's special and you've got to give a lot of credit to those guys out there after what we went through in September of last year and for them to come out and win 89 games and still have a chance to win a few more and still try and get a division. Those guys are awesome."
The franchise last made the playoffs as the NL Wild Card winner in 2010, losing to the San Francisco Giants in the first round.