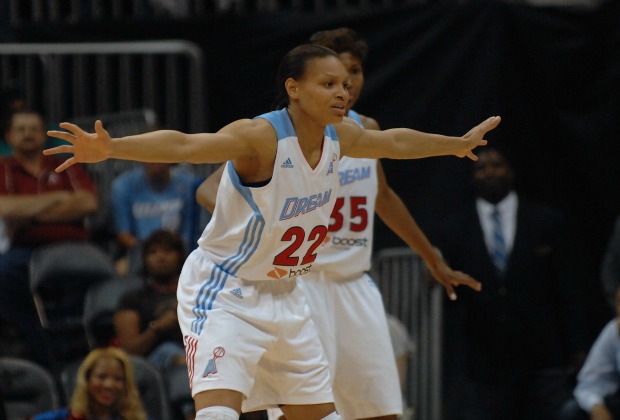 Sonny Kennedy
They're back. The Atlanta Dream clinched another trip to the WNBA playoffs for the fourth straight season with a win over Seattle 91-77. The win, combined with a Chicago loss, wrapped up a postseason berth.
This has been Atlanta's most tumultuous season with the firing of head coach Marynell Meadors and the short suspension thereafter of star player Angel McCoughtry. Since those two moments in late August, the Dream have strung together quite a run. With the return of McCoughtry and the stellar play of point guard Lindsey Harding, Atlanta has won six out of its last seven games and will be a No. 3 seed in this year's playoffs.
SWEET DREAM
The Dream followed up the Seattle win with a victory over Washington, 82-74. Once again, McCoughtry led the way, scoring 26 points and along with eight assists, three steals and a block.
"They were out-rebounding us and getting a lot of second chance points which got them a good lead," McCoughtry told the AP. "We just had to adjust and get on the boards in the second half."
Point guard Lindsey Harding seems to be playing her best basketball at the right time, as she scored 19 points to go along with four assists and two steals. Without Harding, Atlanta might be on the outside looking in for the playoffs. McCoughtry may be the MVP of the league, but Harding would get some votes for MVP of the team this year.
PLAYOFF PREVIEW
Atlanta will match up with the Indiana Fever for the second consecutive season. The Fever have lost their last two games, but are the No. 2 seed for good reason with a 20-11 record. Indiana is dangerous, especially with last year's MVP, Tamika Catchings, at full strength. Catchings averages over 17 points and seven rebounds per game. It will be a tall order to shut her down, but Atlanta did just that last season, limiting Catchings to just 8.6 points per game in defeating Indiana in a first-round dual.
The Dream defeated Indiana 71-64 back on Sept. 5 and the two teams split the four regular season games. The best-of-three series should go right down to the wire, but with its strong regular season finish, Atlanta seems to have the edge.