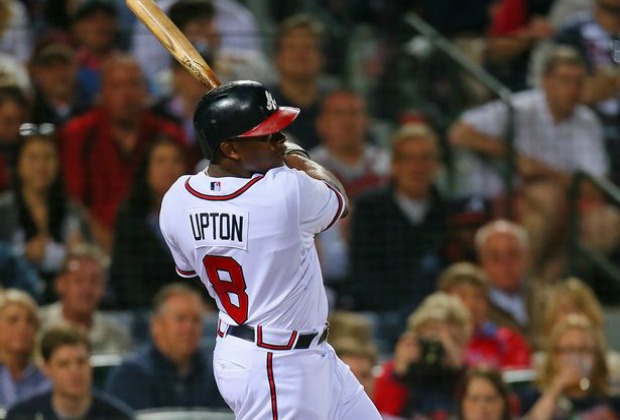 Curtis Compton
With spring training now in the rearview mirror, the Braves opened the 2013 season with a flurry of home runs to beat the Philadelphia Phillies 7-5 on Monday and 9-2 Wednesday. Freddie Freeman and Dan Uggla each crushed home runs in their first at-bats of the season and new left fielder Justin Upton added a home run to help Atlanta chase Phillies starter Cole Hamels from the game.
"It's a great start, I'll tell you that," said Upton to reporters following Monday's game. "Being able to contribute to the first win of the season my first game here, it's a great feeling. Hopefully we can just keep going out and playing good baseball."
Upton finished 1-for-4 with the solo home run. He struck out twice in his Braves' debut while brother B.J. Upton went 0-for-4 with one strikeout. Freeman collected three hits and drove home three runs. Uggla was 1-for-3 with two runs scored while Gerald Laird was 2-for-4 in his Braves' debut. Freeman drove in three more runs in Wednesday's victory as Atlanta steamrolled Philadelphia starter Roy Halladay. The Braves touched up the former Cy Young winner for five runs in 3.1 innings.
Upton went deep again as did rookie catcher Evan Gattis. Jason Heyward hit his first home run of the season off Jonathan Papelbon.
BRAVES PITCHING …
Opening Day starter Tim Hudson was staked to a 4-0 lead entering the fifth inning, but Hudson, making his sixth career Opening Day start, could not make it out of the frame as Luis Avilan came on after Hudson labored through 90 pitches in 4.1 innings of work.
Avilan earned the win and Craig Kimbrel pitched a perfect ninth to record his first save of the year. The bullpen is readjusting after news broke that reliever Jonny Venters, who visited Dr. James Andrews with elbow discomfort, would miss time after receiving a plasma injection that will force him to miss nearly one month. Jordan Walden will likely see his role increase if Venters' stay on the disabled list grows into something more serious.
Paul Maholm pitched well Wednesday to earn the win with 5.2 scoreless innings in a constant rain. He struck out six while allowing just six hits and one walk in 97 pitches.
DEBUTING BRAVES …
Several other players made their Braves' debuts in Monday's victory. Chris Johnson looks like a budding star at third base, making a tough play look easy on the game's first ball put into play. At the plate, Johnson was 2-for-3 with one run scored as he looked the part of a crafty veteran, scoring on a doubleplay. Ramiro Pena also entered the game as a first-time Brave. He grounded out as a pinch hitter in the eighth inning.
The debut everyone was buzzing about was Gattis' on Wednesday. After striking out in his first Major League at-bat, Gattis blasted a home run to left field in the fourth inning Wednesday to help chase Halladay. The  26-year old won a spot on the roster with an incredible spring and showed off some serious power with a massive home run in Atlanta's 10-0 win over the Future Stars in a final exhibition. Gattis blasted six home runs in spring training.