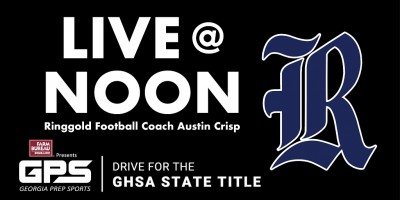 The 192nd episode of the Georgia Farm Bureau "Georgia Prep Sports: Drive for the GHSA State Title " video podcast will feature newly hired Ringgold head football coach Austin Crisp.
After Crisp's exclusive interview at 12:00 pm ET, host Craig Sager II will continue his coverage of the football offseason that has already produced more than 60 head coaching changes and will set the stage for a conversation with Newton's head coach Joshua Skelton—who was named the head coach of the Rams on Jan. 27..
Sager will close out the show with the latest developments across the Georgia high school landscape, including the upcoming Swim & Dive state championships, the No. 5 ranked Baldwin Braves beating No. 1 Griffin on the hardwood this Friday night—as predicted by Sager, and more reaction to the statewide buzz heading into the weekend.
The Drive for the GHSA State Title podcast is produced by PlayOn Sports, which runs the National Federation High School Network, and airs Mondays, Wednesdays and Fridays starting at noon.