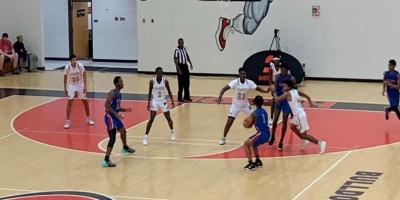 The top-ranked Grayson boys defeated No. 3 Shiloh 72-60 in an 8-AAAAAAA game on Friday to move to 14-1 and hand the Generals (14-1) their first loss of the season. Grayson led 26-24 at the break before pulling away in the second half. Both programs are now tied at the top of the 8-AAAAAA standings at 2-1.
Senior Caleb Murphy and junior Ian Schieffelin combined for 34 points to lead the Rams past Shiloh. Murphy a 6-foot-4 guard, and Schieffelin, a 6-7 forward, each finished with 17 points. Senior Toneari Lane, a 6-5 wing, finished with 12 points. Jordan Mitchell scored 12 points to lead Shiloh. Caleb Golden finished with 11 points and James Little scored 10 points for the Generals.
Grayson will travel to South Gwinnett and Shiloh plays at No. 7 Newton on Tuesday.
Here are the rest of the scores from Friday.
Boys
Adairsville 56, Haralson County 36
Athens Academy 49, Athens Christian 38
Baldwin 63, Richmond Academy 50
Brunswick 69, Glynn Academy 52
Butler 55, Hephzibah 52
Calhoun 41, Coahulla Creek 37
Camden County 66, Colquitt County 62
Chapel Hill 77, Troup County 72
Chattahoochee 45, Cambridge 43
Christian Heritage 42, Trion 39
Columbus 62, Cairo 31
Denmark 91, White County 43
Dooly County 70, Macon County 59
Dublin 66, Northeast-Macon 47
Dutchtown 67, Jones County 61
Eagle's Landing 87, Stockbridge 63
Eagle's Landing Christian 78, Strong Rock Christian 15
East Coweta 75, Westlake 73
Effingham County 67, Richmond Hill 64
Etowah 52, Roswell 39
Evans 61, Grovetown 59
Gainesville 62, Habersham Central 54
Harrison 58, Osborne 49
Johnson-Savannah 75, Windsor Forest 72
LaGrange 54, Central-Carroll 52
Lakeside-Evans 70, Heritage-Conyers 68
Lanier County 71, Charlton County 66
Lincoln County 70, Greene County 66
Lovett 59, North Forsyth 56
Marion County 67, Schley County 62
Metter 75, Toombs County 57
Miller County 55, Webster County 18
Model 55, Chattooga 44
Montgomery County 63, Portal 56
Murray County 56, Ringgold 54
North Hall 60, Lumpkin County 40
Peachtree Ridge 66, North Gwinnett 48
Pickens 68, Southeast Whitfield 22
Pinecrest Academy 50, Mt. Bethel Christian Academy 45
Rockmart 86, Armuchee 57
Salem 44, Luella 42
Savannah Country Day 61, Calvary Day 52
Sequoyah 68, Allatoona 61
South Atlanta 56, Pensacola FL 50
Southeast Bulloch 73, Groves 51
St. Anne Pacelli 72, Central-Talbotton 57
St. Francis 64, Mt. Pisgah Christian 49
Statesboro 84, New Hampstead 50
Summerville SC 55, Savannah Christian 51
Swainsboro 68, Vidalia 39
Tattnall County 59, Brantley County 45
Thomasville 66, Brooks County 49
Treutlen 80, Johnson County 45
Union Grove 56, Locust Grove 55
Veterans 68, Bainbridge 60
W.D. Mohammed 65, Mt. Vernon Presbyterian 63
Walnut Grove 51, Buford 45
Washington County 75, Southwest 24
Wayne County 40, Ware County 36
Westside-Augusta 73, Jefferson County 71
Wheeler County 65, Emanuel County Institute 55
Whitewater 78, Our Lady of Mercy 48
Woodland-Stockbridge 54, Ola 42
Woodstock 76, Lassiter 55
Girls
Baldwin 93, Richmond Academy 31
Buford 66, Walnut Grove 11
Butler 71, Hephzibah 29
Cairo 56, Columbus 17
Calhoun County 58, Pelham 35
Callaway 48, Temple 30
Calvary Day 55, Savannah Country Day 38
Cambridge 45, Chattahoochee 25
Carrollton 59, Woodland-Cartersville 17
Cedartown 42, Cartersville 39
Chattooga 59, Model 52
Cherokee 67, Walton 32
Christian Heritage 41, Trion 37
Claxton 45, McIntosh County Academy 32
Coahulla Creek 51, Calhoun 44
Coffee 55, Fitzgerald 38
Colquitt County 56, Camden County 55
Commerce 36, George Walton Academy 28
Crisp County 48, Cook 15
Dacula 69, Apalachee 32
Dade County 53, Coosa 40
Dawson County 61, Cherokee Bluff 44
Dooly County 57, Macon County 44
Gainesville 60, Habersham Central 53
Gilmer 49, Northwest Whitfield 38
Glynn Academy 48, Brunswick 40
Gordon Central 57, Pepperell 31
Gordon Lee 48, North Cobb Christian 36
Greene County 37, Lincoln County 29
Grovetown 61, Evans 33
Hardaway 72, Northside-Columbus 45
Hiram 56, Cass 49
Jackson 36, Westside-Macon 35
Jackson County 60, East Jackson 55
Jefferson 69, Hart County 35
Johnson-Savannah 94, Winder-Barrow 17
Lake Oconee Academy 57, Aquinas 37
Lamar County 78, Jordan 32
Lanier County 42, Charlton County 38
Lovejoy 52, Zebulon B Vance 22
Marion County 48, Schley County 43
McDonough 67, Hampton 16
Metter 49, Toombs County 43
Mitchell County 50, Randolph-Clay 49
Montgomery County 56, Portal 34
North Hall 46, Lumpkin County 40
Northeast-Macon 76, Dublin 34
Northgate 50, South Paulding 39
Parkview 67, Seminole FL 61
Pickens 72, Southeast Whitfield 51
Richmond Hill 58, Effingham County 16
Ringgold 59, Murray County 41
River Ridge 66, South Cobb 48
Rockmart 51, Armuchee 38
Rutland 70, Peach County 39
Savannah 44, Jenkins 34
Sequoyah 64, Allatoona 45
Social Circle 51, Oglethorpe County 39
Sonoraville 59, Lakeview-Fort Oglethorpe 35
Southwest 54, Washington County 48
Sprayberry 56, Creekview 47
Tattnall County 52, Brantley County 29
Tift County 62, Lowndes 51
Towns County 58, Providence Christian 36
Troup County 55, Chapel Hill 42
Union Grove 65, Locust Grove 38
Vidalia 61, Swainsboro 45
Villa Rica 68, Rome 58
Wayne County 63, Ware County 19
Western FL 56, Wheeler 41
Westlake 75, East Coweta 33
White County 67, Denmark 44
Winter Haven FL 55, Langston Hughes 47
Woodbridge VA 44, Griffin 41
Woodstock 76, Lassiter 18
Woodville-Tompkins 64, Bacon County 26