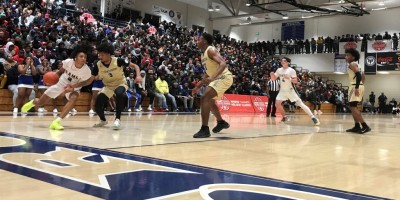 The Wesleyan girls, ranked No. 4 in Class A-Private made a statement on Saturday with a 45-43 victory over Class AAAAA No. 1 Buford, handing the Wolves their first loss of the season.
Senior Avyonce Carter led with 16 points and nine rebounds for Wesleyan. Junior Alyssa Phillips scored 13 points with eight rebounds. Senior Lanni Brown scored eight points and senior Lauren Hill finished with eight points and four assists. Junior Paige Lyons made four assists with four rebounds. Buford host Loganville on Tuesday and Wesleyan closes its regular season at Mount Paran on Friday.
On the boys side, Grayson, the top-ranked program in Class AAAAAAA, defeated Alabama program Ramsay 70-44 and Deivon Smith led with 24 points. Three players – Caleb Murphy, Toneari Lane and Taje Kelly – each scored eight points for the Rams.
The Cedar Shoals boys, ranked No. 4 in Class AAAAA, defeated Clarke Central 66-56 and Kashik Brown led with 20 points, four assists, two steals and two rebounds. Tyler Johnson scored 17 points with nine rebounds, three assists and three steals. Quincy Canty finished with 15 points and 11 rebounds. Cedar Shoals moved to 21-2 on the season and 7-1 in 8-AAAAA. The Jaguars will host Johnson-Gainesville on Tuesday.
By Jordan Dubrof: On Friday, the Cottage School Lady Cougars hosted senior night against conference rivals Atlanta Area School for the Deaf at the Cougar Center and won 36-25. The Lady Cougars relied on both seniors Shakirah Wazeerud-Din and Maria Knezek. Wazeerud-Din overcame early foul trouble to claim a team high 13 rebounds, 5 offensive.  Defensively she grabbed three steals and three blocked shots, while scoring two points. Knezek grabbed 13 steals and one ended with a flourish, as the grab and go helped to seal the contest for her team. Knezek also made an assist and five rebounds The Cottage School relied on 14 second half points by eighth grader Alyssa Briggs. The Lady Cougars are 3-2 in AAC Conference and 7-12 overall.
See the rest of the scores below. 
Boys
Americus-Sumter 80, Columbus 51
Arabia Mountain 82, Stone Mountain 60
Bethesda Academy 64, Metter 46
Bowdon 79, Dade County 77
Callaway 77, Bremen 40
Calvary Day 58, Jenkins County 45
Cambridge 74, Dunwoody 32
Campbell 70, St. Anne Pacelli 67
Cedar Shoals 66, Clarke Central 56
Cedartown 49, Rockmart 46
Central-Macon 77, Southwest 34
Chattahoochee 72, Northview 45
Covenant Aca. 71, Academy For Classical Education 39
Creekside 86, Kendrick 56
Cross Keys 53, Tapestry Charter 17
Douglas County 58, South Paulding 54
Drew Charter 53, Wesleyan 46
East Coweta 76, McIntosh 55
Evans 67, Westside-Augusta 55
First Presbyterian 58, Strong Rock Christian 27
Greenville 47, Brookstone 46
Holy Innocents' 55, Mays 43
Lincoln County 71, Washington-Wilkes 33
Milton 64, Wheeler 62
Monroe Area 73, Meadowcreek 66
New Manchester 89, Grady 63
Newton 71, Eastside 64
Parkview 70, North Gwinnett 66
Pope 63, Sprayberry 60
Portal 70, Emanuel County Institute 57
Rabun County 47, Monticello 44
Sandy Creek 80, Cartersville 42
Savannah 52, Hephzibah 49
Shaw 87, Cairo 34
Social Circle 52, Elbert County 47
South Atlanta 77, Washington 56
Temple 65, Lamar County 38
Union County 59, Putnam County 44
Walker 76, Fellowship Christian 62
Warner Robins 47, Veterans 44
Westside-Macon 77, Howard 52
Girls
Alexander 54, Lithia Springs 40
Athens Academy 37, Jackson County 25
Baldwin 50, Thomson 25
Banks County 70, Oglethorpe County 12
Banneker 41, Lakeside-DeKalb 37
Cairo 55, Shaw 50
Callaway 64, Bremen 63
Calvary Day 44, Jenkins County 13
Cambridge 52, Dunwoody 44
Central-Talbotton 72, Marion County 32
Chapel Hill 51, Central-Carroll 44
Columbia 49, M. L. King 42
Dooly County 38, Crisp County 36
Dougherty 58, Westover 50
Douglas County 53, South Paulding 11
Eagle's Landing 49, Central, Mass. 46
Early County 76, Fitzgerald 49
East Coweta 61, McIntosh 28
East Laurens 59, West Laurens 57
Elbert County 52, Social Circle 22
Elite Scholars Academy 47, Stratford Academy 44
Evans 74, Westside-Augusta 36
Fannin County 57, Southeast Whitfield 27
Fellowship Christian 40, Walker 37
Hebron Christian 83, Tallulah Falls 33
Holy Innocents' 55, Spain Park, AL 40
Houston County 40, Northside-Warner Robins 30
Jackson 68, Mary Persons 35
Johnson-Savannah 73, Sequoyah 54
Kell 76, Rome 46
Lamar County 46, Temple 39
Langston Hughes 73, South Cobb 46
Lanier County 46, Brooks County 37
Lovejoy 50, St. Laurent Manitoba 44
Macon County 59, Twiggs County 35
Montgomery County 46, Treutlen 5
New Hope Aca., MD 71, Jackson-Atlanta 24
New Manchester 53, Grady 44
North Murray 73, Calhoun 70
Parkview 61, North Gwinnett 53
Pickens 81, Adairsville 63
Pinewood Christian 41, Claxton 20
Pope 60, Sprayberry 59
Putnam County 58, Union County 47
Quitman County 77, Randolph-Clay 65
Rabun County 56, Monticello 13
Riverdale 50, Drew 45
Rockmart 65, Cedartown 47
Rutland 43, Crawford County 15
Sandy Creek 53, Cartersville 24
Savannah Christian 54, St. Andrews 40
South Atlanta 45, Washington 38
Southwest 58, Central-Macon 20
St. Francis 82, Mt. Pisgah Christian 43
Towns County 59, Andrews, NC 39
Valdosta 61, Lee County 16
Washington-Wilkes 70, Lincoln County 12
Wesleyan 45, Buford 43
Westside-Macon 44, Howard 40
Wilcox County 72, Clinch County 67
Worth County 64, Atkinson County 23