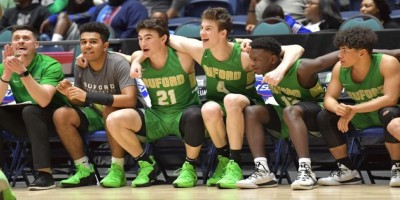 AJC
Action on the hardwood took over Thursday night as teams begin the search for a rhythm in the early games of the basketball season.
Paulding County moved to 3-0 this season after an 82-79 victory over North Paulding and will enter the Paulding County Thanksgiving tournament against North Cobb on Saturday with momentum. Senior Keon Sedgwick and junior Kervens Yacinthe combined for 47 points to lead the Patriots over North Paulding. Sedgwick, a 6-foot-1 guard, scored 25 points, grabbed 10 rebounds and made nine assists. Yacinthe, a 6-4 point guard, added 22 points. Elijah Branch, a 6-3 senior forward, added nine points, grabbed 14 rebounds and made two blocks. Christian Burdette, a 6-2 junior guard, added 11 points in the victory.
Alpharetta moved past Dunwoody 66-47 to moved to 1-1 on the season. The Raiders led 17-12 after on quarter and pieced together a 22-15 run in the second quarter to extend the lead. Alpharetta took advantage in the third frame and outscored Dunwoody 18-8 to take control and held on through Dunwoody's 12-9 run in the fourth quarter. Jayden Stephens, a 6-5 senior guard, led with 21 points. Malachi Chipp, a 6-1 junior, scored 13 points. Amos Long, a 5-8 senior guard, added 11 points.
See the rest of the Thursday basketball scores below.
Boys
Alpharetta 66, Dunwoody 47
Bowdon 74, Cleburne County 60
Cambridge 70, Northview 65
Cass 86, Northwest Whitfield 71
Dutchtown 65, Locust Grove 40
Langston Hughes 46, Westlake 42
Mary Persons 87, Pike County 60
Murray County 76, Southeast Whitfield 29
Oconee County 49, Monticello 46
Parkview 54, Lakeside-DeKalb 52
The St. George's 47, The Cottage School 36
Girls
Alpharetta 45, Dunwoody 35
Bulloch Academy 46, New Hampstead 38
Cambridge 68, Northview 16
Colquitt County 63, Brookwood-Thomasville 41
Dominion Christian 40, Brandon Hall 38
George Walton Academy 38, Mt. de Sales 25
Kennesaw Mountain 43, East Paulding 42
Lovett 41, Athens Academy 38
Murray County 57, Southeast Whitfield 41
Northwest Whitfield 54, Model 33
Parkview 42, Lakeside-DeKalb 34
Riverwood 63, North Atlanta 24
Stephenson 71, Mundy's Mill 21
Veterans 68, West Laurens 46
Walton 51, Sprayberry 38
Westlake 76, Langston Hughes 37