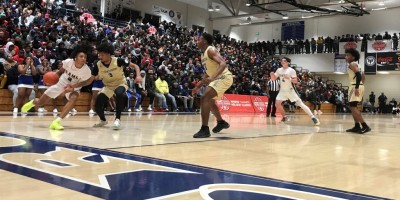 Hawks-Naismith Holiday Classic
Basketball continued Tuesday with a large schedule of games across the state. Here's a glance at the action.
Class AAAAA No. 5 Cedar Shoals moved to 9-1 on the season after an 86-52 victory over Gainesville after a massive offensive effort in the second half. The Jaguars led 11-7 after one quarter and 24-17 at the break. Cedar Shoals took control of the game as it outscored the Red Elephants 62-35 in the second half to take the victory. Tyler Johnson, a 6-foot-1 guard, led with 25 points, six rebounds and six steals. Sophomore Kashik Brown, a 5-6 point guard, finished with 18 points and four assists. Senior Quincy Canty, a 6-6 forward, scored 16 points with three rebounds.
Kell, ranked No. 6 in Class AAAAA, took a 79-53 victory over Carrollton behind a 28-point effort from Scoot Henderson, a 6-0 guard. Henderson had six rebounds and two steals in the win. Najhae Colon scored 21 points with three assists and two steals. Jamal Hill finished with nine points, four rebounds and three assists. Jaylon Brown scored nine points with ten rebounds.
On the girls side, Class AAA No. 3 Dawson County moved to 7-5, 3-1 on the season with a 64-51 victory over No. 6 Lumpkin County. Dawson led 19-15 after the first quarter, but Lumpkin County cut the lead to 32-31 at the half. The Tigers extended the lead with a 13-5 run in the third quarter and held on through a 19-15 run in the fourth quarter. Freshman guard Sophia D'Oliviera led with 22 points, senior center Marlie Townley scored 17 points and junior shooting guard Maddie Anglin scored nine points. Lexi Pierce scored 14 points to lead Lumpkin County.
See the rest of the scores below.
Boys
Adairsville 67, Lakeview-Fort Oglethorpe 60
Banks County 86, Monticello 68
Butler 64, Westside-Augusta 60
Calhoun 72, Haralson County 35
Calhoun County 81, Miller County 44
Camden County 58, River City Science Aca., Fla. 56
Cedar Shoals 86, Gainesville 52
Chestatee 63, White County 57
Dooly County 94, Taylor County 88
Douglas County 64, Mays 48
Douglass 79, McNair 45
Dutchtown 83, Union Grove 62
Effingham County 57, Bradwell Institute 27
Elbert County 64, Rabun County 35
Forest Park 70, Drew 48
Georgia Military 76, Lake Oconee Academy 40
Glenn Hills 66, Laney 61
Hephzibah 66, Harlem 29
Heritage-Conyers 78, Salem 56
Jefferson 86, East Jackson 60
Jefferson County 63, Screven County 52
Jordan 56, Central-Talbotton 46
Kell 79, Carrollton 53
Lakeside-Evans 74, Burke County 64
Lanier County 64, Cook 41
Lithonia 67, Arabia Mountain 58
Loganville 72, Ola 44
Long County 80, McIntosh County Academy 54
Monroe Area 69, Franklin County 57
Mundy's Mill 69, M. L. King 63
Newton 64, McDonough 56
North Clayton 75, Hampton 47
North Murray 62, Ringgold 36
Pickens 59, Gilmer 58
Richmond Hill 60, Glynn Academy 47
Schley County 65, Hawkinsville 31
Social Circle 45, Union County 40
Sonoraville 55, Murray County 49
Tattnall County 57, Vidalia 50
Therrell 58, South Atlanta 54
Tri-Cities 92, Alexander 84
Trinity Christian 50, Hiram 38
Valdosta 62, Tift County 55
W.D. Mohammed 83, Elite Scholars Academy 49
Washington County 76, Dodge County 41
Weber 61, Excel Christian 55
West Laurens 58, Northside-Warner Robins 49
Girls
Alexander 70, Tri-Cities 53
Arabia Mountain 44, Lithonia 25
Armuchee 52, Coosa 35
Bradwell Institute 64, Effingham County 20
Burke County 66, Lakeside-Evans 31
Butler 64, Westside-Augusta 38
Calhoun 52, Haralson County 33
Central-Talbotton 59, Jordan 24
Chattooga 42, Rockmart 38
Columbia 44, Miller Grove 28
Commerce 79, Cross Keys 4
Dawson County 64, Lumpkin County 51
Dooly County 70, Taylor County 43
Dougherty 64, Northside-Columbus 48
Elite Scholars Academy 66, W.D. Mohammed 57
Fitzgerald 58, Wilcox County 55
George Walton Academy 37, Athens Christian 18
Georgia Military 40, Lake Oconee Academy 33
Gilmer 94, Pickens 67
Glynn Academy 61, Richmond Hill 24
Habersham Central 56, Stephens County 43
Hephzibah 47, Harlem 40
Hiram 57, Trinity Christian 49
Howard 34, Peach County 27
Jefferson 72, East Jackson 37
Jefferson County 63, Screven County 34
Kell 62, Carrollton 55
Lake Highland Fla. 56, St. Francis 51
Lamar County 59, Bremen 46
Loganville 67, Ola 51
Long County 46, McIntosh County Academy 29
Lovejoy 73, Stephenson 45
North Oconee 59, Apalachee 44
Northeast-Macon 50, Rutland 48
Northside-Warner Robins 52, West Laurens 31
Pelham 50, Worth County 39
Pike County 45, Westside-Macon 37
Putnam County 57, Oglethorpe County 27
Quitman County 65, Mitchell County 63
Rabun County 67, Elbert County 41
Rome 49, Cartersville 37
Ryals, KY 56, Eagle's Landing 31
Sequoyah 42, Creekview 41
Sonoraville 72, Murray County 49
South Effingham 61, Southeast Bulloch 55
Southwest 65, Central-Macon 41
Stockbridge 42, Locust Grove 40
Tattnall County 45, Vidalia 40
Troup County 46, Newnan 35
Union County 56, Social Circle 24
Valdosta 52, Tift County 44
Villa Rica 68, Cass 45
Warren County 56, Johnson County 44
Washington 46, Coretta Scott King 28
Weber 35, Atlanta Girls 27
Winder-Barrow 58, Walnut Grove 19
Woodland-Stockbridge 35, Jones County 30