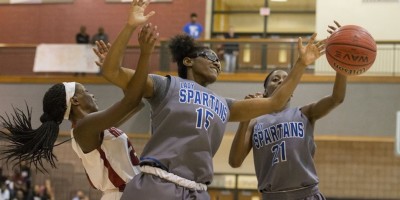 Region basketball games continued Tuesday and here's a look at what took place across the state.
Lovejoy's girls team, ranked No. 1 in Class AAAAAA, moved to 18-1 overall and 12-0 in 4-AAAAAA with an 82-23 victory over Morrow on Tuesday. Freshman Anaya Boyd led with 20 points to lead the Wildcats. Senior Genesis Bryant scored 18 points and sophomore Bryana Hardy finished with 14 points.
In Class AAAA, an unranked Madison County team defeated No. 7 St. Pius X 63-41 and senior Kayla McPherson led with 29 points. Keia Cooper finished with 12 points for Madison County. St. Pius X was led by senior Wylie Sheridan, who finished with 13 points. Sophomore Kate McBride scored seven points and freshman Kelly Stephenson added seven points.
See the rest of the scores below.
Boys
Arabia Mountain 74, Clarkston 48
Bowdon 70, Gordon Lee 60
Brooks County 59, Berrien 41
Brookwood 43, Meadowcreek 41
Buford 66, Clarke Central 52
Butler 68, Harlem 54
Calhoun 75, Ringgold 55
Calhoun County 61, Webster County 15
Callaway 66, Temple 59
Calvary Day 71, Claxton 54
Cambridge 80, Pope 57
Cedar Shoals 61, Walnut Grove 59
Charlton County 65, Clinch County 61
Chattahoochee 79, Johns Creek 68
Dawson County 57, Greater Atlanta Christian 39
Dooly County 78, Crawford County 70
Douglass 58, KIPP Atlanta Charter 44
Drew Charter 62, Eagle's Landing Christian 49
Dublin 61, Bleckley County 36
Eagle's Landing 64, Union Grove 36
East Paulding 60, Villa Rica 55
Glenn Hills 55, Jefferson County 46
Greenbrier 77, Heritage-Conyers 66
Greenforest 54, Trinity Christian 53
Grovetown 70, Lakeside-Evans 64
Hephzibah 62, Josey 41
Holy Innocents' 56, Mt. Vernon Presbyterian 41
Jeff Davis 58, Toombs County 57
Lambert 80, West Forsyth 61
Lassiter 65, Cherokee 53
Lovett 66, Towers 51
Lovett 66, Towers 51
Lumpkin County 64, East Hall 54
Milton 78, South Forsyth 58
Monroe Area 50, Jackson County 41
Montgomery County 49, Emanuel County Institute 46
Morrow 49, Lovejoy 43
Murray County 65, Haralson County 40
North Atlanta 60, Dunwoody 53
North Clayton 54, Salem 47
North Murray 58, Coahulla Creek 41
North Oconee 58, Stephens County 53
Oconee County 64, Cross Keys 31
Osborne 94, Dalton 75
Oxford, AL. 63, Carrollton 61
Paulding County 81, Woodland-Cartersville 47
Providence Christian 68, Riverside Military 59
Rockmart 76, Dade County 39
Savannah Christian 55, Portal 52
Shiloh 59, Archer 57
St. Anne Pacelli 56, Greenville 44
St. Pius X 77, Madison County 42
Swainsboro 64, Woodville-Tompkins 53
Taylor County 57, Schley County 56
Towns County 77, Hebron Christian 58
Treutlen 96, Jenkins County 63
Trion 71, Excel Christian 62
Upson-Lee 60, West Laurens 56
Veterans 52, Houston County 44
Vidalia 56, Bacon County 41
Walker 64, King's Ridge 63
Wesleyan 70, Atlanta Classical Academy 12
Whitewater 48, McIntosh 40
Winder-Barrow 64, Dacula 55
Windsor Forest 68, Beach 58
Woodstock 62, Roswell 57
Woodward Academy 72, McDonough 42
Girls
Alcovy 46, Evans 44
Alexander 58, New Manchester 55
Atlanta International 47, W.D. Mohammed 15
Baldwin 40, Cross Creek 36
Beach 58, Windsor Forest 27
Blessed Trinity 62, Denmark 57
Brookstone 38, Manchester 18
Buford 69, Clarke Central 33
Butler 70, Harlem 25
Cairo 48, Westover 46
Calvary Day 60, Claxton 43
Cambridge 68, Pope 56
Camden County 43, Richmond Hill 27
Cass 51, Rome 48
Cedar Shoals 42, Walnut Grove 15
Cherokee 68, Lassiter 18
Clinch County 75, Charlton County 41
Coffee 56, Northside-Warner Robins 52
Colquitt County 44, Lee County 40
Dacula 69, Winder-Barrow 40
Duluth 46, Mountain View 33
Dunwoody 58, North Atlanta 33
Eagle's Landing 66, Union Grove 36
East Hall 39, Lumpkin County 37
Elite Scholars Academy 61, Strong Rock Christian 49
George Walton Academy 38, Athens Christian 12
Gilmer 49, Heritage-Catoosa 32
Greater Atlanta Christian 71, Dawson County 59
Grovetown 40, Lakeside-Evans 27
Habersham Central 55, Apalachee 24
Harris County 56, Warner Robins 43
Heard County 43, Bremen 41
Howard 39, Mary Persons 29
Jackson 61, Pike County 38
Jackson County 44, Monroe Area 35
Jackson-Atlanta 55, Grady 48
Jefferson County 59, Glenn Hills 33
Johnson-Savannah 74, Jenkins 21
Lanier 51, Gainesville 23
Lithia Springs 58, North Springs 20
Loganville 62, Johnson-Gainesville 19
Lovejoy 82, Morrow 23
Macon County 59, Hawkinsville 26
Madison County 63, St. Pius X 41
Marietta 56, North Paulding 40
Marist 51, White County 45
McIntosh 39, Whitewater 35
Montgomery County 56, Emanuel County Institute 45
Morgan County 48, Hart County 35
Northeast-Macon 60, Dodge County 33
Ola 54, Stockbridge 44
Peach County 60, Kendrick 55
Pierce County 43, Tattnall County 35
Putnam County 53, Banks County 36
Rabun County 81, Oglethorpe County 17
Ringgold 50, Calhoun 46
Rockdale County 48, South Gwinnett 40
Rockmart 42, Dade County 23
Savannah Christian 56, Portal 26
Schley County 35, Taylor County 26
Sequoyah 82, South Cobb 53
Sonoraville 67, Adairsville 24
South Atlanta 34, McNair 22
South Forsyth 65, Milton 34
Southwest DeKalb 63, Columbia 55
Stephenson 64, Mundy's Mill 33
Stone Mountain 41, Pace Academy 37
Stratford Academy 54, Tattnall Square 16
Tallulah Falls 47, Commerce 33
Therrell 37, Coretta Scott King 18
Tift County 74, Fitzgerald 47
Turner County 52, Atkinson County 35
Union County 49, Elbert County 45
Veterans 60, Houston County 40
Villa Rica 69, East Paulding 52
Walton 55, Etowah 34
Wesleyan 83, Atlanta Classical Academy 10
West Forsyth 63, Lambert 22
Westlake 70, Campbell 36
Westminster 54, Redan 30
Wheeler 52, Newnan 40
Wilkinson County 44, First Presbyterian 40
Woodstock 58, Roswell 26
Woodward Academy 68, McDonough 39
Worth County 48, Crisp County 19