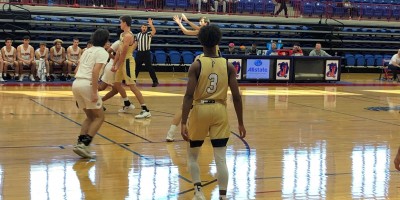 The basketball season got back to its regular schedule on Tuesday after the Thanksgiving break and Class AAAA St. Pius X took advantage with victories over Class AAA Greater Atlanta Christian from both the boys and girls teams.
The No. 6-ranked St. Pius X boys won 53-44 over the Spartans and Chase Cormier's 17 points led the way. Pius trailed 13-11 entering the second quarter and the game was tied at 27 at the half. Pius expanded the lead with a 19-14 run in the third quarter and extended the lead with a 7-3 effort in the final frame. Jack Verrill added nine points and Cal Peterson scored eight points. The girls moved to 6-0 after its 40-31 victory over GAC. The Golden Lions led 9-2 entering the second quarter and 21-13 at the break. GAC went on a 10-4 run in the fourth quarter but the game was out of reach.
A crosstown rivalry added another chapter in its history when McIntosh's boys defeated Starr's Mill 57-54. McIntosh trailed 18-8 after the first quarter but battled back to trail just 27-23 at the break. After a 12-7 run in the third quarter, the Chiefs led 35-34 entering the fourth quarter. McIntosh held on with a 22-20 effort in the final frame to take the victory.
Senior guard Camerin Lyons scored a career-high 23 points with six assists to lead the Chiefs. Cooper Dolhancyk added 10 points, Brad Grasser added eight points and Shaun Nichols scored six points and grabbed eight rebounds.
In other games, Tyreek Perkins' 20 points led Winder-Barrow's boys past Madison County 54-50. Nolan Hill and Rod Jones each scored 10 points and Tim Loud finished with nine points. … Lovett moved to 4-2 on the season after its 64-45 victory over Stone Mountain. Ryan Mutumbo, a 6-foot-11 junior forward, led with 22 points and Kyle Walters, a 6-3 freshman shooting guard, added 15 points.
See the rest of the scores below.
Boys
Alexander 61, Langston Hughes 60
Americus-Sumter 78, Columbus 49
Archer 58, Cedar Shoals 43
Athens Christian 65, Loganville Christian 43
Bainbridge 52, Early County 51
Banneker 56, North Springs 52
Beach 65, Groves 63
Bowdon 67, Ranburne, AL 41
Bradwell Institute 58, Westside-Jacksonville 51
Central-Macon 73, Peach County 62
Chattooga 74, Armuchee 47
Cherokee Bluff 82, Lumpkin County 48
Dalton 76, Allatoona 68
Dawson County 85, Fannin County 43
Denmark 61, Chestatee 47
Dublin 61, East Laurens 39
Dutchtown 60, Jones County 46
Eagle's Landing 73, Union Grove 35
East Paulding 83, Woodland-Cartersville 40
Greene County 58, Monticello 54
Hardaway 69, Northside-Columbus 49
Hephzibah 76, Westside-Augusta 62
Heritage-Conyers 74, Clarke Central 68
Jefferson County 57, Harlem 50
Kell 69, Cass 55
LaFayette 61, Gordon Lee 37
Lakeview-Fort Oglethorpe 63, Haralson County 24
Landmark Christian 87, Atlanta International 25
Lee County 74, Dougherty 65
Loganville 59, North Oconee 52
Macon County 85, Hawkinsville 45
Mary Persons 79, Spalding 74
McIntosh 57, Starr's Mill 54
Monroe Area 71, Jefferson 68
Morrow 47, Stephenson 42
Mt. de Sales 74, Strong Rock Christian 27
Mundy's Mill 66, Forest Park 57
Murray County 50, Coahulla Creek 34
North Clayton 62, Luella 60
Northgate 84, Pike County 44
Oconee County 64, Putnam County 51
Parkview 84, Meadowcreek 75
Pope 58, Cambridge 50
Roswell 56, Forsyth Central 42
Rutland 70, Jackson 50
South Atlanta 50, B.E.S.T. Academy 40
South Cobb 68, Sprayberry 55
South Gwinnett 63, Dacula 62
St. Anne Pacelli 68, Greenville 62
St. Pius X 53, Greater Atlanta Christian 44
Tri-Cities 92, Mays 59
Veterans 50, Houston County 47
Vidalia 60, Bacon County 50
Wayne County 53, Appling County 42
Westside-Macon 77, Southwest 51
Whitefield Academy 55, Walker 54
Woodward Academy 79, Hampton 49
Girls
Alexander 58, Langston Hughes 46
Americus-Sumter 61, Columbus 10
Banneker 57, North Springs 15
Bowdon 63, Ranburne 44
Bradwell Institute 55, Ware County 34
Butler 58, Grovetown 57
Cambridge 55, Pope 51
Campbell 70, Hillgrove 55
Central-Carroll 48, Bremen 41
Central-Macon 56, Peach County 35
Chattooga 51, Armuchee 50
Cherokee 51, North Cobb 43
Dacula 46, South Gwinnett 33
Forsyth Central 46, Roswell 42
FSU High School 63, Thomasville 27
Glynn Academy 49, Statesboro 35
Grady 45, Lithia Springs 39
Hapeville Charter 48, McNair 23
Hardaway 48, Northside-Columbus 33
Harrison 47, Creekview 34
Jeff Davis 52, Toombs County 35
Jefferson 68, Monroe Area 28
Jefferson County 72, Harlem 48
Johns Creek 49, Chattahoochee 36
Kell 70, Cass 38
LaFayette 51, Gordon Lee 49
LaGrange 56, Harris County 44
Lakeview-Fort Oglethorpe 57, Haralson County 39
Laney 55, Josey 44
Loganville 56, North Oconee 34
Lumpkin County 53, Cherokee Bluff 42
Marietta 71, New Manchester 47
Montgomery County 58, Telfair County 55
Mt. de Sales 47, Strong Rock Christian 21
North Augusta, SC 87, Richmond Academy 19
Northeast-Macon 58, Bleckley County 49
Parkview 54, Meadowcreek 15
Peachtree Ridge 40, Duluth 36
Pike County 42, Northgate 39
Randolph-Clay 56, Quitman County 53
Richmond Hill 42, Camden County 41
Ringgold 72, Adairsville 29
River Ridge 64, Osborne 63
Rome 64, Paulding County 16
Savannah Christian 43, Emanuel County Institute 30
Savannah Country Day 44, Jenkins County 15
Schley County 41, Taylor County 29
Sonoraville 65, Darlington 43
South Atlanta 52, Coretta Scott King 27
Southwest DeKalb 44, Columbia 42
St. Pius X 40, Greater Atlanta Christian 31
Stephenson 67, Morrow 26
Swainsboro 67, Woodville-Tompkins 63
Tift County 51, Fitzgerald 47
Trinity Christian 51, Miller Grove 40
Upson-Lee 59, Howard 18
Veterans 56, Houston County 47
Vidalia 70, Bacon County 17
Villa Rica 49, Carrollton 43
Walnut Grove 39, Apalachee 34
Wayne County 41, Appling County 24
Wesleyan 60, Atlanta International 21
West Laurens 46, Perry 22
Westside-Macon 58, Southwest 35
Wheeler 51, Newnan 46
Wheeler County 80, Dodge County 54
Woodstock 64, Lambert 8
Woodward Academy 85, Hampton 16