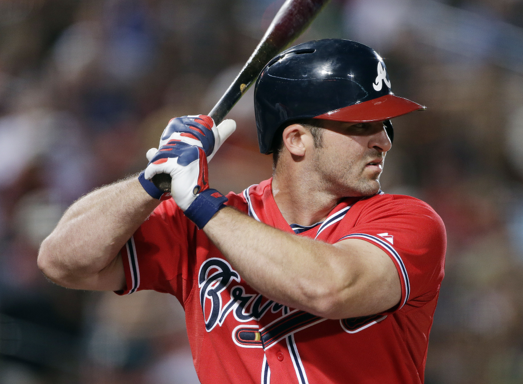 AJC.com/sports
Leave it to the Atlanta Braves' fiercest rival to help cure some of their own early-season ills. The Braves entered last weekend's home series against the Washington Nationals with a decent 5-4 record, but for the most part their bats had been silent at the start of the 2014 campaign. They finally made noise against Washington, however, as Atlanta crossed the plate a total of 23 times in a three-game sweep at Turner Field. By comparison, Fredi Gonzalez's club had scored 23 runs in their previous nine games combined.
TRENDING UP-WARD …
B.J. Upton started to show signs of life and Justin Upton continued to emerge from a first-week slump as the Braves scored victories of 7-6 (10 innings), 6-3 and 10-2 over the Nationals.
B.J. entered the second game of the series batting .135 with a mere five hits for the season, invoking dire memories of last year's futility. He almost doubled his hit total in the final two contests, going 2-for-5 on both Saturday and Sunday. B.J. also hit his first home run of the season in Saturday's victory.
Justin went an incredible 8-for-10 during the three-game set with two home runs, five RBIs, six runs scored and 19 total bases. He hit a walk-off bloop single with two outs in the bottom of the 10th inning in the series opener last Friday, scoring Jordan Schafer–who had been stealing–from first. In the last four games of Atlanta's home-stand against the Mets and Nationals, Upton went 10-for-13 with four homers, seven RBIs, eight runs scored and 28 total bases. One of his blasts against New York traveled 477 feet.
"It's definitely fun to watch [Justin] right now," Freddie Freeman told the Atlanta Journal Constitution. "He's what you call locked in. It seems like anything they throw offspeed, his weight is still back and he's throw the zone so long. He's pretty much carried us the last few days."
Of course, Freeman has been carrying Atlanta's offense for the entire season. The first baseman is hitting .404 with four homers,10 RBIs, and 12 runs scored while striking out only five times. He also homered in Sunday's series finale against the Nats while driving in four runs.
NATIONAL CRISIS …
The Nationals (8-6) are 7-1 against opponents other than the Braves this season and 1-5 against the Braves. The Braves (9-4) are now 22-7 in their last 29 games against Washington. They have won 18 of the last 25 series between the two supposed beasts of the NL East.
"You just want to go out there and win series and it doesn't matter who it's against," Freeman assured. "It is against a division rival and that's definitely a good thing because we've got a 19-game stretch against divisions opponents. I think everybody is starting to make [domination of the Nationals] into a big deal. As players, we're not. In the division, we've got to go out there and win games because pennants are won inside the division, not outside the division."
STORMING INTO PHILLY …
Atlanta is looking for additional division success this week at Philadelphia. To say it got off to an uproarious start would be an understatement.
After trailing 1-0 heading into the sixth inning of Monday's contest, the Braves suddenly seemed poised to capitalize on another stellar outing from Ervin Santana by playing long-ball. Evan Gattis hit a go-ahead two-run homer in the sixth and Gattis, Dan Uggla, and Andrelton Simmons went back-to-back-to-back in the eighth for a 5-1 lead.
Luis Avilan promptly gave up all of Atlanta's advantage–and more–in the bottom of the penultimate inning. Philly torched Avilan for five runs to surge ahead 6-5. If it looked like Avilan had blown the game, all he did was position himself to get the proverbial backdoor win. Avilan got it, thanks mostly to Uggla and an extremely wild Jacob Diekman. After two walks and a botched fielder's choice by Chase Uttley, Uggla connected for a grand slam off Diekman to put the visitors back in front 9-6. At long last, David Carpenter put a stop to the chaos and shut down the Phillies in the bottom of the ninth.
"That almost seemed like two different games," Gonzalez told the team's website. "Santana pitches [a great] game and ties his career high in strikeouts (with 11), and the next thing you know, in the next two innings, 12 runs are scored…. You know, this is a resilient squad."
A huge storm wiped out game two of the series in addition to three other MLB contests on Tuesday night. No makeup date has been announced, but it will not be rescheduled as part of a doubleheader on Wednesday or Thursday.