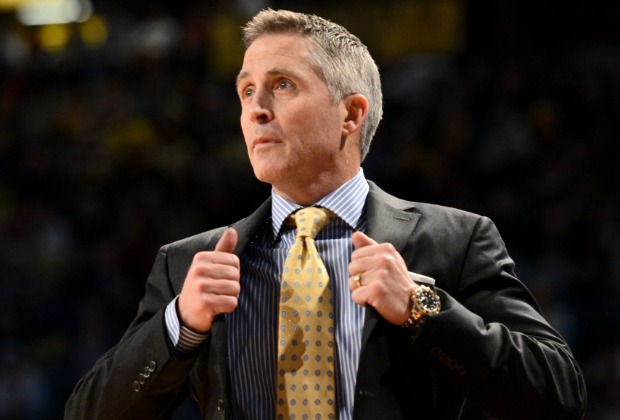 Jon Barash
After a close loss at Boston College to end the regular season, revenge was on Georgia Tech's mind entering the first round of the ACC Tournament. Unfortunately for the Jackets, an opposing freshman saw that the end result was the same.
Eagles freshman Oliver Hanlan had the highest individual point total in an ACC Tournament game since 1970 as he scored 41 points in Boston College's 84-64 victory. The Jackets simply had no answer for Hanlan, who made 14 of 18 shots, including eight three-pointers. The Eagles erased an early 15-point deficit, mostly due to Hanlan's hotshooting, and ran away with the game early in the second half.
Tech ends the season with a 16-15 record, bouncing back from two consecutive losing seasons. The Jackets finished ACC play with a 6-12 mark. As one of the conference's youngest teams, the Jackets have plenty of reason to be optimistic as they enter the offseason.
ROYAL TREATMENT …
However, coach Brian Gregory's squad will move on without the services of sophomore forward Julian Royal, who has decided to transfer. The Milton product averaged just 6.6 minutes per game and less than two points this past season. Royal averaged 4.4 points per game as a freshman and saw action in 30 games.
BEESBALL …
To say the Yellow Jackets baseball team has gotten off to a great start would be an understatement. At 17-2 through March 17, the Jackets continue to benefit from strong offensive numbers, particularly from players such as outfielder Brandon Thomas, who currently leads the team in batting average (.479) to go along with his team lead in hits, and catcher Zane Evans, who leads the team with eight home runs. The pitching has also been nearly as explosive, with Buck Farmer and Cole Pitts both off to impressive starts to the season. Farmer has yet to lose a decision with a 4-0 record, a microscopic 1.64 ERA and 44 strikeouts, while Pitts has been nearly as good, posting a 4-1 record and a 2.17 ERA.
Tech will face its biggest challenge of the season as it travels to Tallahassee to take on fifth-ranked Florida State, which got off to a 16-1 start and suffered its first loss of the season to Maryland on March 15.