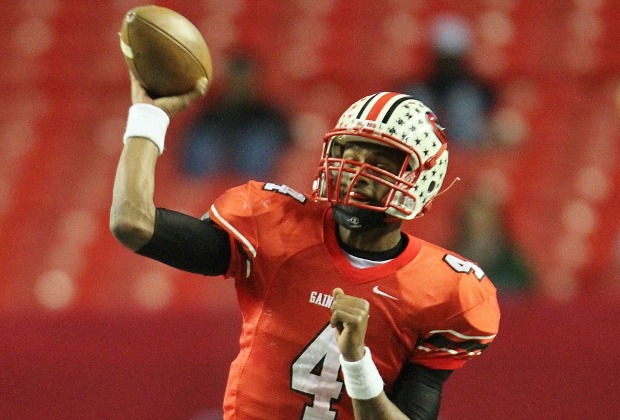 Photo By Rob Saye
The Peach State is full of talent. Look around this weekend and you will see some of the best high school football talent anywhere in the nation. The state of Georgia, by most expert accounts, produces the fourth-most college football players in America, behind only much larger states California (No. 1 in population), Texas (No. 2) and Florida (No. 4). Georgia, despite being only eighth in population, is fourth in producing college and NFL players.
Just look at the rosters of the top college teams in America and you'll see Peach State products all over the field. Alabama, which has won three of the past four national championships, routinely signs players from Georgia and is very dependent on players from this state to fill its roster. The Georgia Bulldogs and Georgia Tech Yellow Jackets, both regular bowl participants and conference contenders, each have the vast majority of their rosters filled with players from the home state. Auburn, Clemson, Florida State, South Carolina and Tennessee come here to recruit as if they each owned a piece of the state. In fact, programs as far away as Ohio State and Stanford regularly land planes on our red clay to find talent to supply their programs with great athletes.
This year is no exception. Gainesville's Deshaun Watson and Norcross'
Photo by Rob Saye
Lorenzo Carter are two of the most highly-regarded seniors in the nation. Next year's class is led by McEachern's Chuma Edoga and North Gwinnett's Mitch Hyatt, who are widely regarded as two of the top linemen in the 2015 class. McEachern's Taj Griffin, an electric running back, Callaway's Terry Godwin, an elite defensive back prospect, Griffin's Christian Owens, one of America's best wide receiver prospects, and Tucker's Duke Shelley, a playmaker in all three facets of the game, are some of the top juniors in tonight's games.
As you can tell from the list below, there are dozens of seniors in the state who will play major college football next year. And that box contains just commitments, not even top recruits. Some guys like Carter are being recruited by literally everyone, but have not committed and, therefore, are not on the list.
Keep an eye out, wherever you may be watching tonight, for college coaches. Big names like Les Miles, Nick Saban and Mark Richt have been known to drop in on Georgia high school games while prestigious academic schools like Vanderbilt, Duke, and dare I say, Harvard have been known to send coaches to scout the Peach State.
*Commits in the semifinals 
Brooks County | Malkom Parrish | Georgia
Buford | Korie Rogers | Clemson
Buford | Thomas Wilson | Missouri
Callaway | KeShun Freeman | Georgia Tech
Calvary Day | Milan Richard | Clemson
Carrollton | Tyler Newsome | Notre Dame
Carrollton | Jake Sanders | Duke
Carrollton | Brandon Walton | Appalachian State
Colquitt County | Gabe Mobley | Georgia State
Colquitt County | Jamiyus Pittman | Ole Miss
Colquitt County | Todd Boyd | Georgia State
Creekside | Elliott Berry | Tennessee
Creekside | Evan Berry | Tennessee
Creekside | Cameron Jackson | Georgia State
ELCA | Dalton Etheridge | Jacksonville State
Gainesville | Devan Stringer | Appalachian State
Gainesville | Deshaun Watson | Clemson
Kell | Taylor Henkle | Kennesaw State
Lamar County | Lance Austin | Georgia Tech
Lamar County | Lawrence Austin | Georgia Tech
Lamar County | Qua Searcy | Georgia Tech
Lovett | Grant Haley | Vanderbilt
Marion County | A.J. Wells | Appalachian State
Marist | Kendall Baker | Georgia
McEachern | Ty Clemons | Georgia Southern
McEachern | Henry Famurewa | Louisville
McEachern | Trey Scott | Tulane
Norcross | Josh Boyd | Appalachian State
Norcross | Maaseiah Francis | Georgia State
Norcross | Christopher Herndon | Miami (Fla.)
Norcross | Clinton Lynch | Georgia State
Norcross | Horatio Walker | Georgia State
Norcross | Kevin Mouhon | Tennessee
Norcross | Jordan Noil | Maryland
North Gwinnett | Nate Brown | Missouri
Ringgold | Zachary Morris | Duke
Tucker | Detric Dukes | Georgia
Tucker | Kirk Tucker | Stanford
Washington Co. | D.J. Sanders | MTSU
Wayne County | Taylor Heflin | Navy
Wayne County | Malique Jackson | Florida State
Wayne County | Jeremy Patterson | Wisconsin
Wayne County | Krenwick Sanders |Wisconsin