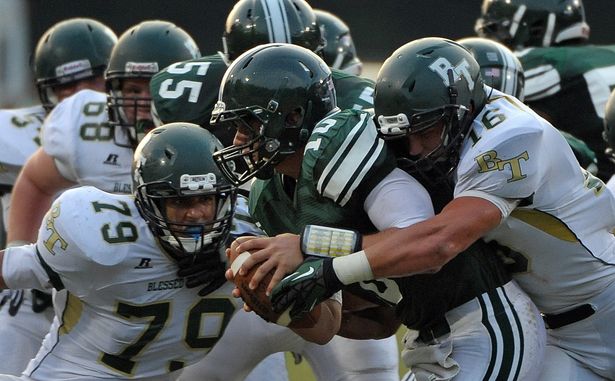 Photo by David Tulis
Blessed Trinity and Marist will join Georgia Tech in Dublin, Ireland, to kick off the 2016 high school football season.
The two Catholic high school teams will not play each other but will participate in the Global Ireland Football Tournament, which will bring 10 other teams from across the United States to participate. The games will be played on Friday, Sept. 2, 2016.
Tech will face Boston College at Dublin's Aviva Stadium in the Aer Lingus College Football Classic on Sept. 3, 2016 and will be televised on ESPN2. The Yellow Jackets' trip across the Atlantic will set up the ninth college football game held in Ireland and the seventh featuring FBS schools. It will be the second college game ever played at Aviva Stadium.
Blessed Trinity and Marist will be invited to watch the Georgia Tech and Boston College game on Saturday.
"We are really excited for this experience for a variety of reasons," said Marist Athletic Director Tommy Marshall. "One of those reasons is that Marist will have players on both rosters on Saturday that we can share this experience with."
Marist alum Myles Willis is a junior running back on Boston College and Chase Martenson is a sophomore quarterback on Georgia Tech's roster. There are also two Marist schools established in Ireland that the War Eagles will get the opportunity to gather with during the trip.
Global Football officially selected Blessed Trinity and Marist last week but the process started about six weeks ago. Blessed Trinity head coach Tim McFarlin received a phone call from Matt Kunz, the son of Falcons legend George Kunz and a city councilman in Milton, about the opportunity.
Kunz called McFarlin to let him know that Global Football was looking for a couple of Georgia teams to play in this year's Global Ireland Football Tournament. The opportunity seemed a little far-fetched to McFarlin at first.
"He [Mike] called to let me know that Global Football is looking for a couple Georgia teams this year and are interested in you guys," explained McFarlin. "I really kind of dismissed it at first. I was thinking that it didn't make sense but then when I got the second call and things started to move, we realized that for the last several years they have been connecting high school football with the NCAA deal. They take teams from all over the country but they have never taken anybody from Georgia and the reason they wanted two teams from Georgia for 2016 was because Georgia Tech is in it."
With the deal in motion, Global Football President Patrick Steenberge talked with the two schools and got them on board. Steenberge will fly to Atlanta on Aug. 4 to meet with the two schools to go over more details and the preparation.
"Logistically, it's very organized the way it is set up," explained McFarlin. "They map out your practice times and then there are tours that you take to see castles and Trinity College and much more."
McFarlin contacted Jesuit College Prep in Dallas, Texas, the former high school of reigning Masters and U.S. Open champion Jordan Spieth, which played in the event last year to get their first-hand account of the trip.
"We called the coaches and they did a nice job of letting us understand the whole picture," said McFarlin. "It's going to be a football experience but it is also a great cultural experience for these kids and for the coaches too. I've never been over there."
The six games will be scheduled at three separate locations in smaller stadiums that can pack in up to 4,000 people. The three double headers are each expected to be 4:30 p.m. and 7 p.m. starts local (Dublin) time and will be video broadcasted for the schools to see back home. Dublin is five hours ahead of Atlanta time.
The Bolles School out of Jacksonville, Fla. has been contacted, but the Global Football is looking to solidify the remaining 10 slots. McFarlin recognizes what a great opportunity this will be for the program but with the 2015 season less than a month away, keeping his team focused on this upcoming season and speaking with the seniors was the first of his concern.
"It's hard for the seniors," explained McFarlin. "It's hard to let the program know that next year we are playing over there. Obviously the current seniors won't be a part of it but I had a good discussion with them. I told them that things like this happen. Schools build a reputation and we're honored that we got the call, but the fact of the matter is it happens because teams that have gone before you put a good product on the field and they worked hard. A program is not built on one year. The seniors this year have been outstanding and they are a big reason why we get to do something like this."
Marist can also thank its long history of success as head coach Alan Chadwick enters his 31st season with the War Eagles, boasting an incredible 333-60 record. Marist owns two state titles (1989, 2003) and has won 23 region championships during its decorated history.
This will mark the first international game for Georgia Tech as well. However, it will be head coach Paul Johnson's second football game in Ireland. Johnson was Navy's offensive coordinator when the Midshipmen played Notre Dame in 1996. Notre Dame defeated Navy 54-27.
In 2017, Blessed Trinity and Marist will face each other for the first time with a location to be determined.