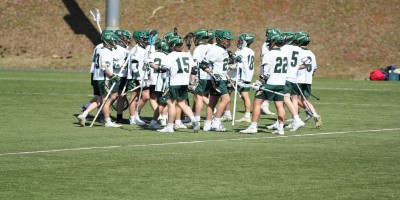 In a shootout, the Blessed Trinity Titans boys lacrosse team edged out the Milton Eagles 10-9 at home. At one point, the Titans were trailing the Eagles 4-1, but managed to build a 5-4 lead going into halftime, eventually holding out for the win. With the win, the Titans remain undefeated on the season, moving to 9-0 overall and 2-0 in their region, 1A-5A Area 5.
Also for the Titans, this serves as their second win after coming off of a 10-day quarantine, with a 15-day gap between games on March 5 and March 20, respectively. Blessed Trinity head coach Robert Parker is very proud of his team for getting this tough win in a competitive game over a tough, athletic opponent.
"We overcame adversity, had to battle back," coach Parker said. "We're in a tough spot which we hadn't been in for a while, so we needed a really good, competitive game, so I was glad we were able to come out with the win there."
The players of the game for the Titans include attackman Riley Sullivan who had two goals and one assist, attackman Finn McCarthy who had three goals and two assists, goalie Avery Bakes who had 14 saves and Hudson Carter who had three goals. On defensive, midfielder Hayden Chambers was able to take away some of the top offensive players for the Eagles.
Coach Parker credits the senior leadership and maturity of many of his best players for their success this season.
"They know what's expected of them and they come in and work hard and get the most out of practice every single day and that makes it easier on us as coaches," coach Parker said.
Up next for the Titans is a home matchup this Saturday against the Westminster Wildcats, who beat them twice two years ago in the regular season and in the playoffs. The Titans lost the first game by one goal and the second game by two goals, so they're anxiously awaiting this matchup.