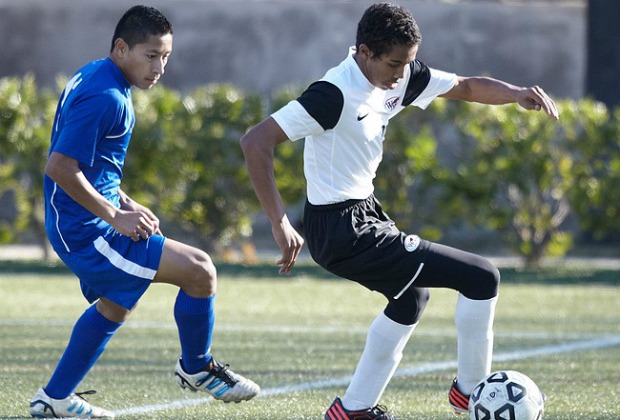 Photo by Nill Toulme
Brookwood is back. The Broncos have started the 2014 season 9-0 with several impressive wins, including victories over Peachtree Ridge and Alabama powers Grissom and Mountain Brook. Right behind the two-time champs is Walton, which is also off to an undefeated start. The Raiders, who always play a challenging non-region schedule, already have victories over Westminster, Centennial and Pope.
Class AAAAA is all about McIntosh once again. Last year's wire-to-wire state champion is 8-0 with blowout wins over Lassiter, Heritage-Conyers and Lakeside-DeKalb in addition to impressive victories over Ola and Gainesville.
Like McIntosh in AAAAA, Dalton has owned its classification of late. The Catamounts dominated AAAA last year and won their first outright state title. No. 1 Dalton is now 6-0 with wins over its two biggest rivals and arguably two of the better teams in the classification: Southeast Whitfield and Northwest Whitfield.
St. Pius X has always been a power and the Golden Lions top the Class AAA rankings to start the 2014 season. The nine-time state champs are 7-1 with wins over Grayson, Starr's Mill and Lassiter and a loss to Westminster.
Class AA is topped by Greater Atlanta Christian which has exploded to a 10-0 start, including several quality wins. Last year's champion, Westminster, is 4-1-1 and comes in at No. 2 after a loss to Walton and draw to winless Marist.
In Class A, Atlanta International School is No. 1 after an impressive 5-1-1 start that included wins over Druid Hills, Blessed Trinity and Walker. Hebron Christian is third with a 5-2 record and a big win over Paideia. Speaking of last year's state champ, Paideia is off to a 3-3 start and comes in at No. 6.
Class AAAAAA
1. Brookwood
2. Walton
3. Centennial
4. Lambert
5. Mill Creek
6. Duluth
7. Peachtree Ridge
8. Berkmar
9. Grayson
10. Harrison
Class AAAAA
1. McIntosh
2. Pope
3. Gainesville
4. Lakeside-DeKalb
5. Greenbrier
6. Clarke Central
7. Allatoona
8. Glynn Academy
9. Houston County
10. Northside-Warner Robins
Class AAAA
1. Dalton
2. Southeast Whitfield
3. Grady
4. Johnson-Gainesville
5. Chestatee
6. Columbus
7. Perry
8. Northwest Whitfield
9. Lanier
10. Spalding
Class AAA
1. St. Pius X
2. Woodward Academy
3. East Hall
4. Coahulla Creek
5. Blessed Trinity
6. North Murray
7. North Hall
8. Dawson County
9. Oconee County
10. West Hall
Class AA
1. Greater Atlanta Christian
2. Westminster
3. Calhoun
4. Wesleyan
5. Murray County
6. Benedictine
7. Toombs County
8. Thomasville
9. Atkinson County
10. Vidalia
Class A
1. Atlanta International
2. First Presbyterian
3. Hebron Christian
4. Pinecrest Academy
5. Fellowship Christian
6. Paideia
7. Walker
8. Pace Academy
9. Aquinas
10. Holy Innocents'