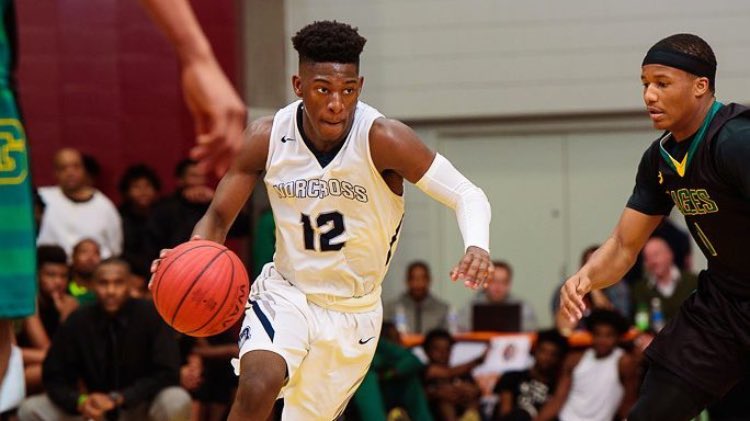 In Class AAAAAAA, Meadowcreek comes in at No. 3 after defeating No. 4 Wheeler 70-54. Class AAA No. 1 Greater Atlanta Christian opened its season with a 73-65 loss to Peachtree Ridge on Nov. 17 but there's little cause for concern for the AAA defending champions. The Spartans fell to Peachtree Ridge last year in an equally close game before losing only two more regular season games. Ben Sheppard a 6-6 senior returns and Hunter McIntosh, a 6-2 senior, is also back. Senior power-forward Chris Hinton, a star on the Spartan football team, also returns with championship experience.
In Class AA, top-ranked Therrell lost to Southwest-DeKalb 88-87 to open its season. Woodville-Tompkins holds the No. 2 spot. Defending-champion Thomasville is third with Washington County and Metter rounding out the top-5.
St. Francis begins the 2018 season at the top of Class A-Private with Greenforest, Eagle's Landing Christian, Mount Bethel and Trinity Christian rounding out the top-5. In Class A-Public, Wilkinson County is the team to beat. Macon County, Georgia Military, Drew Charter and Wilcox County make up the top-5 this week.
Class AAAAAAAA
1. McEachern
2. Grayson
3. Meadowcreek
4. Wheeler
5. Norcross
6. Discovery
7. Westlake
8. Lambert
9. Mountain View
10. Pebblebrook
Class AAAAAA
1. Tri-Cities
2. Coffee
3. Alexander
4. North Atlanta
5. Hughes
6. Tucker
7. Dacula
8. Heritage-Conyers
9. South Cobb
10. Sequoyah
Class AAAAA
1. Buford
2. Southwest DeKalb
3. Lithonia
4. Fayette County
5. Eagle's Landing
6. Cedar Shoals
7. Columbia
8. Carrollton
9. Jackson
10. Woodland-Stockbridge
Class AAAA
1. St. Pius
2. Sandy Creek
3. Upson-Lee
4. Baldwin
5. Woodward Academy
6. Henry County
7. Carver-Columbus
8. Westover
9. Americus-Sumter
10. LaFayette
Class AAA
1. Greater Atlanta Christian
2. Johnson-Savannah
3. Morgan County
4. Cedar Grove
5. Dawson County
6. Pace Academy
7. East Hall
8. Westside-Macon
9. Liberty County
10. Redan
Class AA
1. Therrell
2. Woodville-Tompkins
3. Thomasville
4. Washington County
5. Metter
6. Northeast-Macon
7. Elbert County
8. Swainsboro
9. Chattooga
10. Dublin
Class A-Private
1. St. Francis
2. Greenforest
3. Eagle's Landing Christian
4. Mount Bethel
5. Trinity Christian
6. Walker
7. Holy Innocents'
8. Lakeview Academy
9. Darlington
10. Whitefield Academy
Class A-Public
1. Wilkinson County
2. Macon County
3. Georgia Military
4. Drew Charter
5. Wilcox County
6. Treutlen
7. Lanier County
8. Pelham
9. Calhoun County
10. Greene County