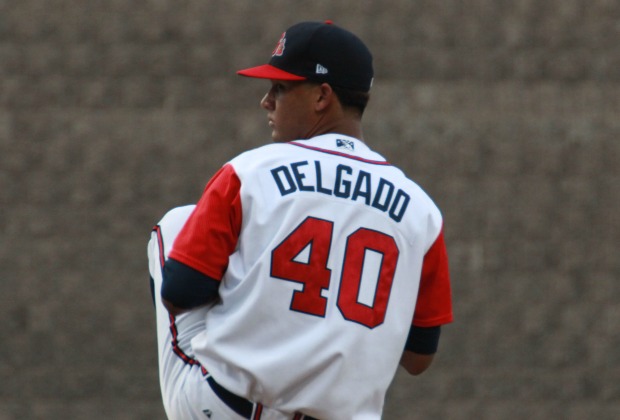 Gwinnett Braves
After dropping two straight games to the Washington Nationals, the Atlanta Braves tried to upgrade the pitching rotation Monday by targeting Chicago's Ryan Dempster, according to multiple sources. Various outlets had the Braves sending Randall Delgado back to the Cubs for the 35-year-old starter who will be a free agent at season's end. Apparently, Dempster, a 10-year veteran with at least five years with his current team, held up the trade, reportedly because he is either seeking a long-term deal or a trade to the Dodgers.
Dempster has posted an MLB-best 2.11 ERA in 15 starts this season, and his addition would be a welcome one to the Braves' rotation, which has the third-worst ERA (4.34) in the National League this year. His record stands at 5-4, but he has received very little run support this year. In six of his starts he has given up two or few runs while receiving a no-decision or loss. His streak of 33 consecutive scoreless innings, which started back in May, was finally snapped Friday.
Dempster would seemingly slide in near the top of the rotation in between Tim Hudson and Tommy Hanson with Ben Sheets manning the No. 4 spot and either Mike Minor or Jair Jurrjens pitching in the No. 5 spot.
Meanwhile, Delgado has gone 4-9 in 17 starts this season after beating out Julio Teheran for a rotation spot during spring training. Delgado made seven starts in 2011, going 1-1 with a 2.83 ERA in 35 innings, but his ERA has ballooned to 4.42 this season in 91.2 innings of work. He has allowed eight home runs so far this season with his WHIP jumping from 1.229 to 1.429.
If the deal is finalized in the next 24-48 hours, Dempster would likely join the Braves once the team returns to Atlanta Friday when the Phillies pay a visit to Turner Field. Dempster last pitched on Friday, lasting six innings. He threw a side session Monday and his next projected start would have been either Wednesday or Thursday. The next "open" spot in the Braves rotation would be Saturday, though that could change after the team's open travel day on Thursday.