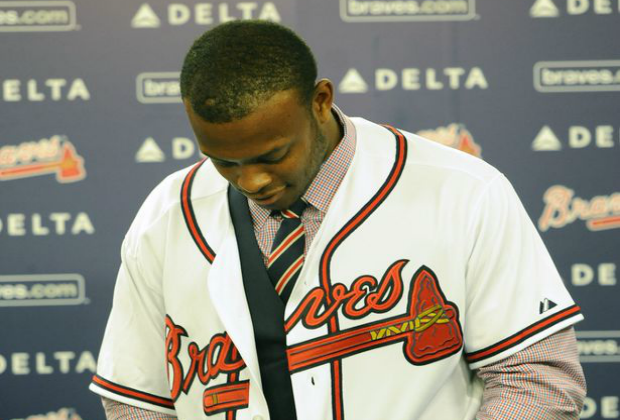 Johnny Crawford/AJC
The Atlanta Braves made a major move to solidify the outfield, landing Justin Upton in a trade with the Arizona Diamondbacks while surrendering unsigned Martin Prado and four minor league players. The Braves also acquired third baseman Chris Johnson in the trade.
"We're always trying to add as many five-tool players as possible," said Braves general manager Frank Wren on a conference call following the trade. "We've been looking for a piece like this for a long time. We've been looking for a right-handed hitter that can hit in the middle of the lineup and make that other team think."
Last season, Upton managed to pound 17 home runs and steal 18 bases while batting .280 over 150 games. He is a two-time All-Star who will not turn 26 until August. The Braves control him through the 2015 season.
Upton will play left field and wear No. 8 after wearing No. 10 during his five-plus seasons in Arizona.
"I'll play anywhere," said Upton on a conference call. "He's (Jason Heyward) got the hardware. But as an outfield corps, we can push ourselves to be better, but if we push ourselves, we can get to that next level and we can be the best outfield in baseball. We have to get out there and take care of our business. We have the young legs."
Upton is expected to hit third and the team is hoping he finds the power that saw him hit 31 home runs in 2011.
"Fredi (Gonzalez) will have to look through (the lineup), but he has several more options than he did yesterday," said Wren on the call about how the lineup will look. "This puts us in a great position to compete in the National League."
THE OTHER GUY …
ohnson is expected to compete with Juan Francisco for the suddenly-available third-base job with Prado signing with the Diamondbacks. Johnson hit 15 home runs and drove in 76 runs with a .281 average in 136 games. Prado managed just 10 home runs and 70 RBIs in 156 games, though he did boast a higher on-base percentage and batting average. Johnson finished with a higer slugging percentage and will likely bat near the bottom of the lineup. Francisco hit just .234 but did manage nine home runs in 203 plate appearances. A platoon is also possible with Johnson facing lefties and Francisco batting against right-handers.