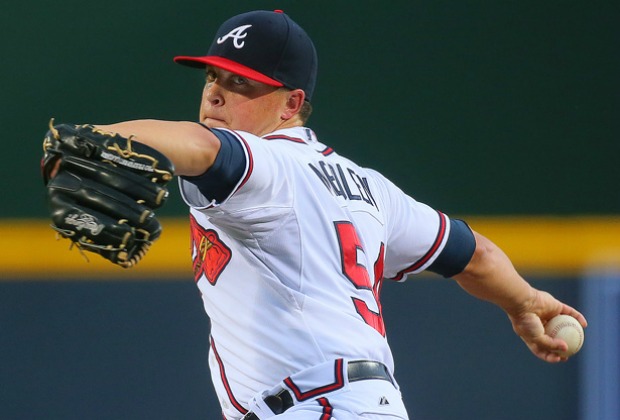 Curtis Compton/AJC
The Atlanta Braves signed five of the team's six unsigned, arbitration-eligible players last week, ensuring that a strong part of the team's young core would return for the 2013 season. Right fielder Jason Heyward inked a one-year, $3.65M deal that will bring back the team's first 20-20 player since Andruw Jones in 2000, as he hit 27 home runs and stole 21 bases. He also managed to capture a Gold Glove in 2012. The team also brought back pitchers Eric O'Flaherty, Kris Medlen, Jonny Venters and Cristhian Martinez.
Medlen will make $2.6M next season as he is expected to help anchor the starting rotation. He was 9-1 after being inserted into the rotation midway through the season. The lone loss came in the one-game postseason Wild Card round.
O'Flaherty ($4.32M), Martinez (approximately $700,000) and Venters ($1.625M) will all be key pieces of the Braves' bullpen. O'Flaherty was 3-0 in 2012 with a 1.73 ERA in 64 appearances. He allowed just 11 earned runs in 57.1 innings of work. Venters rebounded after a tough start to the 2012 season, giving up just five earned runs after July 4. He finished the year with a 3.22 ERA after whittling it down from the 4.50 mark on June 12.
The team may go to arbitration with outielder/third baseman Martin Prado as the two sides could not reach a financial agreement as of Friday.
CLASSIC BRAVES …
As expected, Craig Kimbrel and Medlen were both named to the US roster for the World Baseball Classic. Medlen will be part of the starting rotation while Kimbrel should anchor the bullpen. First baseman Freddie Freeman did not make Team Canada, but Prado (Venezuela), Andrelton Simmons (Netherlands) and Ramior Pena (Mexico) will take part in the event. The players will leave Braves camp around Feb. 22 to begin practicing with their nation's teams. The US team will play in Pool D along with Mexico, Italy and Canada.
SO LONG …
The team officially parted ways with relief pitcher Peter Moylan as the Los Angeles Dodgers signed Moylan to a minor league deal. The right-handed Australian native had pitched for Atlanta since 2006. He appeared in just eight games last year and had played in just 13.1 innings over 21 games since 2010.