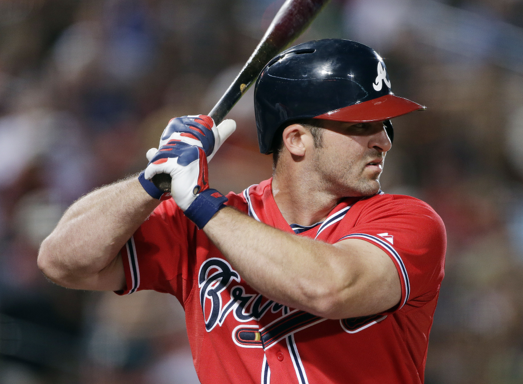 AJC.com/Sports
The Atlanta Braves remain one of the streakiest teams in all of Major League Baseball. Two months into the season, they have produced winning streaks of five, four, four, three, three and three games while enduring losing streaks of seven, four and three games.
Starting last Monday, Atlanta dropped four consecutive contests to a Boston squad that had just lost 10 in a row. The Braves promptly bounced back for a three-game road sweep of Miami last weekend. Sunday's finale proved to be the most thrilling of three competitive games, as the visitors broke a 2-2 tie in the top of the ninth inning with a two-run blast by Evan Gattis. Shae Simmons filled in for a heavily-worked Craig Kimbrel and toughed out a save.
The Braves lost their opener of a two- game series to Seattle 7-5 on Tuesday night at Turner Field, so they could only hope that the start of another stretch of notches in the 'L' column was not developing. They have a seven-game road trip at Arizona and Colorado starting on Friday.
SAVE IT FOR LATER …
Tuesday's setback against Seattle was the Braves' first chance to help send Kimbrel to the top of the franchise chart for saves. It came and went with no opportunity for the flame-throwing closer, of course, as the Mariners took the lead for good in the top of the seventh inning. Kimbrel had tied John Smoltz's record three days earlier in a 9-5 win over the Marlins with his 154th save.
"I know if John had (closed games) his whole career, he would have had a lot more," Kimbrel said in a post-game interview after tying the mark. "It is nice to say I'm part of something like that. But then again, I've had a lot of opportunities, played on good ball-teams here my first three or four years. If it wasn't for that, we wouldn't be sitting here talking about this right now."
"I'm honored to have the opportunity and the chance and hopefully have a lot more opportunities to help us win a lot more ball-games."
"He's going to double the number," Smoltz told the Atlanta Journal Constitution. "You cross your fingers he stays healthy and he's going to save a lot of games. Kimbrel is what you would define as unhittable. When you want to get out of a jam, when you have the game on the line, he's that good."