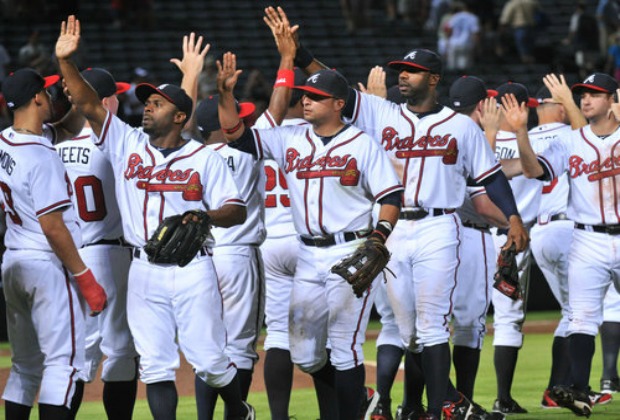 Hyosub Shin
The lowly Chicago Cubs cured all of the Braves' ills a few weeks ago following a stretch in late April and early May during which Atlanta lost eight of nine games. The Braves reversed roles earlier this week, serving as a reprieve for the struggling Boston Red Sox. Boston had lost 10 games in a row when it came to town on Monday. It promptly woke up for two straight wins, the first in which the Braves blew a 6-1 lead in an 8-6 loss. Atlanta also led early on Tuesday before the Sox pulled out a 6-3 victory.
"We knew we had to keep them down yesterday," Andrelton Simmons said in a post- game interview after the second contest. "We got on them early yesterday, but they fought back and somehow found their way back in the game and they eventually won it. They came out today hungry for another win and they out- played us."
STELLAR LA STELLA …
It is no secret that the Braves have been getting league-worst production from the second-base position. The trio of Dan Uggla, Tyler Pastornicky and Ramiro Pena is hitting a collective .165 in games played at second base (better than only San Diego) to go along with a .250 slugging percentage, .253 on-base per-centage, three home runs, 15 RBIs and 19 walks compared to 51 strikeouts in 176 at-bats. Uggla is batting .177 with two homers and 10 RBIs. Pastornicky is hitting .185 as a second base-man and Pena, more of a utility infielder, has an overall batting average of .164.
Enter Tommy La Stella, who was called up to the majors from Triple-A Gwinnett on Wednesday. The New Jersey native is not the youngest of prospects at 25-years old, but he has been one of Atlanta's most highly-touted dating back to last season. In 81 games with Double-A Mississippi in 2013, La Stella com-piled a .343 average, drove in 41 runs and stole seven bases. Through 47 games with Gwinnett this season, he is hitting .293. La Stella was expected to arrive in Boston in time for Wednesday night's contest. Braves fans may be able to get their first look at La Stella when the team returns to Turner Field for two games against Seattle next Tuesday and Wednesday.