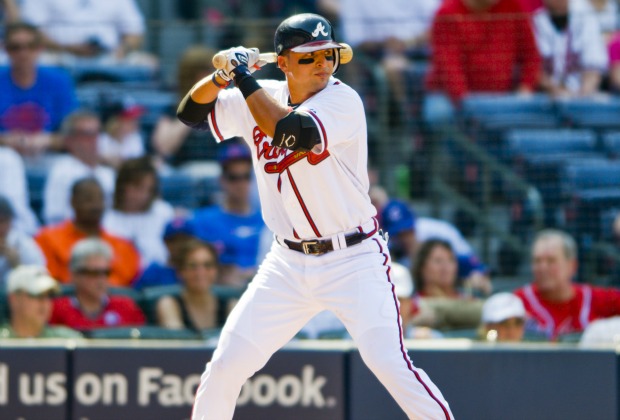 Pouya Dianat/Atlanta Braves
The Atlanta Braves have made yet another move to try and shake up the lineup and return to the postseason. The team has acquired Justin Upton from the Arizona Diamondbacks in exchange for Martin Prado, Randall Delgado and a trio of minor leaguers. The Braves will also pick up third baseman Chris Johnson in the deal.
The Braves signed Upton's older brother,B.J., earlier this offseason to take over in center field and Justin will likely play left field with 2012 gold glove winner Jason Heyward sticking in right. Justin Upton has played right field throughout his career, but should make the smooth transition to left, taking his .967 fielding percentage with him. Last season, he committed just five errors in 320 chances with 309 putouts.
"The three guys we have in the outfield are really an impressive group," said Braves GM Frank Wren on a conference call. "It's a continuation of what we've been trying to achieve for a while."
"As an outfield corps, we can push ourselves to be better, but if we push ourselves, we can get to that next level and we can be the best outfield in baseball," said Upton on a conference call. "We have to get out there and take care of our business."
The real reason the team traded for him, however, was his bat. Upton collected 155 hits in 150 games last season, pounding 17 home runs with 24 doubles, four triples and 67 RBIs. He posted a .280 average, a .355 on-base percentage and a .430 slugging percentage. In just five full seasons, Upton has made two all-star teams and he captured the silver slugger award in 2011 after smashing 31 home runs. Over six seasons, he has cranked 108 home runs and is a career .278 hitter with a .475 slugging percentage. In one of the more recently popular stats, Upton was 5.7 wins-above-replacement last season, No. 10 in the league.
"I want to be a consistent producer," said Upton. "More than anything, I've had a couple of good years where I've put up some good numbers, but now I think we can really feed off each other to find that consistency."
Just 25-years old, Upton will make $9.75M in 2013, $14.25M in 2014 and $14.5M in 2015.
"He's a young dynamic player that puts us in a great position to compete in the National League," said Wren. "We've been looking for a piece like this for a long time, a right-handed hitter that can hit in the middle of the lineup and make that other team think."
The team will also welcome Johnson to Atlanta. Last season, Johnson split time between Houston and Arizona, hitting .281 with 15 home runs and 76 RBIs in 136 games. Over his four-year career, he has played 325 games at third base, but the team may have to keep an eye on his defense. He has a low fielding percentage for his career at the hot corner and he committed 19 errors last season. The team could use him in a platoon with Juan Francisco. Johnson is a right-handed hitter while Francisco is a lefty.
Wren noted that the Braves had been in talks with the Diamondbacks since November about Upton.
"In the last week or so (talks) started to pick up and make some progress," admitted Wren. "It was not until this weekend did we think we really had a shot."
The team decided to part ways with Prado in order to get the deal done. As of last Friday, the two sides were far apart as they tried to avoid arbitration for a one-year deal. Prado appeared in 156 games last season, splitting time between third base and left field and even appearing at first for a few games. Prado has spent all seven years of his major league career with Atlanta, making the 2010 All-Star game as a second baseman. Last year, he hit .301 with 10 home runs and 70 RBIs. He missed time in 2011 with an infection and hit just .260.
"Martin Prado was the most difficult part of this deal," revealed Wren. "We all liked his professionalism. As we were looking to improve our club, it's one of those tough decision you have to make."
Delgado, considered untouchable in years past, was finally dealt after amassing just a 5-10 record in two seasons with Atlanta. He was 4-9 in 2012 with a 4.37 ERA in 17 starts. In 92.2 innings of work, he allowed eight home runs and was out of the rotation by the middle of July.
The three minor leaguers involved include shortstop Nick Ahmed, infielder Brandon Drury and pitcher Zeke Spruill. Ahmed had spent just two seasons with the organization and seemed blocked with Andrelton Simmons manning his position with the parent club. Ahmed committed 26 errors last season in High-A Lynchburg. He appeared in 130 games and collected 136 hits with 40 steals to go with a .269 average. Spruill, meanwhile, was selected by the Braves in the second round of the 2008 MLB Draft out of Kell High School. Spruill compiled a 38-33 record in five seasons and went 9-11 in 27 starts for Class AA Mississippi in 2012. He did manage one complete game in 161.2 innings of work but allowed 158 hits while striking out 106 batters and walking 46. His WHIP was 1.262 in 2012. Drury played three seasons in the Braves organization and pounded out 22 doubles last season.
"(Spruill) had really blossomed," said Wren. "He threw well at the Arizona Fall League in front of (Diamondbacks GM Kevin) Towers and (manager) Kirk Gibson, so he was on their radar."
Delgado and Spruill had been passed in the Braves' organizational pecking order by other pitchers including Sean Gilmartin and J.R. Graham. The team also decided to hold on to Julio Teheran.
"We gave up an awfully rich package," said Wren. "We fought hard to keep some guys out and to keep some of these guys out, but you don't get a quality player like Upton without giving up something like this."
While losing a clubhouse favorite like Prado will not be easy, the team had to deal something in order to acquire a major player such as Upton. The lineup immediately benefits from a player with 20-20 potential or 30-plus home run ability, both of which he has shown. From recent twitter comments made, he seems thrilled to be joining his brother and the outfield could be deadly for years to come.
"Just talking to each of them, it's clear how much admiration they have towards each other," said Wren. "B.J. mentioned it's always been a dream of his (to play with his brother)."
"Its a big day for me, my brother and my family," said Upton on a conference call. "And to join the Braves organization, it was a dream for us. This is our time to take full advantage of it. He's excited, I'm excited to get on the field together."
Factor in first baseman Freddie Freeman and the middle of the Braves order will be loaded. The only thing manager Fredi Gonzalez must work out now is the lineup order. Prado had some leadoff experience in the past, and with Bourn likely now to not re-sign, the team needs a table-setter. Perhaps Simmons will be used in this spot with Heyward batting second, Justin Upton third, Freeman cleanup, then B.J. Upton, with Dan Uggla sixth, Francisco/Johnson seventh, Gerald Laird eighth and the pitcher ninth. Once Brian McCann is officially healthy, Gonzalez could pencil him into the No. 6 hole and move the rest of the order down one spot.
"We have power from top to bottom and everybody fits," gushed Upton. "Wherever I'm put in the lineup, I should be able to adjust."
"Simmons was a leadoff hitter throughout the minor leagues," suggested Wren. "Fredi will have to look through the roster, but he has several more options than he did yesterday. I feel really good going to spring training with the team we have presently."