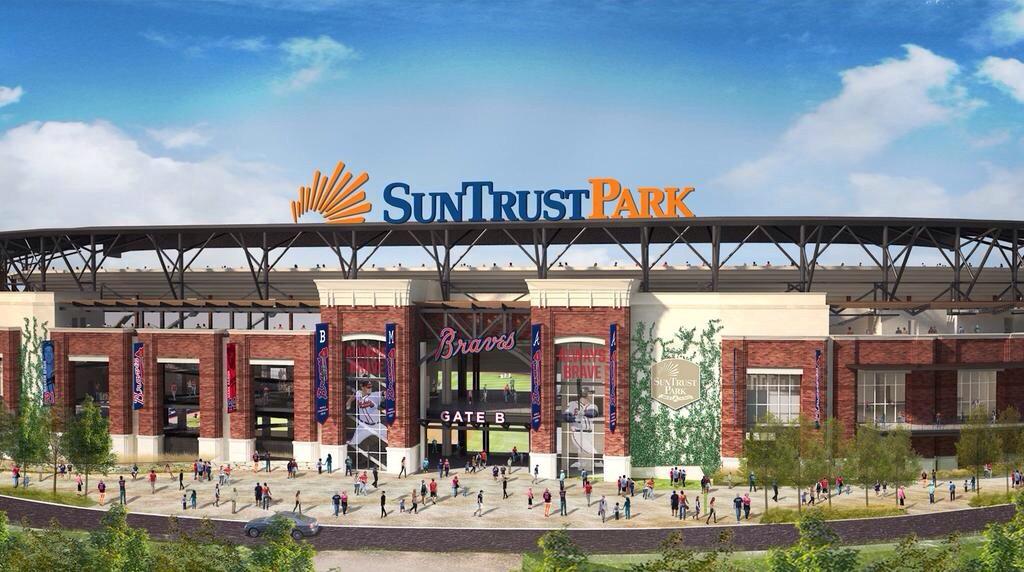 Courtesy of Atlanta.Braves.MLB.com
Atlanta Braves officials held the groundbreaking ceremony early Tuesday morning at the location where construction will soon begin for the $672 million stadium, which had its name officially revealed in front of a crowd that included Braves officials along with city officials from around the Cobb County area. With Braves Chairman and CEO Terry McGuirk joined alongside by Bill Rogers, CEO and President of SunTrust Bank, the pair took stage on the podium and pulled the curtain off of the sign that officially unveiled the name for the new Braves stadium to be SunTrust Park.
McGuirk announced that both parties agreed to a 25-year partnership, which included the naming rights for the stadium and for SunTrust president Rogers, and that he could not envision his bank affiliating themselves with a classier franchise than the Atlanta Braves.
"The partnership between SunTrust (Bank) and the Atlanta Braves fits like a glove," said the SunTrust Bank President and CEO, "We both share an incredible, competitive spirit, we both have long-standing roots in Atlanta and we both believe in building and investing in our communities. We are extremely proud to be affiliated with a world-class franchise with tremendous potential and extremely loyal fans."
Braves president John Schuerholz gave details about the layout for the new stadium, including some of its premiere features when it opens in April 2017. It will seat approximately 41,500 fans in a set-up that will bring fans closer to the playing field as well as players and bring a new level of intimacy to the professional setting. Scheurholz went on to address the dimensions of the newly-named SunTrust Park, saying they will be different from what we see currently with Turner Field but will "value the home run as well as a well-pitched baseball game."
In a side interview, the Braves president spoke in a tad more detail about the plans for the field measurements.
"It will be similar to Turner Field, but with some unique elements to it," said Scheurholz, "It won't be as symmetrical as Turner Field." Some features for the park will include an expanded four-level Chop House along with a see-thru right field fence that will accommodate patrons and allow them access to a peculiar view of the action. This will be joined alongside with first-class dining experiences and entertainment surrounding the stadium.
Scheurholz was joined alongside by Hank Aaron, MLB commissioner-elect Rob Manfred and Georgia governor Nathan Deal among other Braves and Cobb County officials for the ceremonial. Deal stated it was a great day for Georgia and "It's nice to see happy occasions like this one and I think the people here today and many others that have been interested in the project are glad to see it come to this point."