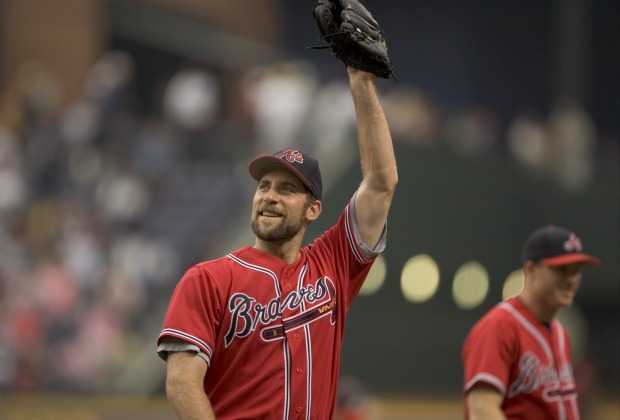 Atlanta Braves archives
On a night when a legendary pitcher had his number retired, it was a pair of young guns that paid homage to the man with standout performances. John Smoltz was honored before the game as his No. 29 was placed up on the left field upper deck and then Brandon Beachy dominated early, allowing no runs through the first five innings while scoring the Braves' first run. Beachy got into some trouble in the sixth, allowing a pair of runs without recording an out. The bullpen escaped the jam down just 2-1 in the sixth.
The Braves would recapture the lead as Jason Heyward doubled home Dan Uggla. Heyward would come home on a balk to give the Braves a 3-2 lead.
Atlanta's bullpen would hold Toronto scoreless until the eighth when Eric O'Flaherty allowed a Yunel Escobar grounder to score Edwin Encarnacion from third to tie the game.
Toronto would get a runner to third in the ninth, but a pair of Craig Kimbrel strikeouts and a fly ball would end the threat. Kimbrel's strikeouts and makeup gave many in Turner Field memories of Smoltz slamming the door on opponents during his time as Atlanta's closer.
In the tenth inning, Heyward beat out a slow roller to the second baseman, former Brave Kelly Johnson. Heyward would reach second on a sacrifice by Jack Wilson and then take matters into his own hands to win the game. He stole third on Francisco Cordero and would come home to score when J.P. Arencibia's throw skipped past third baseman Brett Lawrie.
Cristhian Martinez picked up the win with a near-perfect inning of work in the tenth. Jonny Venters posted a third straight successful outing in the seventh, striking out one and not allowing a hit on just 12 pitches.
At the plate, Michael Bourn notched three hits and Martin Prado had a pair of hits. Uggla walked four times but did manage a run and an RBI. Beachy was 2-for-2 at the plate with a run scored.