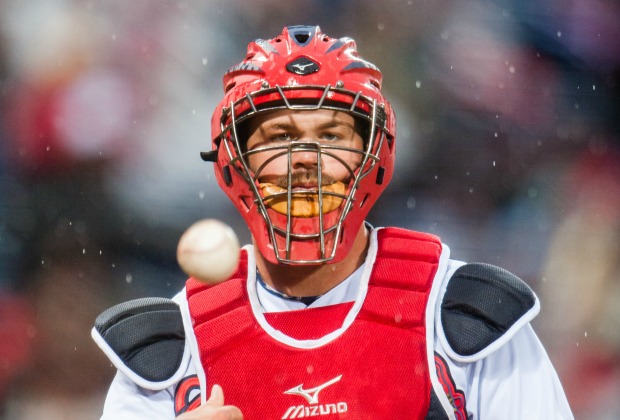 Photo by Jared Burleyson
A whirlwind offseason is finally coming to an end, but not before general manager Frank Wren and other higher-ups were put through the wringer and Braves fans rode on a roller-coaster of emotions. It started with frustrating free-agent inactivity, included a sudden and controversial announcement that the team will move to Cobb County in 2017, featured a flurry of February signings and wrapped up with crushing blows to the pitching staff.
DEPARTURES/ARRIVALS …
Despite all of that, the 2014 squad will look remarkably similar to last year's edition. Gone are veterans Tim Hudson and Brian McCann, plus injured pitchers Kris Medlen and Brandon Beachy, but almost everyone else is back. Hudson (San Francisco Giants) and McCann (New York Yankees) signed elsewhere as free agents, while Medlen and Beachy are out for the season due to their second Tommy John surgeries.Medlen, who won 15 games with a 3.11 ERA last season and started Game 1 of Atlanta's divisional playoff series against the Dodgers, is essentially being replaced by Ervin Santana.
The 31-year-old righty spent eight seasons with the Angels and three times posted an ERA below 4.00 in more than 200 innings of work. He accomplished the same feat (3.24 ERA, 211 innings) last year in his lone campaign with Kansas City. Still in the prime of his career and now moving to a league that does not use the designated hitter, there is rea-son to expect Santana may be in line for the best season of his career. In the early stages of 2014, the rotation could literally be just that at the last few spots. On Monday the Braves released Freddy Garcia and signed Aaron Harang, who is reportedly on course to start Atlanta's home opener on April 8.
Two years younger than Garcia at 35, Harang boasts a 2.00 ERA in four spring training games (two starts). Fellow newcomer Gavin Floyd will be in the starting five at some point, but not when the season begins. Floyd, who signed as a free agent in December, appeared in only five games for the White Sox in 2013 due to an elbow injury. The 31-year-old could be ready by the end of April. Floyd's best season came in 2008, when he went 17-8 with a 3.84 ERA and helped lead Chicago to the American League Central title.
SALVATION LIES WITHIN …
The Braves, as always, have another title of their own on their minds. They triumphed last year in the National League East for their first division crown since 2005, so why mess with success? Their most significant offseason moves were either inspired by unforeseen injuries or in-house operations. Freddie Freeman, Craig Kimbrel, Julio Teheran, Jason Heyward and Andrelton Simmons all signed multi-year contract extensions. Chris Johnson and Evan Gattis (the latter with an increased role at catcher due to McCann's exit) are back after impressive seasons and Dan Uggla and B.J. Upton have also returned, eager to rebound from dreadful 2013 campaigns.
Uggla and Upton, of course, will be crucial to the Braves success—to an even greater extent now that the turmoil in the pitching staff may place added pressure on the lineup. They hit .179 and .184, respectively, last year but have shown signs of encouragement this spring. Uggla is batting .280 with a team-high (tied with Heyward) four home runs as of Wednesday afternoon. Upton is batting .259 and has stolen a team-high four bases.
"He did everything he had to do this winter," hitting coach Greg Walker told the team's website, referencing Uggla. "When he came in here, you could see the difference. Everything was flowing and he looked like Dan Uggla again. We got excited early on, and then you said, 'Is it going to hold up when games begin?' and it did. He's just looking more and more dangerous. He looks like Dan Uggla."
The veteran second baseman is expected to bat either sixth or seventh in the order to begin the season, with Gattis holding down the other one of those two spots. Manager Fredi Gonzalez apparently has enough confidence in B.J. Upton or wants to instill such confidence in his center fielder by putting him second be-hind Heyward. The other Upton brother, Justin, is slated for the fifth spot behind Freeman and Johnson.
"I think the lineup we've been running out the last couple of days is the one that we may start with in Milwaukee (for Opening Day)," Gonzalez told the Atlanta Journal Constitution. "I like Chris Johnson (at cleanup). He gives you good at-bats. And he's a guy that's not going to change his approach. He's going to put the ball in play. He uses the whole field and has some big at-bats."
OUTLOOK …
Big at-bats, especially from Uggla and Upton, and immediate help from Santana and Harang are necessary if the Braves want to match or improve on their stellar 96-win season. Most media outlets are skeptical. They have Atlanta finishing runner-up to Washing-ton in the National League East, which would signal a reversal of last year's standings. That sentiment comes as no surprise given the Nationals' absolutely loaded starting rotation. Heading into Opening Day, it features Stephen Strasburg, Gio Gonzalez, Jordan Zimmermann, Taylor Jordan and recently-acquired Doug Fister.
Some "experts" think the Braves will sneak into the playoffs as one of the league's two wild-card teams before making another uncer-emonious exit, while others have them missing the postseason altogether. Of course, this is nothing to get worked up about. Just about everyone jumped on the Bryce Harper bandwagon prior to last season and picked the Nationals to dominate the di-vision. How did that work out for them? They never challenged Atlanta and finished a whopping 10 games out of first place. It almost certainly won't be as easy this time around, but the Braves are capable of do-ing it again. The quest begins next Monday afternoon in Milwaukee and will heat up the following Tuesday with a Turner Field opener against the New York Mets. After almost six full months removed from serious baseball, we can once again say, "This is Braves country!"