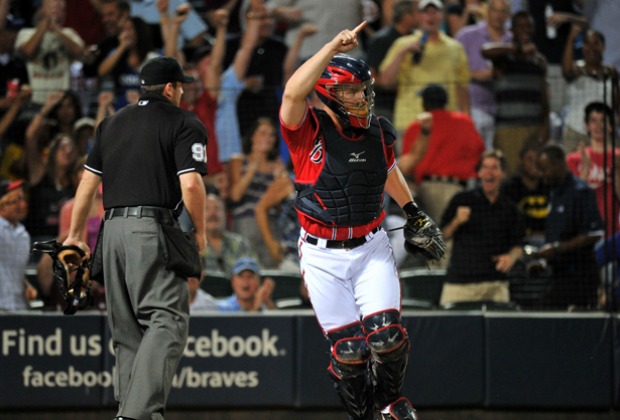 Hyosub Shin
The Atlanta Braves lost free agent catcher David Ross to the Boston Red Sox when the backup signed a two-year/$6.2 million deal earlier this week. The 35-year-old Bainbridge native appeared in 62 games last year for Atlanta, hitting .256 with nine home runs and 23 RBI. Ross left the Braves after four seasons to head to the American League for just the second time this season in his career. He spent part of 2008 with Boston.
The team came to an agreement earlier today with free agent Gerald Laird, who spent last season with Detroit. Laird hit .282 in just 191 plate appearances. He is a lifetime .244 hitter over 10 seasons. He started his career with Texas before spending time in Detroit and St. Louis, where he won a title in 2011. The Braves will count on Laird to play early in 2013 as former All-Star catcher Brian McCann recovers from offseason surgery. He could potentially serve as a mentor/backup to Christian Bethancourt in 2014 should the Braves turn to the budding star when McCann's contract expires after the upcoming year.
The Braves' qualifying offer of one-year/$13.3 million to free agent outfielder Michael Bourn was turned down recently as Bourn is seeking a multi-year deal. Atlanta has been rumored to be in the market for Cody Ross, who spent 2012 with Boston.
In other news, Braves closer Craig Kimbrel finished fifth in the NL Cy Young voting, receiving one first-place vote and 41 points. Mets knuckleballer R.A. Dickey won the award after receiving 209 points. Kimbrel finished with 42 saves and 116 strikeouts in 62.2 innings of work.