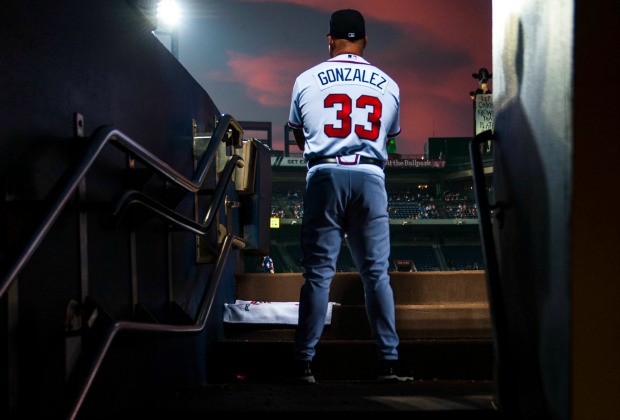 Photo by Pouya Dianat/Atlanta Braves
It would be fair to say that we had not seen a case of the Mondays this severe since Peter Gibbons roamed the hallways and cubicles of
Initech in "Office Space." On Monday morning, the Atlanta Braves woke up for their first day of meaningless baseball since 2009—the last time they were eliminated from playoff contention prior to the final game of the regular season. By Monday afternoon, they were without general manager Frank Wren.
In seven years as GM, Wren saw the Braves win one National League East title (2013), reach the playoffs on two other occasions (2010 and 2012) and miss out on the postseason four times. Atlanta endured a memorable collapse in 2011, when it ended the year on a five-game losing streak to be eliminated from wild-card contention after the regular-season finale.
This current meltdown may not be as heartbreaking because it came over a vast expanse of time and even the most optimistic fans could not have foreseen any real playoff success manifest in this particular 2014 ball-club. It is, however, of far more epic proportions than the demise of three years ago. The team was tied with Washington for the division lead at the all-star break, but as of Wednesday afternoon it is an unbelievable 16.5 games out of first place. Atlanta is 24-48 in the proverbial second half of the season, 4-16 in the month of September, 2-13 in its last 15 games and 1-10 in its last 11.
"I can't tell you exactly what period of time, but as we began to examine things in our farm department and our scouting department, our major league club, it was a cumulative thing," team president and former general manager John Schuerholz explained during a Monday press conference. "I made the recommendation (to fire Wren) and [CEO Terry McGuirk] agreed with it."
HART'S WAR …
Whenever it was, and it does not take a genius to figure out that it was somewhere between July 29—when the Braves were still just a half-game behind the Nationals—and the final out of last Sunday's 10-2 loss to the Mets, higher-ups had enough time to pinpoint senior advisor for baseball operations John Hart as the interim GM. It will be Hart's job, along with the other two members (Schuerholz and long- time former manager Bobby Cox) of the three- team panel that held Monday's press conference, to find the next full-time guy.
According to reports, that guy is none other than Hart. If those reports are true, the 66-year-old has the opportunity to take the interim tag off his current title and become the next general manager of the Atlanta Braves. So who is John Hart? He is a former general manager of the Cleveland Indians (1991-2001) and Texas Rangers (2002-2005). Although Texas never made the playoffs during Hart's GM tenure, Cleveland reached the postseason six times with Hart (it may have been seven out of 10 if not for the 1994 strike-shortened year). The Indians made it to two World Series and lost both times, their first of those two resulting in Atlanta's lone championship in 1995. Following the 2005 campaign, Hart remained with the Rangers in a different capacity before being hired by the Braves in October of 2013.
The likely ideal plan, at least in the minds of McGuirk and Schuerholz, is for Hart to be- come general manager and hold that post for a few years while grooming highly-touted assistant GM John Coppolella. Formerly the Braves' director of scouting before being promoted to his current position following the 2012 season, the 35-year-old Coppolella was listed as Baseball Prospectus' No. 1 general manager candidate in the website's "Ten Names to Know" this summer. He previously worked in the New York Yankees' organization.
If Hart declines, and there is a real chance he might, Coppolella could step in right away or another name to look out for is Dayton Moore, a former assistant of Schuerholz's in Atlanta who currently has the Royals on course for their first playoff berth since 1985. Moore, 47, has been general manager in Kansas City since June of 2006 after serving various roles for the Braves dating back to 1994.
FREDI GONE-ZALEZ? …
Whoever becomes Atlanta's next full-time general manager will be the architect of immediate change. That has to be the case following such a disastrous finish to 2014, culminating in a losing season for a franchise that had previ- ously endured only two such campaigns since the end of 1990. The question is to what extent.
Front-office fluctuation is obviously already in progress and players will inevitably be coming and going throughout an offseason that begins all too early this Sunday afternoon. But what of manager Fredi Gonzalez? Gonzalez's four-year resume with the Braves is not strong by Atlanta standards: two playoff appearances, no series wins (1-4 record overall in postsea- son games) and two regular-season collapses. What Gonzalez does have in his corner is Cox, the preceding manager who led the Braves to 14 division titles between 1991 and 2010.
"Yes, absolutely," Cox said on Monday when asked if Gonzalez had a vote of confidence from him. "I think Fredi has done a re- markable job since he's taken over from me in 2011. I think he's just been outstanding. There were difficult times, even last year to win 96 games with things that were taking place."
Although one may think Gonzalez will be at the mercy of the next GM, that is not necessarily the case. The GM may be hired by the Braves with the understanding that there is to be no change at the managerial position. Gonzalez may not have to be the next GM's guy, just as he probably was not Wren's guy back in 2011. Prior to managing the Marlins for three and a half years, Gonzalez was Cox's third-base coach from 2003 to 2006. Wren was a part of the organization, but Schuerholz and Cox were running the show at the time.
Gonzalez was their guy and it looks like he still is. Like it or not, Fredi probably won't be fired. And if the general manager comes from within the organization, like Hart or Coppolella would, Gonzalez's return is a borderline lock.