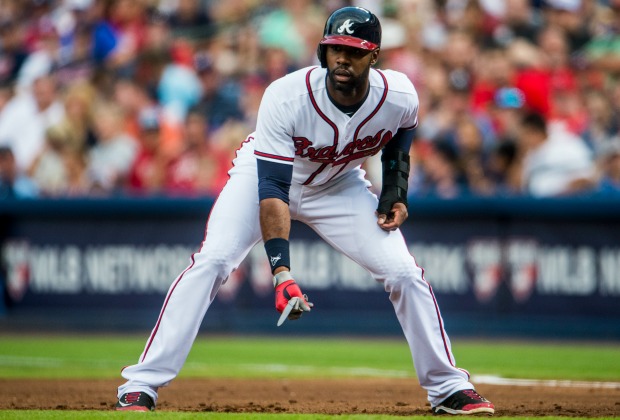 Pouya Dianat/Atlanta Braves
A 5-3 record eight games into the 2014 campaign may suggest that the Braves have been an average ballclub in most departments. The opposite, of course, is true. It has been a tale of two intra-squad teams making up the roster. There are the pitchers; then there are the hitters. One group is wildly out-performing expectations; the other is not even scratching the surface of what was—and still is?—thought to be great potential.
ACES BACK TO BACK …
Atlanta headed into the regular season with a makeshift starting rotation due to both departures and injuries. Tim Hudson signed as a free agent with San Francisco, Freddy Garcia was released and both Kris Medlen and Bran- don Beachy were both lost to Tommy John sur- gery. Just 23 years old, Julio Teheran is already a last of the Mohicans of sorts in terms of theBraves' staff of yesteryear.
The right-hander has lived up to his early season billing as the rotation's ace, with two stellar performances. He gave up only two runs in six innings in a 2-0 loss at Milwaukee on Opening Day before allowing a mere three hits and two runs in seven innings in a 6-2 win at Washington last Saturday. If Teheran has set the tone, his supporting cast is following along nicely. Aaron Harang, whom the Braves signed at the end of spring training on the same day they let go of Garcia, has also turned in two outstanding starts. The 35-year-old journey- man, playing for his fifth team since the start of the 2011 season, befuddled the Brewers last Wednesday through 6.2 innings while surren- dering no runs on just two hits in a 1-0 win. Ha- rang took the loss in Atlanta's home opener on Tuesday night, but he had nine strikeouts in six innings and gave up only two hits and one run. Alex Wood and David Hale have also im- pressed. Wood is 1-1 with a 1.93 ERA in 14 in- nings. The 23-year-old southpaw went seven innings against both New York and Washington, allowing one run in a win over the Mets and two runs in a loss to the Nationals. Hale blanked Washington in five innings of work during a 2-1 Braves' victory last Friday.
"We had some young guys come up and step up and pitch real well," catcher Gerald Laird told the Atlanta Journal Constitution fol- lowing Atlanta's 4-2 season-opening road trip. "We have some guys in the bullpen pitching well, we have our starters. We knew what we were going to get from Julio and from what I've seen we've got guys that are going out there and competing, throwing strikes and they don't look scared. They look like they're in control."
PANIC TIME? …
Opposing pitchers have been in similar control against a stagnant Atlanta offense. As of the completion of Tuesday night's games, the Braves are dead last in Major League Baseball with 15 runs scored. By comparison, in one game by himself Milwaukee's Ryan Braun drove in almost half as many runs (seven) as Atlanta's entire season output. Only one other team, San Diego, has crossed the plate fewer than 20 times. In three losses, the Braves have scored a grand total of one run. Eleven of their runs have come in two games, a 5-2 win at Milwaukee last Tuesday and the 6-2 road victory over Washington. For those counting, that means a combined three runs have been scored by manager Fredi Gonzalez's club in the other five games before Wednesday's 4-3 win over the Mets.
"The offense will pick it up, I'm sure, down the road," Gonzalez told the AJC. "There'll be a stretch where our pitching staff is going to need the offense to pick them up."
That is not how it has worked so far, to put it mildly. The pitchers are getting almost no help of any kind and the primary culprits are familiar faces. After a combined 59 at-bats, the Upton brothers—B.J. and Justin—do not have a single RBI. B.J. is hitting .138 and Justin has a .200 average. Evan Gattis and Jason Heyward, who slumped the second half of last season for various reasons, are still searching for consistent production. Gattis is batting .211 with one home run and one RBI. Heyward is .188, leaving him last among the team's starters in average. Freddie Freeman, Chris Johnson and Andrelton Simmons are continuing to perform, but a lack of teammates on base means that Johnson is only at two RBI's while Freeman paces the club with four.
"Just like the first week of spring training, some guys get off to a great start and some guys get off to a slow start," Heyward told the team's website on Tuesday. "There's a little different bit of timing and adrenaline when you're coming into a season. I feel we're all showing signs of settling in and just going out there and playing."
ON THE HORIZON …
Now would be a good time to start, as rival Washington is in town for a three-game series Friday through Sunday. The Braves are in the midst of a streak of 19 consecutive contests against NL East competition. Twenty-two of their first 28 games this season come against such rivals.
It's early, but parity is the name of the game up and down the MLB standings right now. The National League East is no exception. Separated by two games from top to bottom, it is one of four divisions in which the last place team is within 2.5 games of first. Washington (5-2) leads the way, just ahead of Miami (5- 3), with New York and Philadelphia (both 3-4) one game back of Atlanta. While the Nation- als and Braves are considerable favorites over the other three, all five teams appear to be—at worst—decent. It will be difficult to pull away, but it will not take much to fall behind.
As the saying goes at the Masters—which is currently underway in Augusta—you cannot win a title right at the start, but you can lose it. Did you hear that, Braves' batters? Wake up!