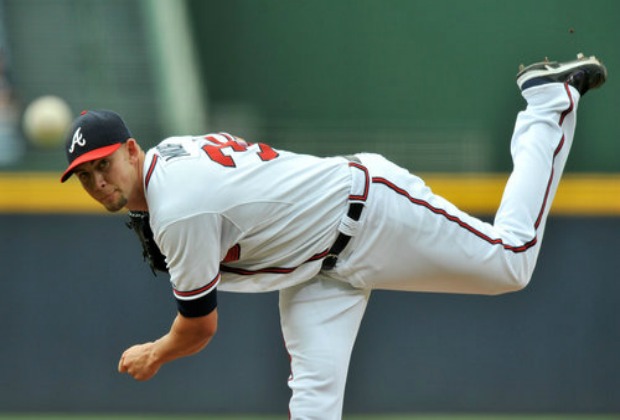 Hyosub Shin/AJC
With their recent seven-game winning streak snapped Wednesday, the Braves set out Thursday night simply with winning the series against the Miami Marlins on their collective minds. Before the game, the clubhouse was loose, but players were also serious about playing well in the series finale.
After Mike Minor set down the Marlins in the top of the first, the Braves' offense went to work in the bottom of the frame. Reed Johnson got the lineup going with a one-out single. He and Jason Heyward were driven home on a double off the bat of Chipper Jones. Dan Uggla would then single home Jones three batters later.
Atlanta would strike for three more runs in the second when Heyward drove home Michael Bourn and a Freddie Freeman double would bring home two more runners. Atlanta knocked out Nate Eovaldi after just two innings, tagging the right-hander for six runs on eight hits.
After a 42-minute weather delay led to Minor's removal from the game, Cristhian Martinez came on in relief to shut down the Marlins.
"It's a situation where you always try to do the best for the young man and we didn't think running (Minor) back out there was prudent," said manager Fredi Gonzalez after the game about lifting Minor despite his giving up just one hit in 3.2 innings.
Miami finally struck for a run in the sixth, but Martinez would pitch into the seventh. Chad Durbin, Cory Gearrin and Craig Kimbrel would finish off the game for the Braves, allowing just two hits down the stretch. Kimbrel would record three strikeouts in the ninth. Martinez would be credited with his fifth win of the season.
Jason Heyward went 3-for-5, with an RBI and two runs. Jones and Freeman both drove in a pair of runs. Atlanta now welcomes in Houston for a three-game series.