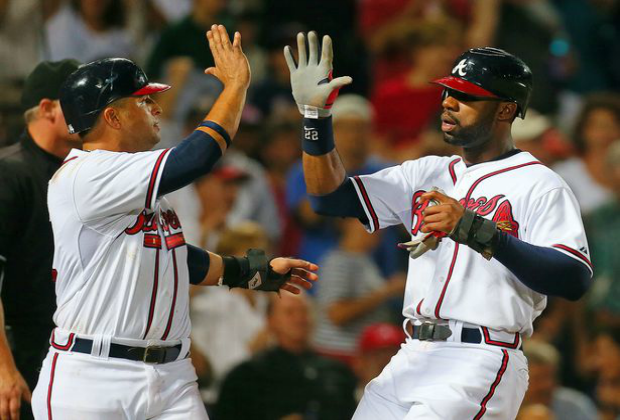 Curtis Compton
The Atlanta Braves made the 2012 National League playoffs, winning one of two wild card spots before falling to the St. Louis Cardinals, who have since advanced to the NLCS. The trip to the MLB postseason was the second in three years, and the team rewarded executive vice president and general manager Frank Wren by extending his contract through the end of the 2014 season. Two key members of Wren's staff also received title bumps as assistant general manager and director of player development Bruce Manno was given the title of vice president and assistant general manager/player development. John Coppolella was also bumped up to the role of assistant general manager from his former position of director of professional scouting.
HEYWARD NOMINATED
Braves right fielder Jason Heyward was nominated as Atlanta's candidate for the National League Hank Aaron Award, which recognizes each league's best all-around offensive performer. Heyward finished 14th in the NL with 27 home runs and 10th with 93 runs. He also posted 21 stolen bases (No. 21), six triples (No. 15), a .479 slugging percentage (No. 22) and 158 hits (No. 21). The winners will be announced during the World Series. Andruw Jones won the award in 2005 with the Braves.
FRESH BLOOD
While he will likely not see any time with Atlanta this upcoming season, the Braves' No. 10 prospect according to MLB.com Nick Ahmed has been sparkling thus far in the Arizona Fall League. The 22-year-old shortstop prospect has gone 5-for-9 as of Monday afternoon after a 3-for-3 day for the Phoenix Desert Dogs. Ahmed drove in four runs in the game, a 13-3 win over the Peoria Javelinas. Ahmed hit .269 with a .337 on-base percentage in 130 games last year with Lynchburg. He also managed 40 stolen bases and 84 runs as Lynchburg won the Carolina League's Mills Cup. Julio Teheran is the No. 1 prospect in the Braves' system, followed by catcher Christian Bethancourt, 2012 first round pick Lucas Sims, Sean Gilmartin, J.R. Graham, Zeke Spruill, Joe Terdoslavich, Alex Wood and Edward Salcedo. Teheran is the Braves' highest-ranked prospect in the top 100, checking in at No. 24. Bethancourt is No. 53. Former Atlanta reliever Arodys Vizcaino is on the list. He was included in a deal sent to the Chicago Cubs in exchange for Paul Maholm and Reed Johnson.