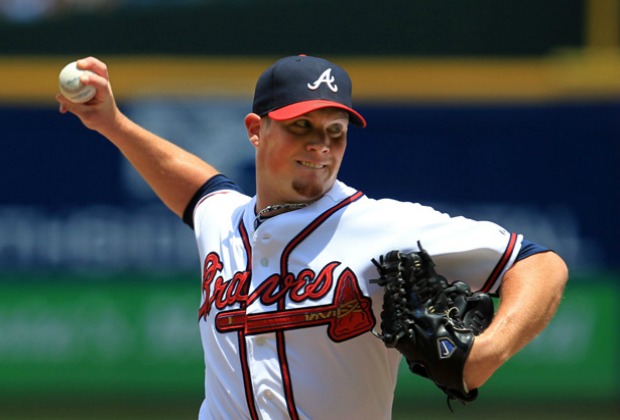 Jason Getz
Facts are facts. The Braves are cruising into the 2013 postseason. The month of September will be spent preparing for a playoff run. While there is home field advantage at stake in the playoffs, manager Fredi Gonzalez and the Braves are most concerned with getting the team healthy and rested as they nail down the roster for October.
Normally, regular season awards would be handed out next month, but it's a moot point for the 2013 Braves. With that in mind, here's the first list of Braves' individual team awards.
THE MVP: FREDDIE FREEMAN
The young first baseman claimed his first spot on an All-Star team. Freeman will lead the team in RBI by a long shot (he was at 93 after driving in five runs Sunday) and likely finish just behind Chris Johnson with the team's second highest batting average. Honorable mention goes to Brian McCann. McCann missed nearly a month recovering from shoulder surgery in April. Despite missing that time, plus taking more days off than in past seasons, McCann is second on team in home runs.
BRAVES CY YOUNG: CRAIG KIMBRELL
The Braves' closer started out the year with three blown saves in his first 13 chances. Since May 7 he's been dominant, though. Kimbrell has allowed exactly one run in 43-plus innings with three wins and 33 saves over that stretch, and he has struck out 60 hitters while walking only 14. For the second consecutive year he looks to have an ERA under 1.00. Honorable mention goes to left-handed starter mike Minor. Minor leads the team in wins innings pitched, strikeouts and WHIP.
ROOKIE OF THE YEAR: EVAN GATTIS
Gattis has cooled off as of late, but his impact early in the season was nothing short of phenomenal, especially with McCann sidelined in April. Gattis won national League Rookie of the Month Awards in April and May thanks to a combined 12 home runs and 32 RBI in only 139 at bats. Honorable mention goes to right handed pitcher Alex Wood. Wood has been invaluable as a reliever first and now as a starter since the injury bug has bitten the Braves' pitching staff. Wood boasts a more than respectable 3.15 ERA over 65.2 innings.
MOST UNDERATED: CHRIS JOHNSON
The young third baseman started the season as a platoon player, but now he's leading the National League in hitting and leads all Braves in doubles. Honorable mention goes to righty Julio Teheran who has been only slightly less impactful than Minor among Braves starters.