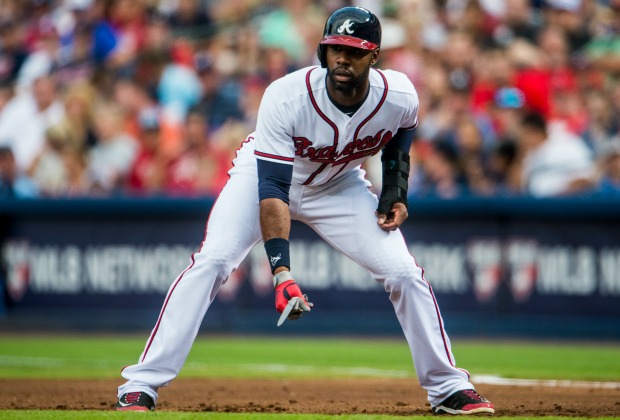 Pouya Dianat/Atlanta Braves
The Braves are by no means out of the playoff picture, but with each passing day the situation is becoming more dire and the games are fast moving toward the must-win variety. Heading into Wednesday, Atlanta was 2-11 in its last 13 contests. That stretch had the team five games back of Washington in the National League East and much closer to third-place Miami (one game difference) than to the top of the division.
An eight-game losing streak had been halted with two wins in a three-game home series against the Nationals, but the Braves dropped each of the first two of a four-game set versus the Dodgers. L.A. prevailed 6-2 on Monday and stymied Atlanta's bats again on Tuesday in a 4-2 decision. Mike Minor pitched relatively well in the second game of the series (three runs in 6.2 innings), but the Braves' offense could muster little more than a B.J. Upton solo homer.
"Well, we got hot last year," Justin Upton
said in his postgame interview on Monday, reflecting on his team's push to the 2013 divi- sion title. "We did play well last year. We just haven't clicked on all cylinders yet. We'll get a couple of guys on and we haven't gotten that big hit consistently yet, so hopefully it's coming soon."
STILL IN CONTENTION? …
The Braves been a streaky team in 2014, which can be both good and bad. They may be in the midst of a rough stretch, but their mer- curial nature suggests a hot streak could come seemingly out of nowhere at any moment. Julio Teheran, for one, is hoping that will prove to be the case.
"We are trying to get back," Julio Teheran told the Atlanta Journal Constitution. "I know we have been in bad situations but we have been battling and fighting the whole time, trying to win games. Every time we get here it is a new game, a new day and we try to win that game."
With six weeks left in the season, the Braves can still take it one game at a time. Panic and pressing are not yet necessary. They have six games remaining against Washington; a sweep of those six alone would erase the current deficit. Encouragingly, Atlanta is 9-4 this year against the Nationals—a club it has routinely dominated of late.