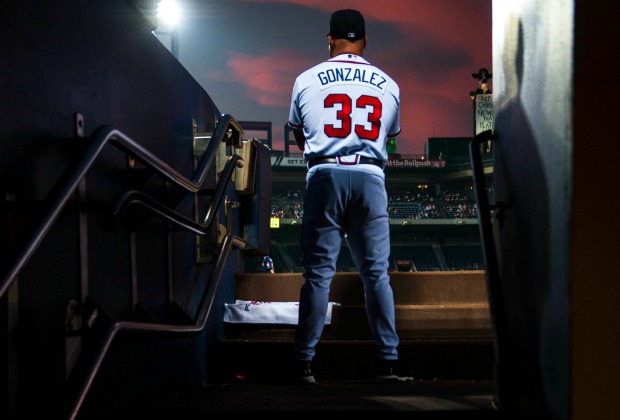 Pouya Dianat/Atlanta Braves
Leave it to the Chicago Cubs to cure all ills of the Atlanta Braves. As of Wednesday afternoon, Chicago owns the worst record in the
National League and is tied for the fewest wins in all of baseball (13) with Houston. The lovable losers played like their normal selves last weekend against the Braves, who needed a reprieve from a significant slump of their own. Atlanta got it, taking all three games against visiting Chicago to begin an emergence from a slide that saw the team lose eight of nine games. Fredi Gonzalez's club gave up only four total runs against the Cubs, winning 3-2 in 10 innings last Friday, 2-0 last Saturday and 5-2 on Sunday.
"It was nice to get back and finish the homestand with a little kind of momentum," Gonzalez said in his postgame interview fol- lowing the sweep. "We didn't start it real well but we finished it real well. Now we go to San Francisco to start a six-game road trip and hopefully we keep swinging the bats and im- proving that part of it and winning series."
The Braves had a chance to win another series on Wednesday after splitting the first two games against San Francisco. They lost 4-2 on Monday but bounced back for a 5-0 victory on Tuesday behind a strong start from Mike Minor. Results of the finale were not
available at press time.
A CALL TO ARMS …
Minor and Gavin Floyd have given Atlanta some reasons to be encouraged upon their returns from injuries. Shoulder soreness pushed Minor's season debut back to May 2, when he took the loss in a 2-1 home setback against the Giants but allowed only two runs in six innings. After a disappointing performance in a home loss to St. Louis last Wednesday, the southpaw bounced back in style in his second chance at San Francisco. He gave up no runs and just three hits while striking out six in 6.2 innings.
"I didn't throw a lot of breaking balls in the last game," Minor explained afterward. "Tonight, I felt like I mixed it up pretty well. For the most part I didn't think they knew what was coming…. I felt in any situation and any count, any batter, I felt I could throw whatever."
Floyd, who returned from Tommy John surgery last Tuesday, has turned in two quality starts in two outings. With Minor and Floyd on board and in fine form, Alex Wood has been moved to the bullpen.