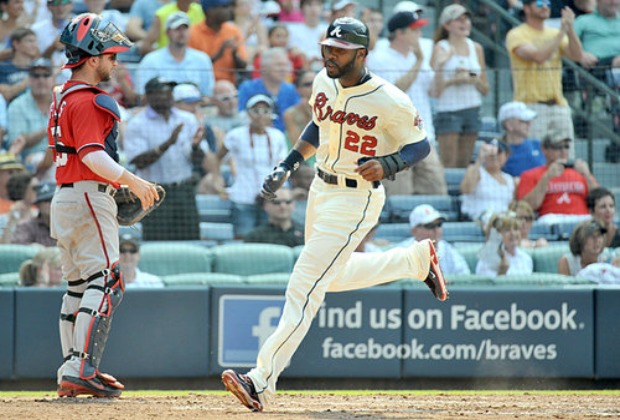 Photo by Hyosub Shin/AJC
The Braves' 2014 campaign got off to an in-auspicious start in Milwaukee on Monday, when they were shut out by the Brewers 2-0. Disgraced steroids user Ryan Braun received a standing ovation in the bottom of the first inning and things only went downhill from there—at least for the Braves. They managed only five hits and B.J. Upton and Evan Gattis went a combined 0-for-8 with four strikeouts. Julio Teheran kept Atlanta close by giving up just two runs in six innings, but a two-run fourth for Milwaukee proved to be the difference. Atlanta bounced back on Tuesday with a 5-2 victory in which Alex Wood allowed only one run in seven innings to get the win. The Braves struggled through four more scoreless innings before their bats finally woke up. Freddie Freeman hit home runs in both the sixth and eighth innings after Jason Heyward put a stop to his team's goose-egg with a two-run shot in the fifth. Dan Uggla also had a multi-hit performance with two doubles and an insurance run scored in the top of the ninth.
"The last three or four years we haven't really done well against the Brewers here at Miller Park," Freeman told the Atlanta Journal Constitution. "It's nice to get the first one out of the way. As an offense we knew we weren't go-ing to get shut out all 162. We let them sweat for the first 15 innings."
The rubber game of the season-opening series was contested on Wednesday and Atlanta left with a 1-0 victory. Atlanta is visiting Washington for three games this weekend before the Mets come to town for a home opener on Tuesday afternoon.
A FIRST FOR FREDI …
Manager Fredi Gonzalez made history Monday. He became the first manager to successfully challenge a call after Braun was called safe at first while trying to beat out a grounder to third baseman Chris Johnson. A one-minute and 38-second review process resulted in an overturned ruling, as Braun was deemed to have been out.
"It worked exactly the way they wanted it to work," Gonzalez told the team's website. "It just didn't feel like baseball. It felt weird. When you come out of the dugout, you're looking to protect your players; you're looking to yell at the umpire or get into a confrontation. But that never even occurred. [Gibson and I] were like two civil guys talking."